Mars Hydro 5x5 Grow Tent - 60''X60''X80''(150X150X200cm)
Free Shipping to the United States on Orders Over $59
Support
Lifetime Customer Support
Quick Overview
Mars Hydro 5x5 grow tent features sturdy metal structures to easily support 155 lbs of weight. The sturdy 1680D canvas indoor grow tent is lined with 98% reflective Mylar to improve light utilization and with strictly sealed fabric to prevent light leaking. All designs are to provide an optimal growing environment for indoor plants all year round.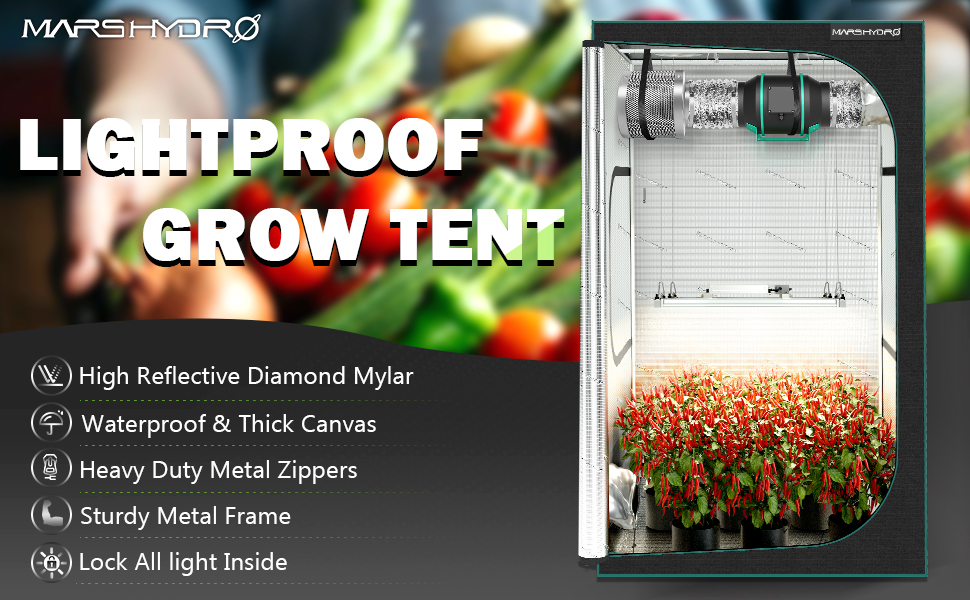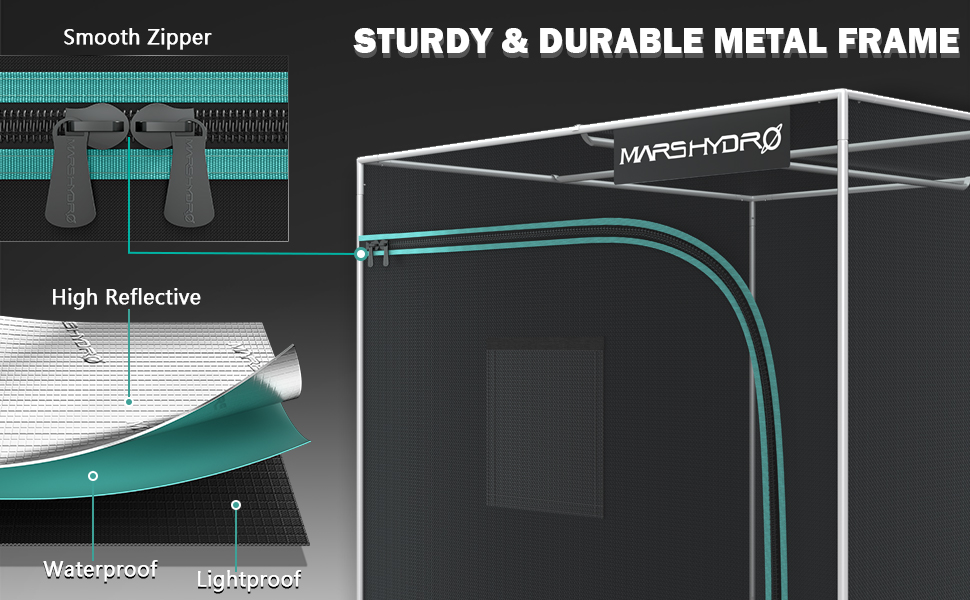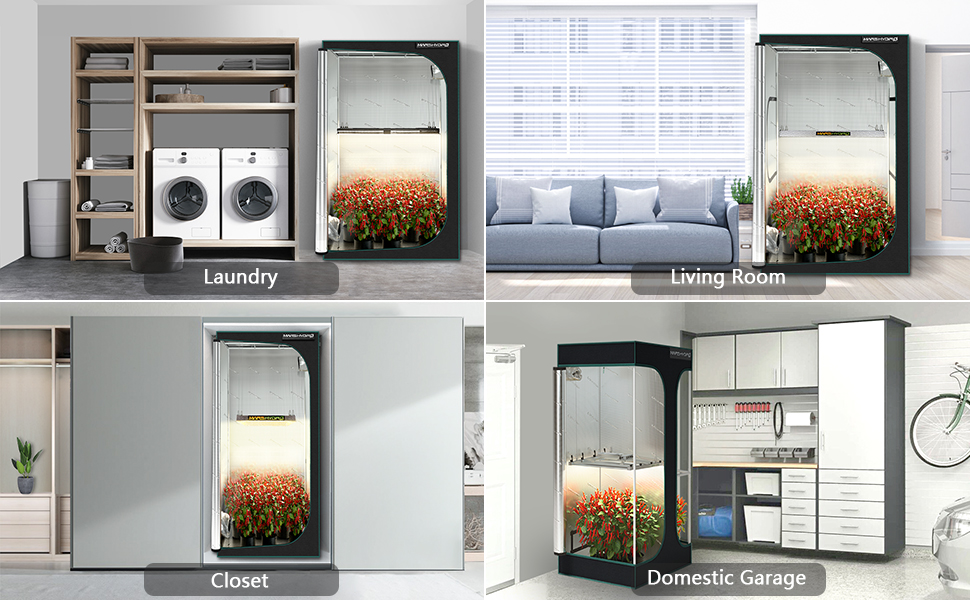 More Information

| | |
| --- | --- |
| Vent Size | 3x8'',4x10'' (3x20,4x25cm) |
| Mesh Window Size | 1x10''x10'' (1x25x25 cm) |
| DOOR QUANTITY | 1 front door, 2 side doors |
| SUPPORT CAPACITY | 70kg/154lb |
Ask a Question
The size of the 150*150*200cm tent package is about: 156*30.5*14cm
Features
No Light Leak Grow Tent

The Mars Hydro indoor grow tents feature a densely stitched canvas with a 1680D rating, which is superior to other tents that typically have 300D or 600D ratings. The heavy-duty SBS zippers on these tents are double-stitched for added durability and are now equipped with a zipper flap that effectively blocks any light from escaping the tent.
Robust & Stable Indoor Grow Tent

With strong and durable metal corner adapters and poles, this 5x5 grow tent can support up to 154 pounds of grow equipment, ensuring a stable and secure set-up. The poles are coated with a special finish that prevents shaking, rusting, and paint loss, further enhancing the tent's stability and durability.
Enhanced Light Reflection

The reflective diamond mylar incorporated in the grow tent reflects dispersed light back onto the plants, thereby improving light effectiveness by 25%. This results in an increase in the plant's health and yield. The diamond pattern on the reflective mylar is the product of extensive research and experimentation, which has established it as the most effective reflecting pattern for grow tents.
Convenient and Flexible Design

With the removable floor tray, cleaning up the bottom of the grow tent becomes a quick and easy task for growers, eliminating the inconvenience of dealing with spilled water and nutrients. The mesh viewing window, which comes with a velcro cap, provides a convenient way to observe plant growth without disrupting the carefully balanced interior environment. The double-sleeve vent ports, equipped with elasticated nylon ropes, offer growers flexibility in setting up ventilation and circulation systems.
Protection of Privacy and Temperature Control

The 5x5 Grow tent offers growers privacy and protection from children, pets, or unwelcome guests. Additionally, it allows for precise management of the growing environment and lighting, enabling year-round plant cultivation and consistent harvests. To learn more about what makes Mars Hydro Grow Tents stand out from the rest, check out the Refinements Of Mars Hydro Grow Tents.
Which light is right for you?
We found other products you might like!