Mars Hydro 6 Inch Inline Fan And Carbon Filter Combo With Speed Controller
Free Shipping to the United States on Orders Over $59
Support
Lifetime Customer Support
Quick Overview
Fan/Duct/Filter Size: 6 Inch
Airflow: 402CFM
Noise: 32dB-A
Controller Type: Speed Controller
With a 6'' inline fan rated for 402CFM, an activated carbon filter with Australian charcoal, and a knob controller applied to allow easy switching and adjustment of the fan speed, the Mars Hydro 6 inch inline duct fan and carbon filter combo provides everything you need to set up the ventilation in a grow tent. A good ventilation setup for grow tents measuring up to 5x5 feet.
Package Includes:
6" Inline Duct Fan with a knob Speed Controller, 6" Carbon Filter, 2 Hanging Straps, 25-ft-long Flexible Ducting, and 3 Duct Clamps.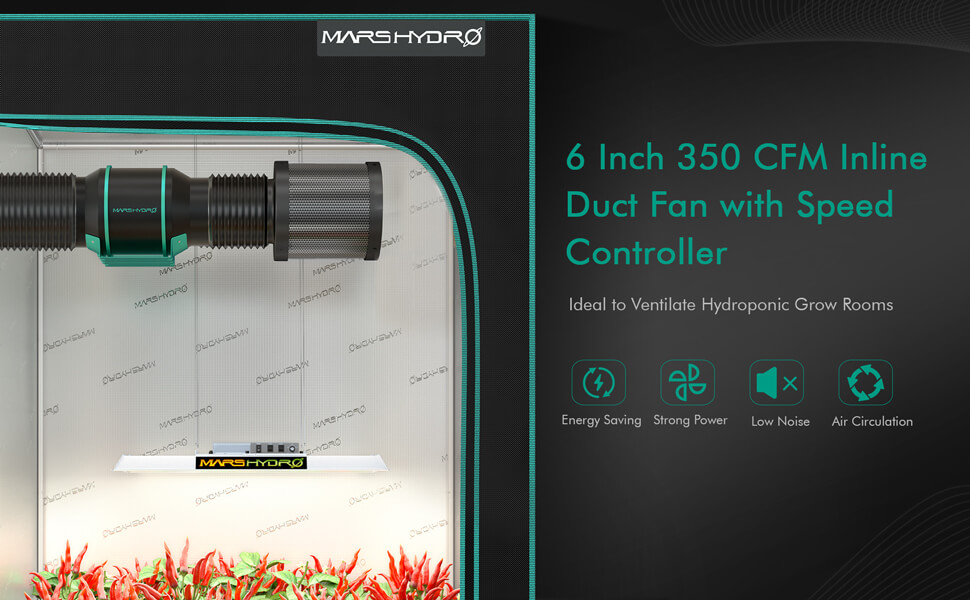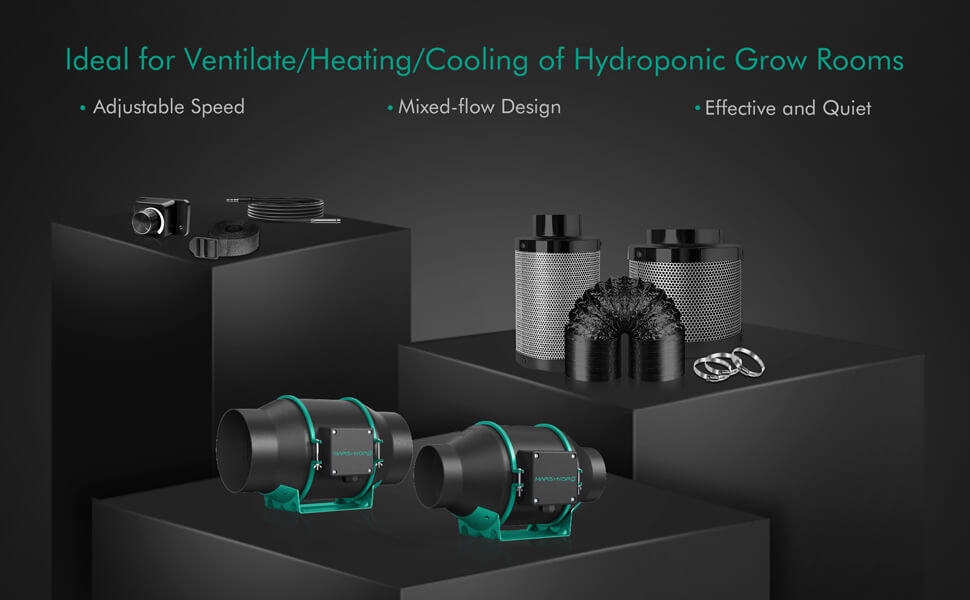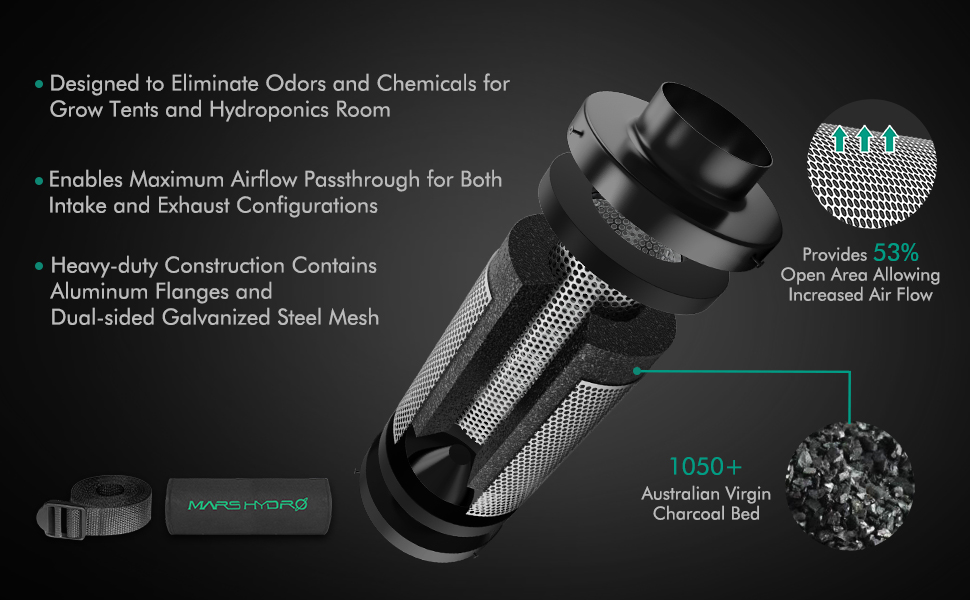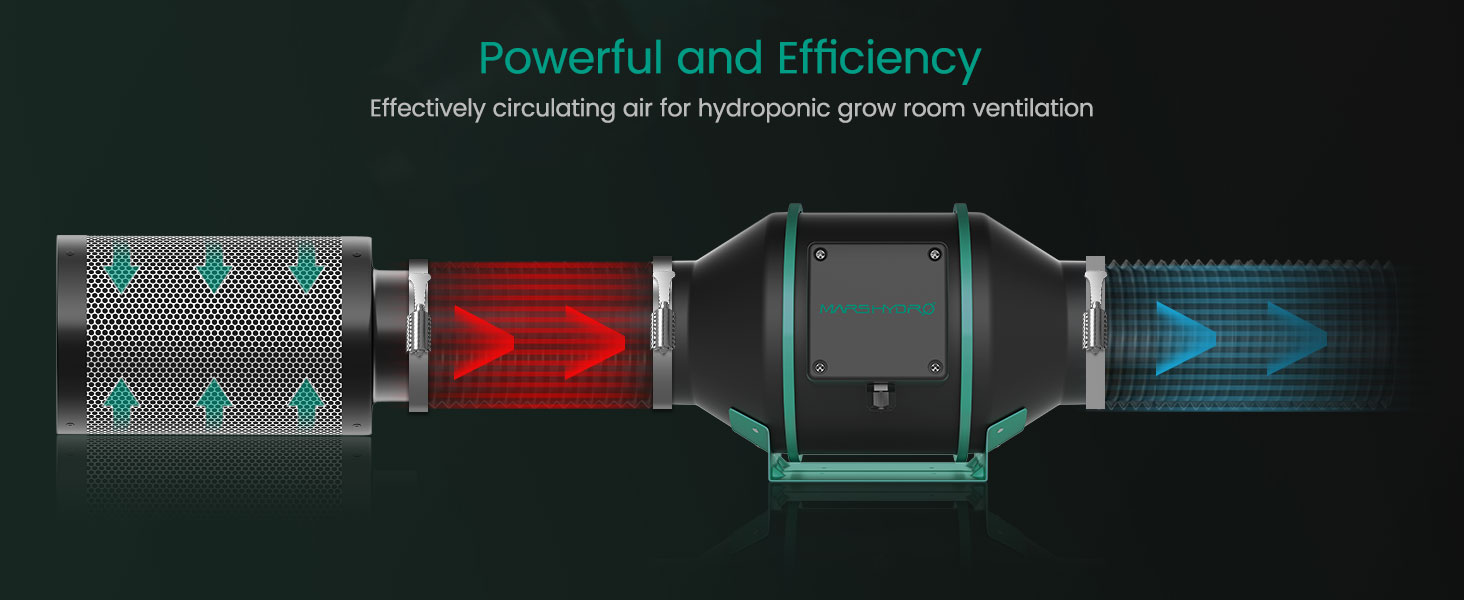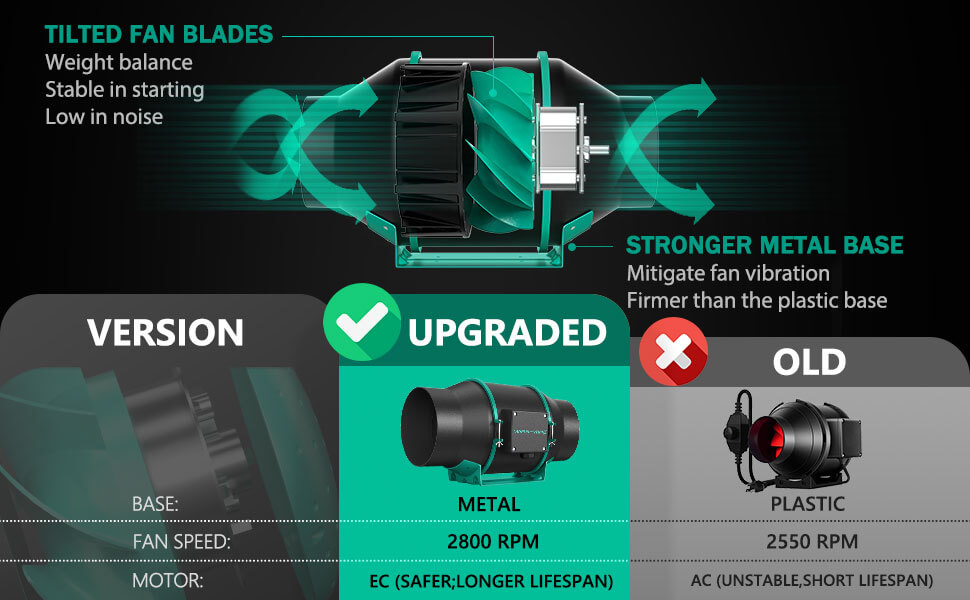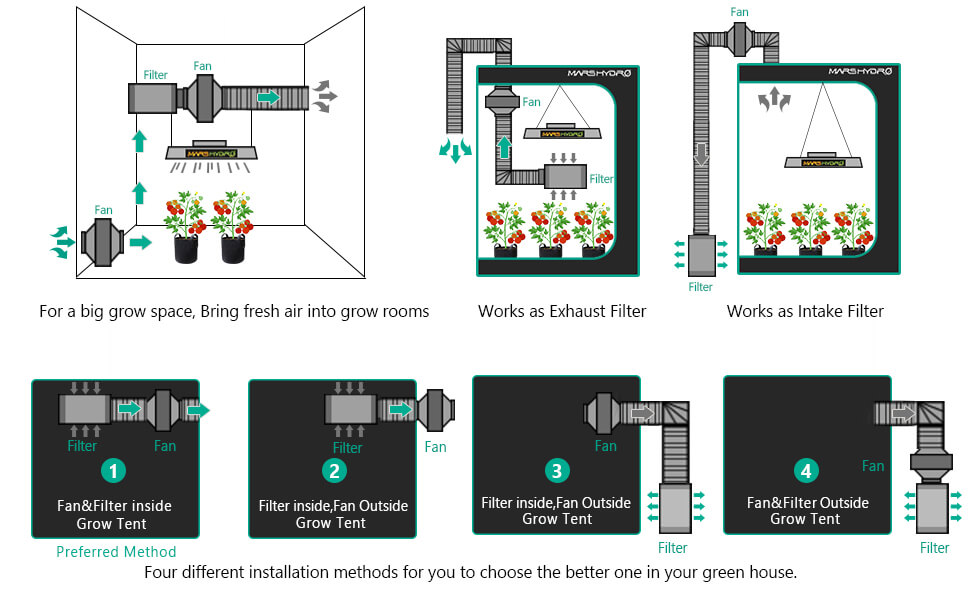 More Information

| | |
| --- | --- |
| FAN SIZE | 6'' |
| Airflow | 402CFM |
| RPM | 2800RPM |
| Noise | 32dB-A |
| Voltage | AC ~ 110-240V |
| Dimension | 315mm*225mm*210mm |
Please complete order for the product to write review.
Ask a Question
It is not feasible to directly change the controller of the knob into the temperature and humidity controller, because the internal structure of the fan is not the same.
If you want to switch the fan on and off according to the temperature and humidity rule, you can use Mars Hydro's new iHub Smart plug, which can switch the device on and off according to the set temperature and humidity policy.
Features
Quiet Ventilation Fan For Indoor Grow

The Mars Hydro 6" inline duct fan is rated for 402CFM, sufficient for grow tents or grow rooms measuring up to 5x5 ft. With a knob fan speed controller, the inline fan speed can be adjusted from the lowest to the highest by a simple turn of the knob. Featuring an EC-powered motor and a mixed-flow design, the Mars Hydro inline fan is quiet enough to run at full power with only 32 dBA of noise.
Best Grow Tent Carbon Filter

Designed for efficient air filtration, the inner core of the Mars Hydro carbon filter was made of 1050+ Australian activated charcoal, eliminating undesirable odors, pungent smells, and particulates from indoor grow tents. The double-sided galvanized steel mesh provides 53% of the open area for airflow to pass through, so that the odor absorption and chemicals elimination process can be carried out thoroughly. (The carbon filter was covered by a prefilter cloth; do not remove it when using)
Flexible Ducting & Connecting Accessories

This ventilation kit is paired with a 25-ft-long PVC thermoplastic flexible duct tube to direct the air in and out properly, durable and easy to use. With 2 adjustable hanging straps and 3 duct clamps to easily connect the inline fan, carbon filter, and ducting tube, the whole ventilation kit gets all the necessary parts to ventilate and filtrate indoor grow tents and grow rooms.
Indoor Grow Partner For Environment Control

The Mars Hydro 6 inch inline duct fan and carbon filter combo ventilation kit is capable of ventilating and filtrating a 3x3 grow tent, a 4x4 grow tent, or a 5x5 grow tent, the best partner to control your grow environment with fresh cool air.
We found other products you might like!