Growing Feedbacks for SP 250
@Goliath Grower: Big Mac, Blueberry Mac, Mac N Cheese and Caramelicious x Macr, growing under 2pcs SP250
@YYC Green, Grapefruit Diesel-17 weeks growing in 4'x4' room
@Growing Answers, Pepper growing in different PH
We developed several lines of grow lights and Mars SP series is one of the greatest ones, great choice for home and commercial growers both.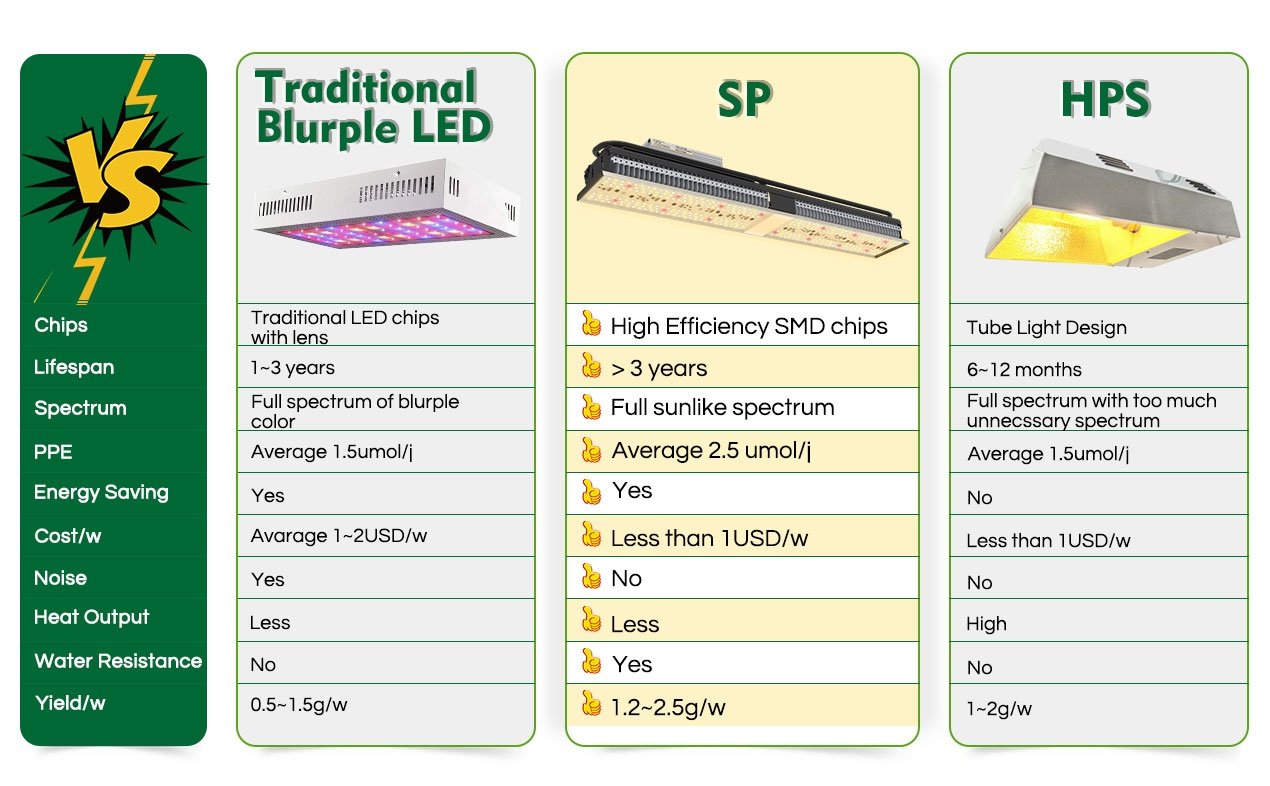 Reviews

Amazing light at a good price. Hangers need improvement.

I bought one SP250 to go with my new Mars Hydro 120x60x180 tent. Just flipped from 18/6 to 12/12 and so far I love this light! I am writing up a more in-depth review that I will post after harvest.

The only reason for the 4 instead of 5 stars is what others have mentioned. The hanger wires don't match up with any of the holes on the light unless you twist the ends, and even then one of the holes is blocked so the hook can't go all the way in. I managed to figure out a way to hang it with the hooks on the side of the casing, but it doesn't feel as secure as I would like.

I have one SP250 and getting two more ASAP
Plenty of research beforehand but impressed way beyond my expectations..
It hardly draws any more power than my old light, yes it feels a bit warmer at full chat, when close but that's fine.
Importantly it's not too hot and I hardly notice temp difference when off/on. Immensely bright, almost more than enough for my current setup but now expanding to a 5x5 so looking to max up to 3 of these altogether in time.
Great design.
Build quality is superb.
If any constructive criticism it would be that the hangers could be more sturdy/robust.
Perhaps a couple of pairs or lobes or holes in the otherwise flawless heatsink, for the ratchet rope hangers would be an improvement in this area?
And perhaps more flexibility for brightness control or a kit to help with simple relocation of driver away from light, outside of growspace.
These are minor criticisms or suggested improvements on an otherwise superb light.
Money well spent, can't wait for the next two.

Great light for 2x4 ten be and bloom

Great light and in am very interested in your others light to light my. 8x8x9 bloom room if your looking for someone to get the mars name out to the workers I work at a lp cannabis producer and I am a lead grower and I speak to home growers on the daily

Works great then it shut off

Love the light but 3 months into my grow and it just turned off. I don't know what the problem is but a few mins later it came back on. Now I'm wondering if I need to buy a new light to replace this one. Up to now it's been a great light. I hope I can find out what the problem is with the light and get it fixed or my plants will suffer.

Hi Smallgrow, our lights have 1 year total free and 3 years limited warranty, please kindly email us at: solutions@mars-hydro.com and we will help you solve this issue. :)

The light runs very cool especially with drive out of grow area. The is really bright! It's so far producing nice looking buds! Hands down for the price you can't beat this light.

I have one SP250 I received in January for my. Medical grow, I have ran 3 plants flowering at 12/12 since I got it and they are doing amazing.
I threw one of my trichocereus cacti in there and it seems to be loving it as well after sitting in my window sill for months. I am going to buy another one now and possibly more soon for my indoor vegetables and succulents.
It is a very well built light, I bought this after deciding I wanted more power than my blurple reflector from them.
Totally recommend over the cheaper built ones or the way over priced gavitas.

Only concern is with quality of hanging hardware and one hole that makes the light hang uneven

After much reading of grow journals and product reviews I decided to pick up 2 of the SP 250.

Shipping was fast and packaging was of good quality and fairly discrete in nature!

Customer service has been prompt and courteous when a question arose about a possible missing product on my door step. (Neighbor picked the boxes up since it was raining and forgot to tell me)
Set up was easy.

My criticism is small at this point and is directed toward the hanging of the light and the gear provided.

The gear is of lighter duty then I am comfortable with. The plastic parts on the rope ratchets the rope itself and the metal hooks are thinner then most I have purchased or been provided for the HID Reflector kits that are 1-2 times lighter then the weight of the SP 250. Also one of the hanging holes on one side of the light does not go all the way through the metal and blocks the hook on the metal hanger so it does not hook all the way through the hole. This does not make me feel comfortable using the metal hooks AND the light does not hang level.


Best lights for money value. Excellent service.

I just purchased 2X SP-250 and 4X TS100w lights.They have been delivered fast and in perfect condition. I would also thank you for the amazing gift. The lights look to be excellent after the first measurements taken before the setup. A second review will be followed regarding the efficiency of the lights during the grow. Thaks Mars Hydro and hope to deal again.

Best light I've owned so far. Excited to see what the future has in store.

Got 2 SP250 for my 120x120x200 grow box.
Extremely fast shipping and nice customer support.
The light is very well built, you can detach the driver from the led bar and put it outside your grow box, thanks to the long cable, so you'll have less heat and humidity when the light goes off.
Plants seem to react very well to the light, they're only 3 days in veg so I'm keeping the bars at about 70-90 cm distance.
I will update my review after the harvest but I'm very happy so far.

I love this light buying 2 more

I just bought a 250 and love it. Very well built bright full spectrum light you can't ask for more for the money.

I just purchased a sp250 for my 2x4 tent. I replaced a 300w and a 600w blurple and I am very impressed so far. The switch is in week 3 of flower so it will be interesting to see the results.

So far I am very impressed with the light. Not only is it nice not having the purple glow, but has balanced my number beautifully. I am currently not having to run AC, and just plumb in some cool fresh air from an open window through a carbon filter.

Over all, so far, very happy and glad I purchased the SP250.

Follow my grows with the MH SP250 on Instagram @shotgun.facelift

These lights are great! Nice spread with 2 in 4x4.

Just received my two SP250s, and went to work testing the so called heat issues. They do in fact heat up the tent, but not bad. I have a 4x8, only growing in 4x4 to start (first grow). The lights with ballasts attaches kept the canopy level at 80.2 degrees. (Vivosun 4 inch intake fan, AC infinity 6 inch exhaust). The SP 250s now come with cord long enough to put ballasts outside tent. I used the wood inserts it shipped with, and mounted the ballasts to those, hung them outside one of the 8 inch vents. Temp dropped to 77-78 degrees. It's made it a little easier with fans speeds to control humidity with the ballasts outside, but no real issue keeping them on! And they are not kidding about these things being BRIGHT! Started grow today with 6 Auto GG#4s....wish me luck!!!!

high end light at low end cost

this light is on par with outhers costing three times more build qulity is great top brand driver mean well great white light engine mars listened and driver cord is eight foot long great job MARS HYDRO

Very good quality light! Great packaging. Fast shipping. Can't say more.

I just purchased 1 of the SP 250 lights and WOW, what a great made light. I was originally getting the light for starts but after seeing the amazing output I am going to purchase 3 more for my 4 x 6 area to replace my (2) 630 CMH lights. I will post again when I get the other 3 lights.
Happy Day Mars Hydro!!!

worth the price abd then some

I am very happy with the performance of this light. I have it in the veg tent and its caused a huge surge in growth when compare to my previous light (a 240 watt HLG 4000K light with all white diodes).

Excellent Light and value for money

I have been very impressed with this light , replaced 450watts of blurple with excellent results.

Suitable for germing, veg and flower .

Great light distribution and spectrum.

Great build quality and like they say easy to hang, its a plug and play light.



Fell in love in 3 days with first one and now have 4 with 4 more just ordered.

Ordered one of the SP 250 to try out and in 3 days I noticed sizable gains compared to my reflectors so ordered 3 more to fill a 4x8 tent and the results blew my mind. Actual full coverage of the tent , spectrum is great but would like to be able to mount drivers outside of tent for even better temperature control. I just ordered 4 more for my other 4x8 tent and will now reap the benefits of increased productivity at lower wall wattage than using now. Sending me a "gift" even though I was late for the 420 sale.

Excellent quality light at a great price

I'm really pleased with the quality of these lights. They are an excellent replacement for HPS/MH lights. I measured the evenness of the illumination using a quantum light meter, and it's far better than a HID light. The build quality of these things is excellent, it's full spectrum, so easy on the eyes, and water resistant. They are also so much lighter than HIDs and easier to hang and move around. I'm now thinking about purchasing several more for the university where I work.

I wish you could still get them at the preorder price, but even at the higher price, they are still a bargain for this quality light. Kind of crazy to think that just a few years ago you would have to spend nearly a thousand dollars for an LED light that would be lower quality than this one. Nice job Mars Hydro.

Unreal light for the price point. On off would be nice

At around $1 a watt 2 bars light a 4x4 like a airport runway. Sunglasses are a must when working around the lights. I could easily see 2 grams per watt 9 plants in 3 gallon pots in a 4x4 under 2 sp 250s. Mars should offer a option with a 12 foot cord with the option to have the driver outside the tent so no wiring modifications need to be made. Excellent Choice

Buy one, seriously, you'll be impressed

I've been using the Mars SP-250 for a few weeks now and I'm super impressed with it. Compared to my HPS set on 250w it's twice as bright. It's lightweight, bright as hell, cool running, silent running, the light is a crisp white showing all the colours of your plants beautifully and your neighbours won't be suspicious from the standard purple light that so many LEDs have these days if you accidentally shine it through your curtains or something.

Being splash proof means you can wipe over the diodes with a damp cloth when they become dusty, this is so underrated in my opinion. Pretty much all the heat comes from the driver which is above the light so under it stays very cool, and if you wanted to you can take the driver off and positioned it outside the grow area by fitting an extension cord. This would reduce the heat even more but I find mine so cool it isn't necessary.

I like my reviews to be balanced to I want to say a couple of negative things but I honestly can't think of any. I haven't had any problems at all. Oh ok here is one thing I would change, it doesn't have an on/off switch, one of those would be an improvement, but it's a very small problem. And a dimmer which is easily accessible and adjusted without tools would be good. You can actually adjust the wattage /brightness but you need to unscrew the driver first which isn't ideal. That covers everything I guess. Buy it, you won't regret it

Just order 3 for my 4x4 tent. Cant wait!

A very high output light at a really good price. I doubt you could find a cheaper light with this much output. The 4000K is a very visually appealing color temperature. Mine is drawing 257W@AC120V. I did dedicate a small fan to blow on this light since the driver gets pretty hot. I may see if there's a DC cord extension so I can mount the driver outside my tent. I noticed that some of the LED's appeared to not be on, but they were all in the same pattern on the strips, so I'm assuming that these are emitting infrared light. I wouldn't think twice about buying this light again.

My SP200 looks very good and I hope it gives me good results

I'm glad you can give me a 10% discount for my preorder. I'M LOOKING FORWARD TO IT!

Q&A

Product Questions

What about buyers from other countries?

Just curious if this light carried ir leds. Thanks.

Hello, under description, dimensions 35.5x2.95x2.63ft, just wondering if that is correct?

is it dimmable?

I need to know do you have a par sheet with 2 sp 200 light for a 4x4 tent or can you test them and email me the PAR sheet. thanks

How much umol/J for this led?

Hi, when will be this led lights SP-250 available in DE Deutsche warehouse?

What is the warranty on the SP 250

How high from the canopy do I hang the SP 250? Is it 18-24" in veg and 12-18" in bloom?

Does the light come with necessary equipment for hanging?

How long of a warranty do you offer on your sp 250 lights

Can the light be daisy chained?

Is it waterproof?

What is the difference between SP200 and SP 250? They look the same.

Recently purchased the SP250 and love it, but the power supply gets too hot, is this normal?

How can I move the driver outside of the tent?

Can the light be daisy chained?

How can I adjust the wattage?

What is the recommended hanging height and hanging hours?

What is the SP 250's coverage for veg and flower?

What is included in the package when purchased?

There's some lights that they barely light up even when you see them using glasses is that normal?

Does the sp 250 have the veg to bloom switch

How long is the power cord that comes with the fixture?

Does the sp 250 have a red color adjustment to increase red for flowering?