Mars Hydro FC8000 Samsung LM301B Commercial 800W LED Grow Light
Quantity
Bulk % discount
2
save

9

%
3
save

10

%
5
save

9

%
10
save

13

%
Quick Overview
Born for CO2-supplemented commercial cultivation, Mars Hydro FC8000 LED grow light supplies uniform PPFD averaging 1,400 μmol/m²/s, sufficient to activate 100% photosynthesis and obtain maximum plant growth speed at different CO2 concentrations.
Samsung LM301B powered stronger and more consistent output for comprehensive lighting care.
Wattage - 800w
Personal Cultivation Coverage - 5x5 ft
Commercial Cultivation Coverage - 4x4 ft
Commercial cultivator's preferred grow lighting solution for single or multi-tier racking systems, vertical farms and various indoor plant grow rooms.
Powered By Samsung LM301B Diodes: The Mars Hydro FC 3000 300-watt LED grow light is equipped with high-performance Samsung LM301B chips in return for science-based precise light and quality-assured longevity, resulting in a high efficiency of 2.9 μmol/j in PPE and a long-lasting color rendering capability, which provides indoor plants with sufficient and enduring lighting energy.
Consistent PAR Distribution and High PPFD Output: FC8000 grow LED light provides a PPF of 2309 μmol/S, and super high PPFD values in the range of 1,000 - 1,500 μmol/m²/s throughout its coverage, the optimal range for cultivation with added CO2. The multi-light bar design and the dense diode layout facilitate an even distribution of grow lighting making PPFD optimized for Photosynthesis to achieve consistent growth in every part of the coverage range.
Professional Recipe Of Full SpectrumLighting: The full spectrum is enhanced with blue and red light, in which the blue light stimulates plant growth and promotes the accumulation of plant-based phytochemicals; the abundant red light improves the maturing process and flower quality of the plants
Daisy Chain Dimming Feature: The FC8000 grow light is dimmable from 0 to 100% with no fixed levels to adjust the brightness depending on the growth stage of the plants while saving on electricity bills. The daisy chain function supports a connection of 30 led grow lights at the same time and the light series can be controlled by one master light to turn on/off and dim.
Fast Heat Dissipation & Detachable Design: The wave-shaped heat sink dissipates heat quickly so the LED light running cool will not void the stable environment that has already been controlled. The multi-bar style design also avoids hot spot issues thanks to its reserved space between light bars for cooling. Detachable design, easier for installation and storage.
DLC Certified Grow Lighting Solution:DLC-certified LED grow lights are high quality and high efficiency, meeting the highest standards in the industry, and they are capable of operating for at least 36,000 hours while maintaining 90% efficiency. Moreover, Mars Hydro promises a 5-year warranty and local repair services to ensure the LED grow lighting is working properly and perfectly within its service life.
*The Mars Hydro FC8000 LED grow light is recommended for CO2-supplemented cultivation; and is NOT recommended for normal cultivation, especially the seedling stage.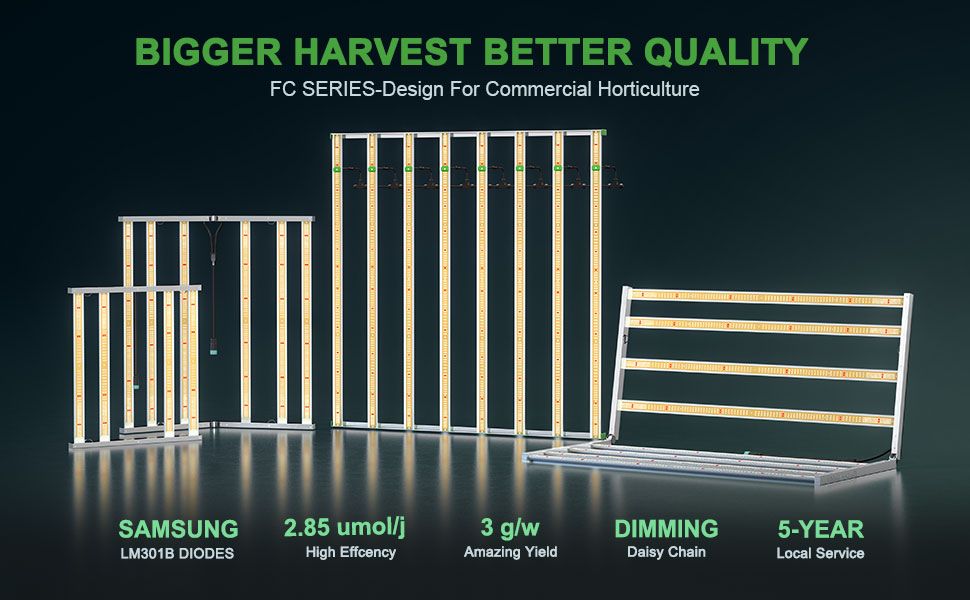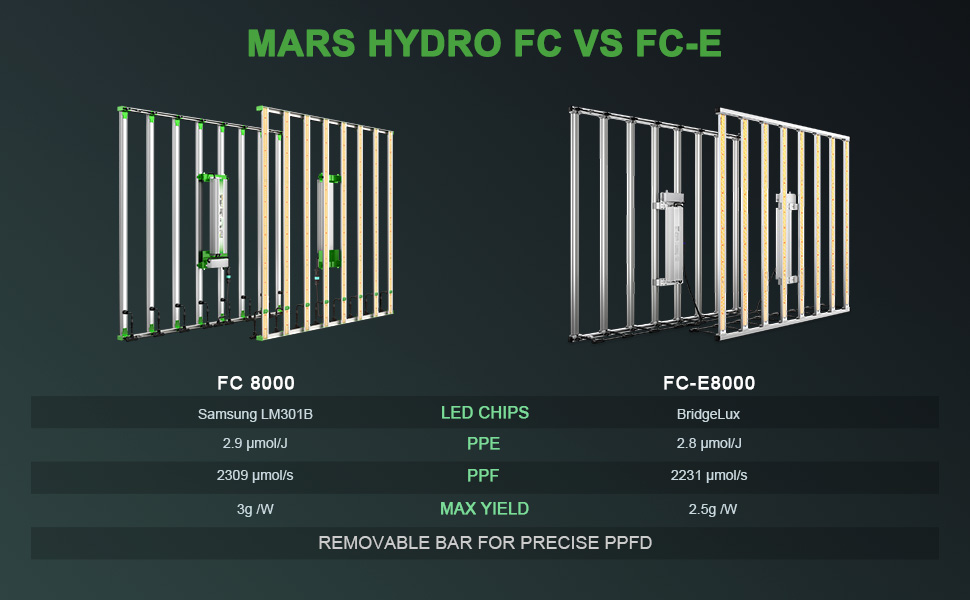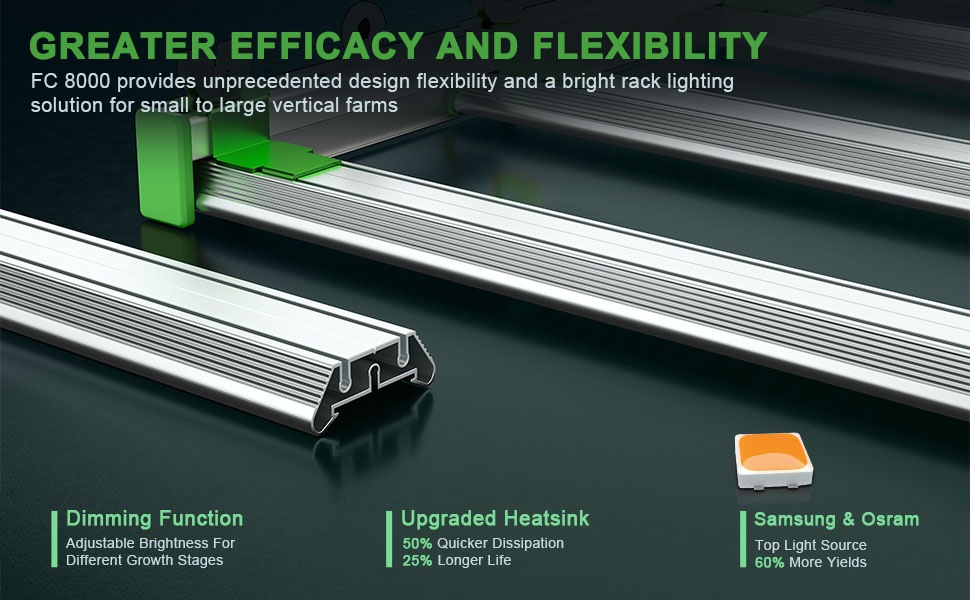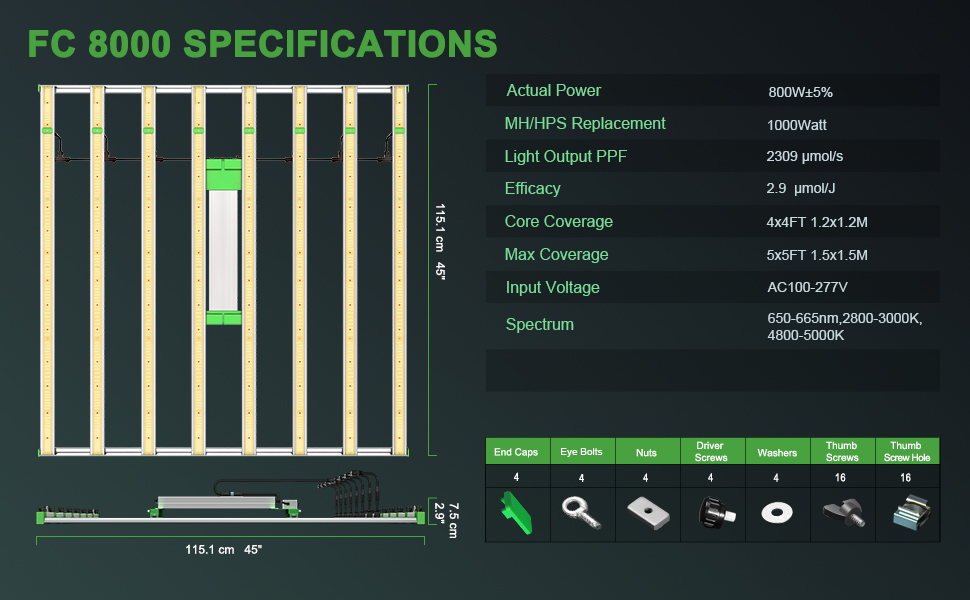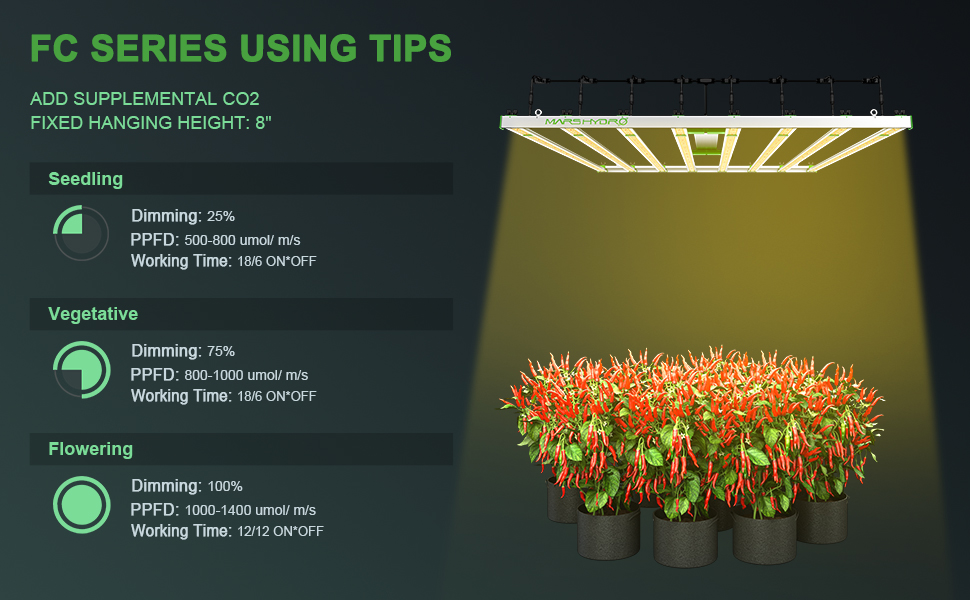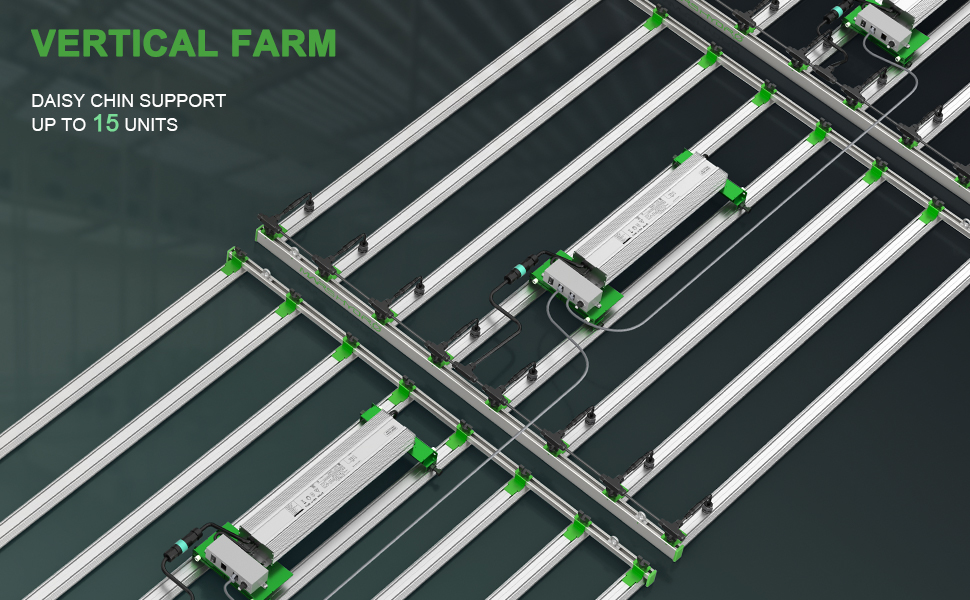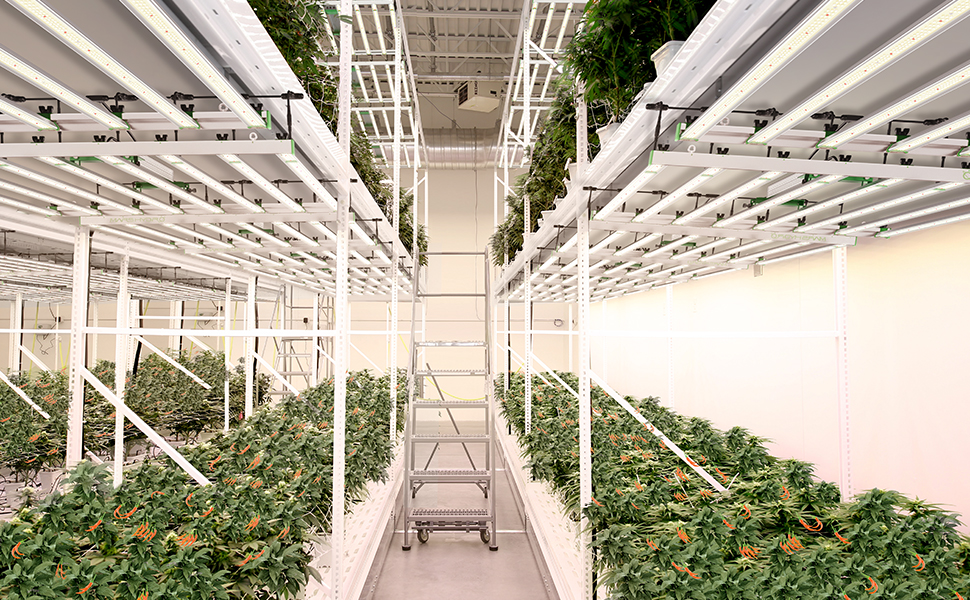 More Information

| | |
| --- | --- |
| WATTAGE | 800W±5%@100-277V |
| Core Coverage | 4'x4' |
| Max Coverage | 5'x5' |
| PPE | 2.9μmol/j |
| PPF | 2309μmol/S |
| Chip Brand | Samsung Lm301B |
| Spectrum | 660-665nm,2800-3000K,4800-5000K |
| Max Yield | 3.0g/W |
| Voltage | AC100-277V |
| Amps | [email protected] [email protected] [email protected] |
| BTU | 2728 |
| Certificate | UKCA,CE,RoHS, ETL, IP65 |
| Lifespan | 50000 H |
| WARRANTY | 5 years |
| Dimension | 1151*1151*75MM |
Ask a Question
We accept PayPal, credit card, debit, Western Union, Bank Transfer, Bitcoin.
Shipment can be arranged within 1 business day. Usually 3-8 working days as shipping time when the item is in stock.
The input voltage of most Mars Hydro LED grow lights is 100V~277V. While TS600 and SP150 are different. They work on AC110-130V, or AC220-240V (two versions according to the location country).
All you need is the right power cord to plug into the outlet. We offer 110V/US, 220V/EU, 230V/UK, 220V/AU, 110V/JP. Plug types.
If the plug does not match your outlet, a plug adapter will fix it. If you need the appropriate plugs, you can contact us([email protected]) to purchase one.
Read more
We found other products you might like!