Mars Hydro Smart FC8000 Samsung LM301B 800W LED Grow Light and UV IR
US$799.99
Regular Price
US$879.99
Free Shipping to the United States on Orders Over $59
Support
Lifetime Customer Support
Quick Overview
Grow LED NO.1 - FC8000 LED Grow Light
Grow LED NO.2 - UR45 LED Grow Light
Experience the ultimate grow light kit featuring the Mars Hydro FC8000 and Mars Hydro UR45. This kit is specifically designed for growers who want a fully functional lighting system with high quality full spectrum lighting and individually controlled UV and IR supplemental lighting to activate potential growth and promote harvest in the 5 x 5' growing area.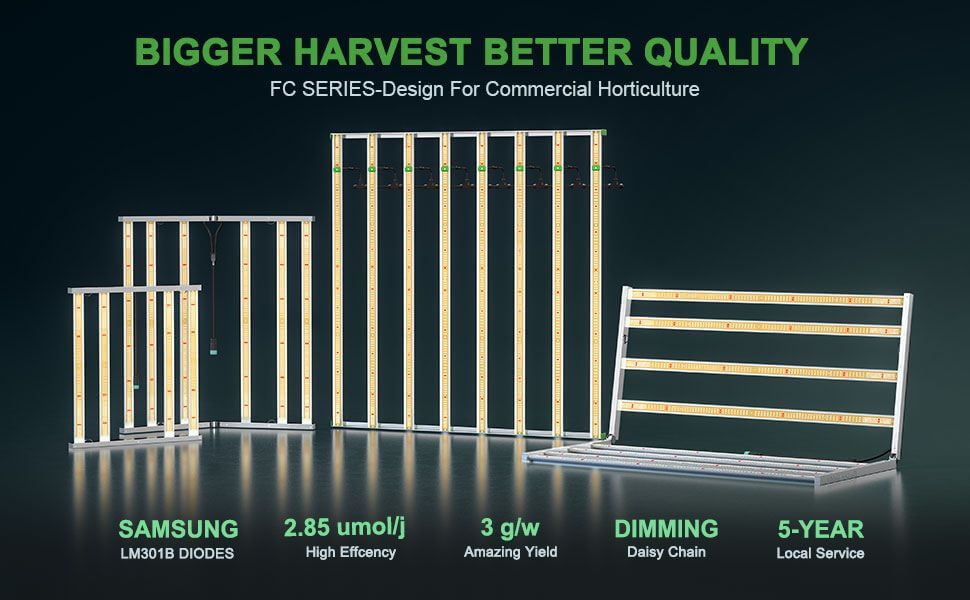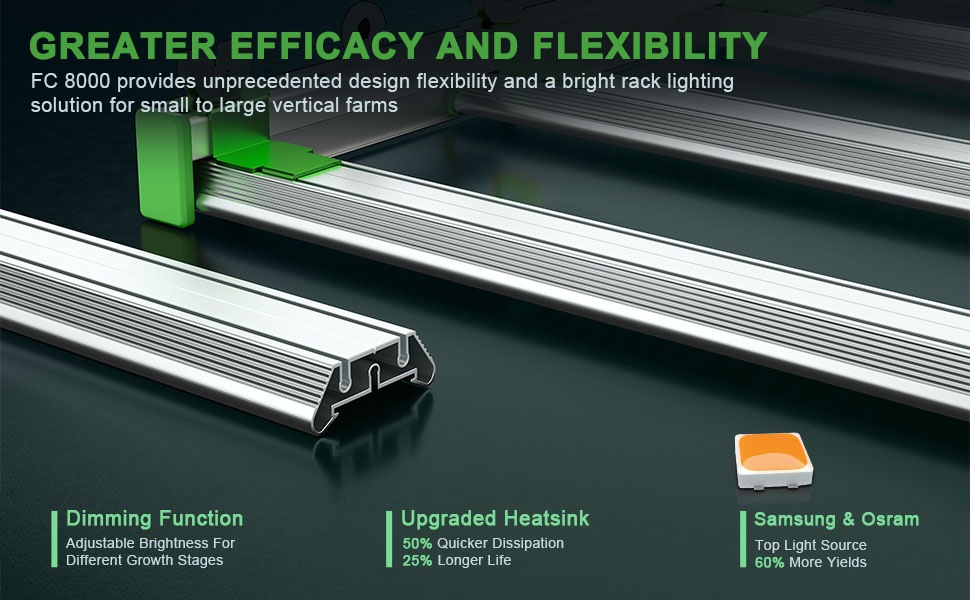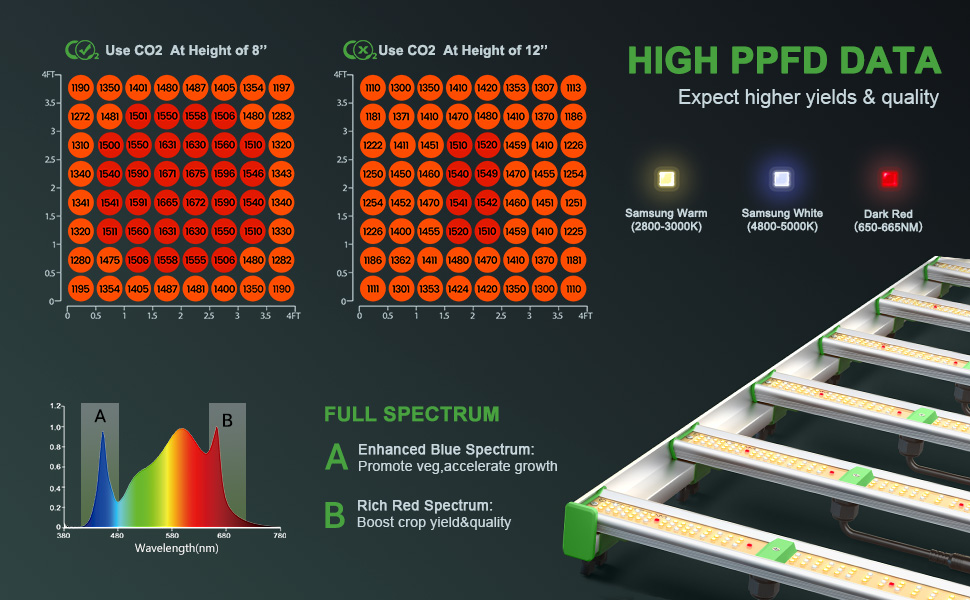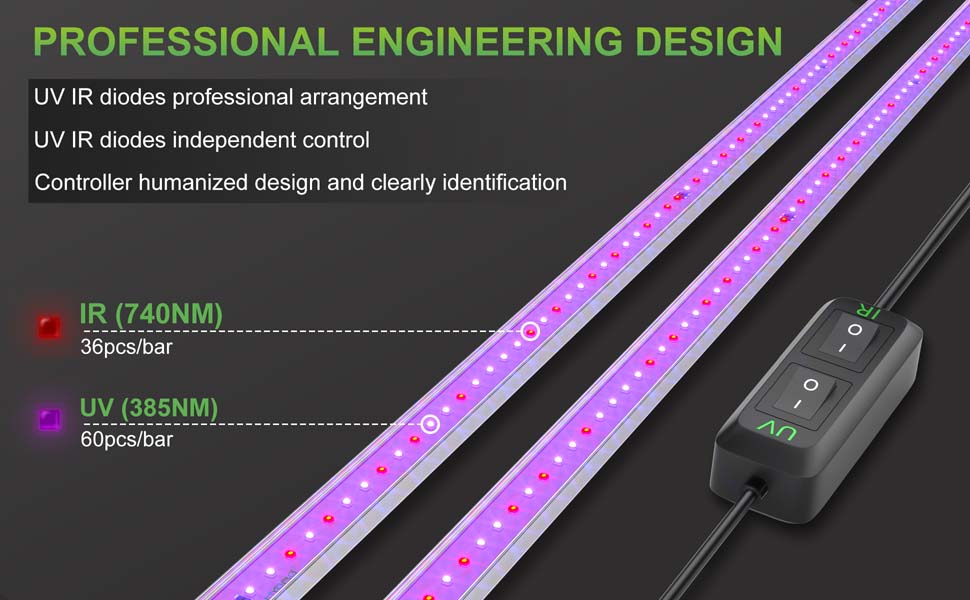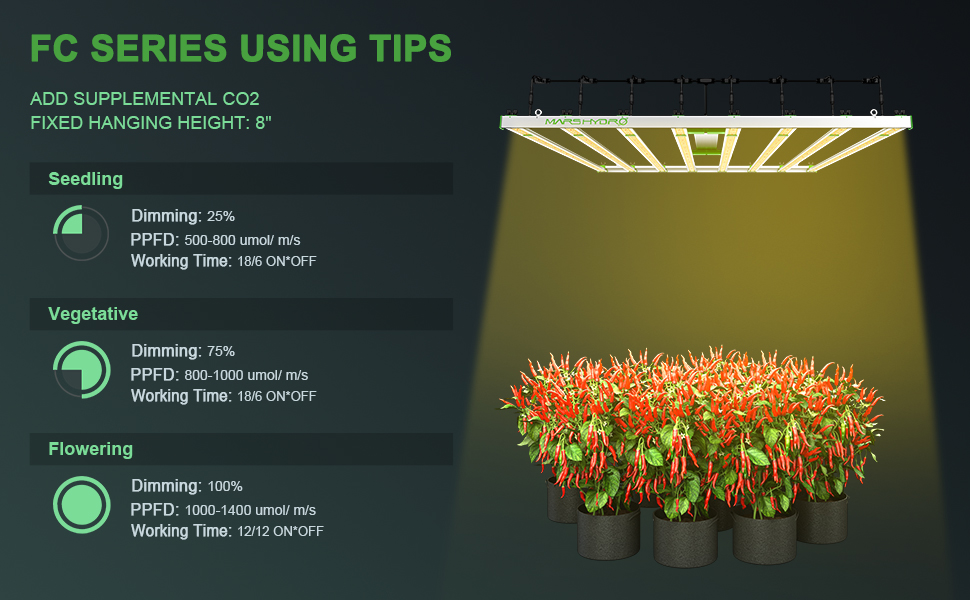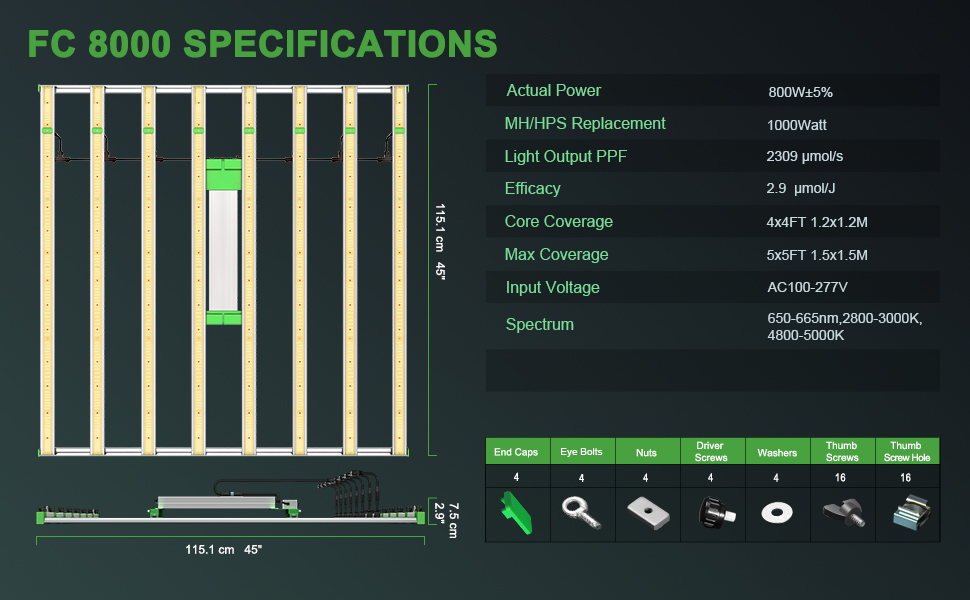 More Information

| | |
| --- | --- |
| WATTAGE | FC8000: 800W±5%@120-277V; UR45: 45W±5%@120-277V |
| Core Coverage | 4'x4' |
| Max Coverage | 5'x5' |
| PPE | 2.9μmol/j |
| PPF | 2309μmol/S |
| Chip Brand | Samsung Lm301B |
| Spectrum | 660-665nm,2800-3000K,4800-5000K |
| Max Yield | 3.0g/W |
| Voltage | AC120-277V |
| Amps | 6.635A@AC120V 3.266A@AC240V 2.847A@AC277V |
| BTU | 2728 |
| Certificate | UKCA,CE,RoHS, ETL, IP65 |
| Lifespan | 50000 H |
| WARRANTY | 5 years |
| Dimension | 1151*1151*75MM |
Ask a Question
Verify that the Time Zone is set correctly. For more information, refer to the "Time Zone Problem" section. Once the device is connected to the app, it is recommended to avoid manual operations, as manual operations (adc mode) will override the app commands (cmd mode). If the setting command fails to be delivered successfully, it is advised to reconfigure and deliver the command (configured settings) once again.
There are two types of upgrades on the Mars Hydro App: 1. Proactive Upgrade: Ensure that the device is connected to WiFi. Access "Me→Equipment Settings→Equipment Update". Refer to this video tutorial for detailed instructions: [https://youtu.be/EQHmQvPeBIA]. 2.Mandatory Upgrade: During the initial connection of the device to your WiFi, the app will automatically initiate a mandatory upgrade for your device. After entering your WiFi account and password, the app will switch back to the device scanning interface and begin the OTA mandatory upgrade process. The upgrade typically takes 2-3 minutes. After completion, please reconnect your device to...
Read more
Follow these steps to check and refine the WiFi connection: 1. Ensure that the WiFi account and password are entered correctly. 2. Remove any special characters, spaces, or symbols (e.g. #, $, %, &, *) from the WiFi name or password. 3. Note that the device does not support 5G WiFi. If you are using a 5G network, switch to a 2.4G WiFi network. 4. If the previous attempts fail, you can try resetting the device. Refer to this guide for instructions: [https://www.youtube.com/watch?v=nLCp___nduY]. After resetting, reconnect the device to your WiFi. 5. If all the previous attempts fail, try connecting using a mobile hotspot. Please note that the device does not support 5G hotspots. If you can successfully connect using a mobile hotspot, it indicates that the brand/model of your router (WiFi) may not be compatible with this device. Note: During the initial WiFi connection, the app will automatically initiate a mandatory upgrade for your device, which typically takes 2-3 minutes. Once the upgrade is complete, you can connect your device to the WiFi...
Read more
Features
Professional White Full Spectrum LED Grow Light FC8000

The Mars Hydro FC 8000 incorporates Samsung LM301B diodes that provide long-lasting white full-spectrum lighting to promote healthier and balanced plant growth. Consuming 800 watts, the FC 6500 boasts a remarkable photosynthetic photon efficacy (PPE) of 2.9 μmol/j and a high photon flux (PPF) of 2309 μmol/s, ensuring a substantial and enduring lighting energy source for your indoor plants.
Supplement UV Light and IR Light For Indoor Plants

The light kit comes with the UR45 LED grow light, which enhances the FC 6500 white full-spectrum led grow light with 45W output, 192 LED diodes, and the ability to supplement UV and IR radiation. The UV component (365-420nm) promotes larger leaf areas, light interception, and increased plant production, improving nutritional quality and biomass. The IR component (730-745nm) accelerates stem growth and triggers shade-avoidance responses, expediting flowering or inducing dormancy. The UR45 also provides separate UV and IR control to customize the supplemental spectrum, and easy installation with brackets perfectly for Mars Hydro FC 8000.
Flowering Lighting Grow Kit

This Mars Hydro Grow Light Kit is a comprehensive solution designed to optimize the flowering stage of your plants. This kit includes a high-quality FC 8000 LED grow light and the UR45 supplemental lighting bars, specially tailored to promote robust bud formation, enhance flower density, and maximize resin production. With their advanced tuned spectrum, these lights deliver the perfect balance of red, blue, and far-red wavelengths, crucial for stimulating flowering and achieving impressive bloom yields.
Proper Cooling and Compatible Installation

The kit in addition provides efficient passive cooling systems, ensuring proper heat dissipation and maintaining an optimal temperature for your plants during the critical flowering stage. With easy installation and versatile hanging options, this Flowering Lighting Kit can be seamlessly integrated into your indoor garden setup. Whether you are a hobbyist or a professional grower, this kit provides the essential lighting components needed to achieve exceptional flowering results.
Which light is right for you?
We found other products you might like!