Mars Hydro Smart FC-E8000 BridgeLux 800W CO2 Vertical Farm LED Grow Light
US$569.99
Regular Price
US$629.99
Free Shipping to the United States on Orders Over $59
Support
5-Year Warranty  
Lifetime Customer Support
Quick Overview
APP-Controlled FC-E8000 with new snap-in type design, a member of the Mars Hydro smart grow system, supports mobile control and growth plan programming. Densely mounted with BridgeLux chips, resulting in an average PPFD of 1,400umol/m²/s. Coupled with full spectrum light that is enhanced in red and blue, FC-E8000 helps increase the yield to 2.5g/watt, making it suitable for large commercial cultivation.
Wattage - 800w
Personal Cultivation Coverage - 5x5 ft
Commercial Cultivation Coverage - 4x4 ft
For Indoor Horticulture growers, from professional cultivators to hobbyists.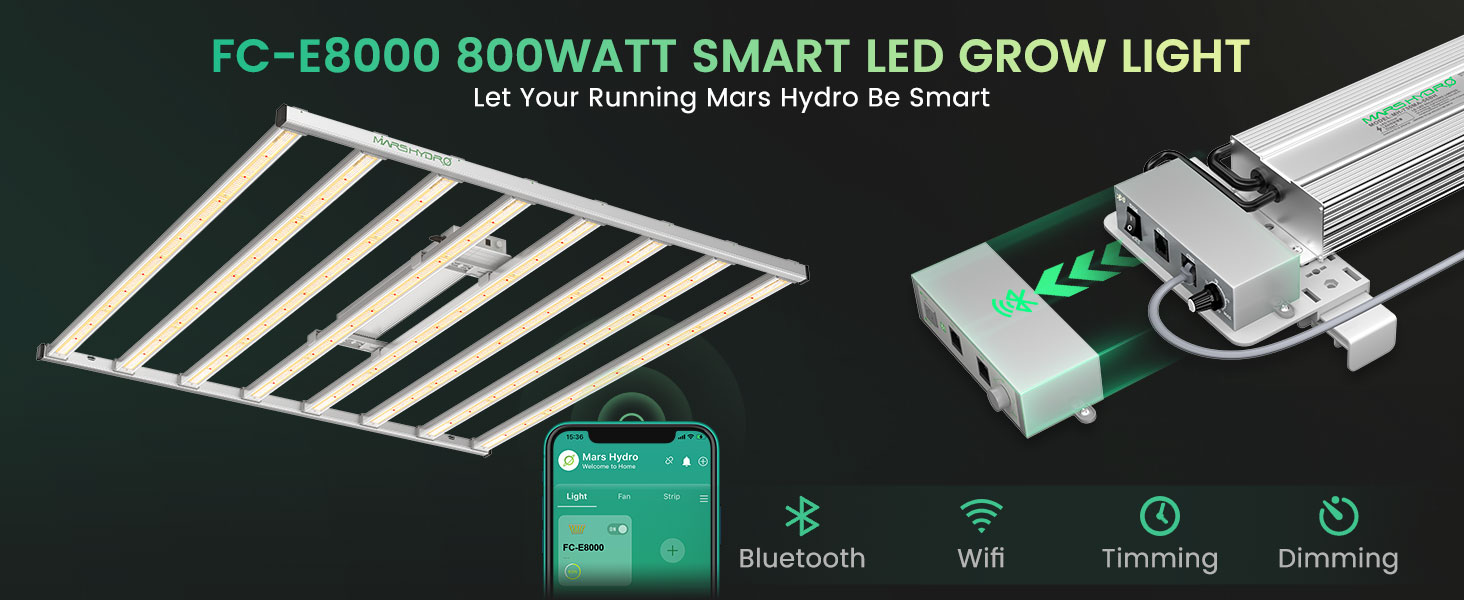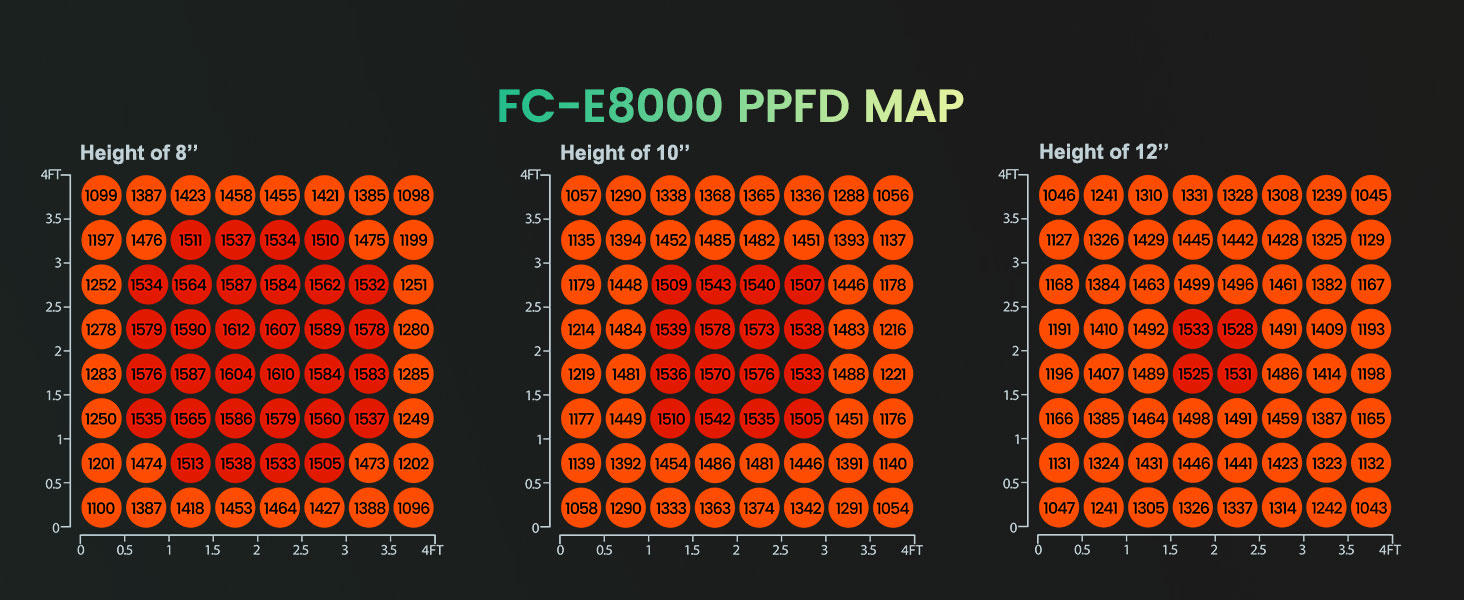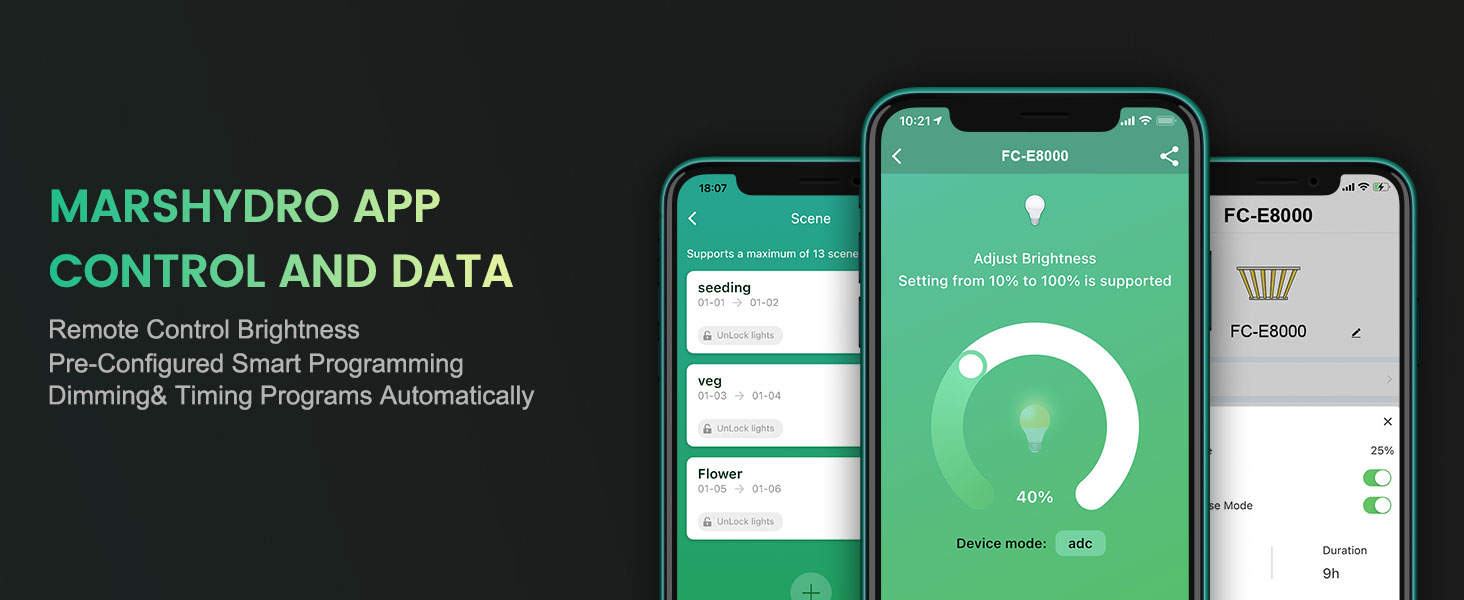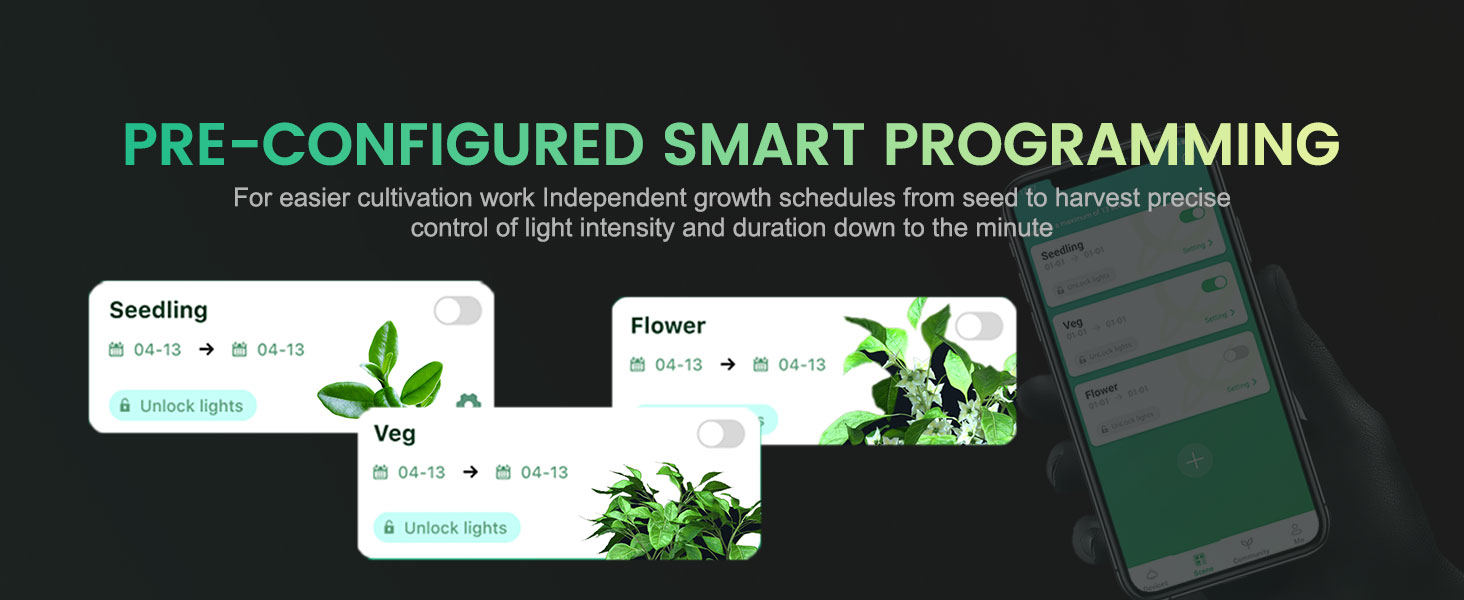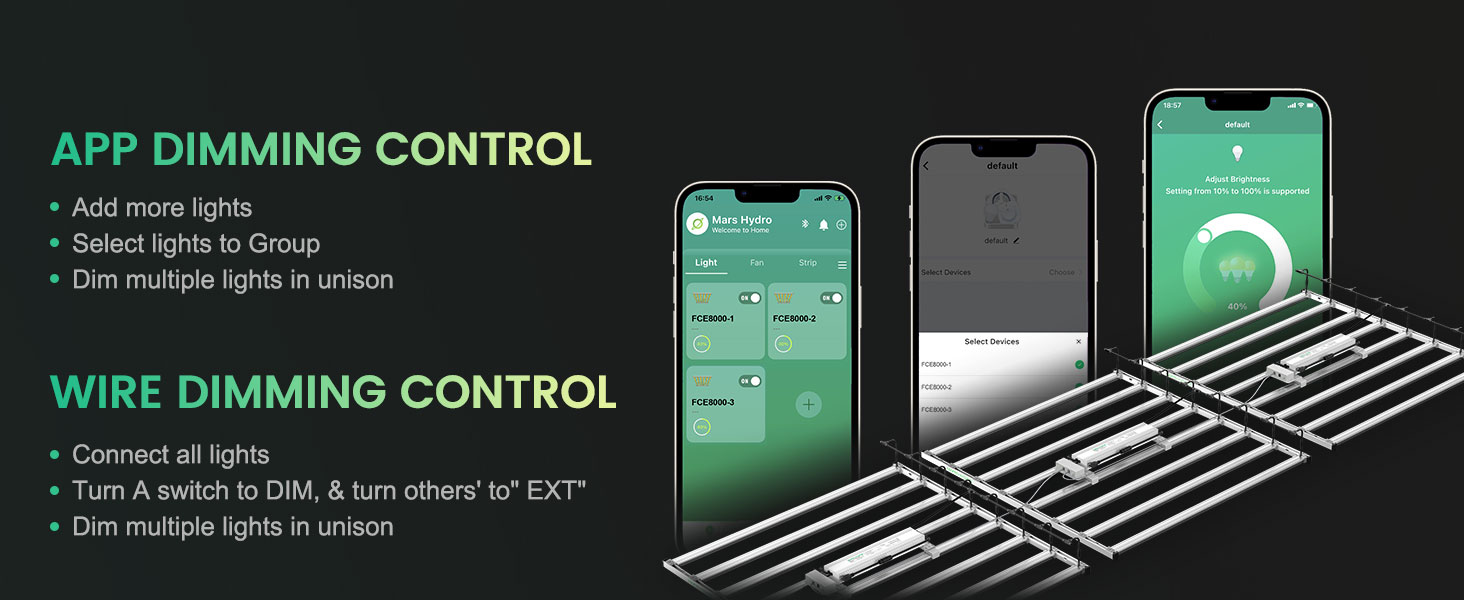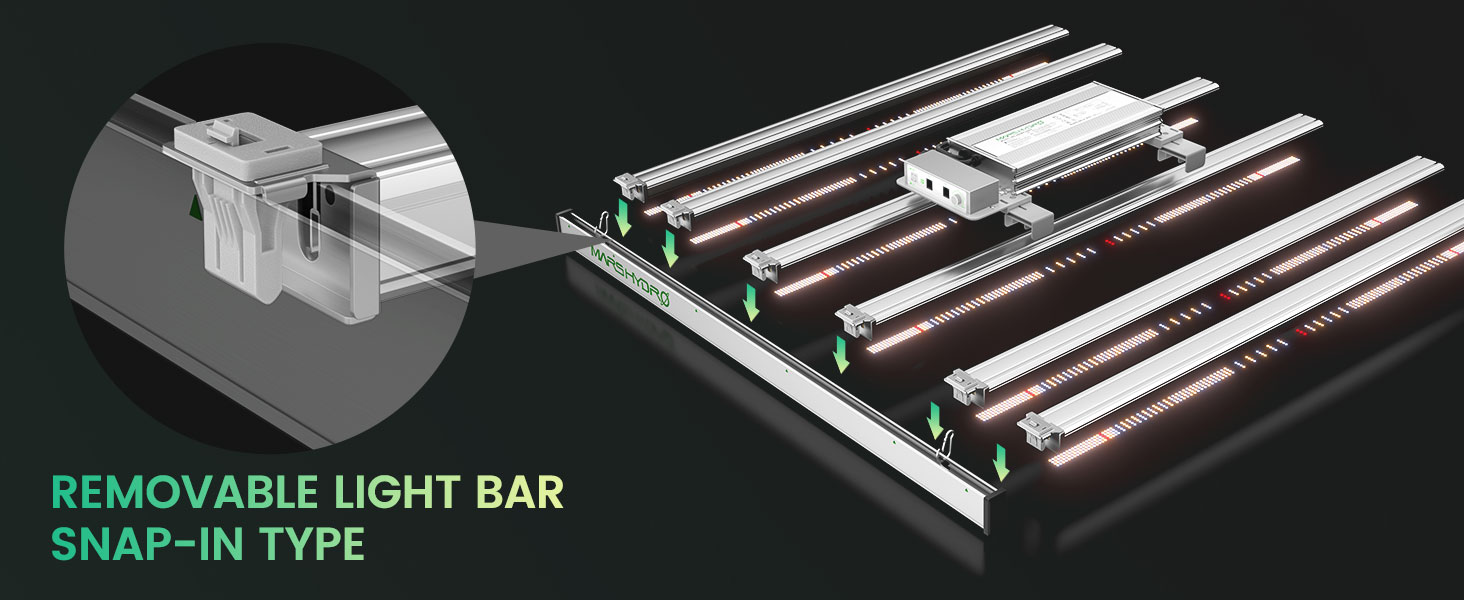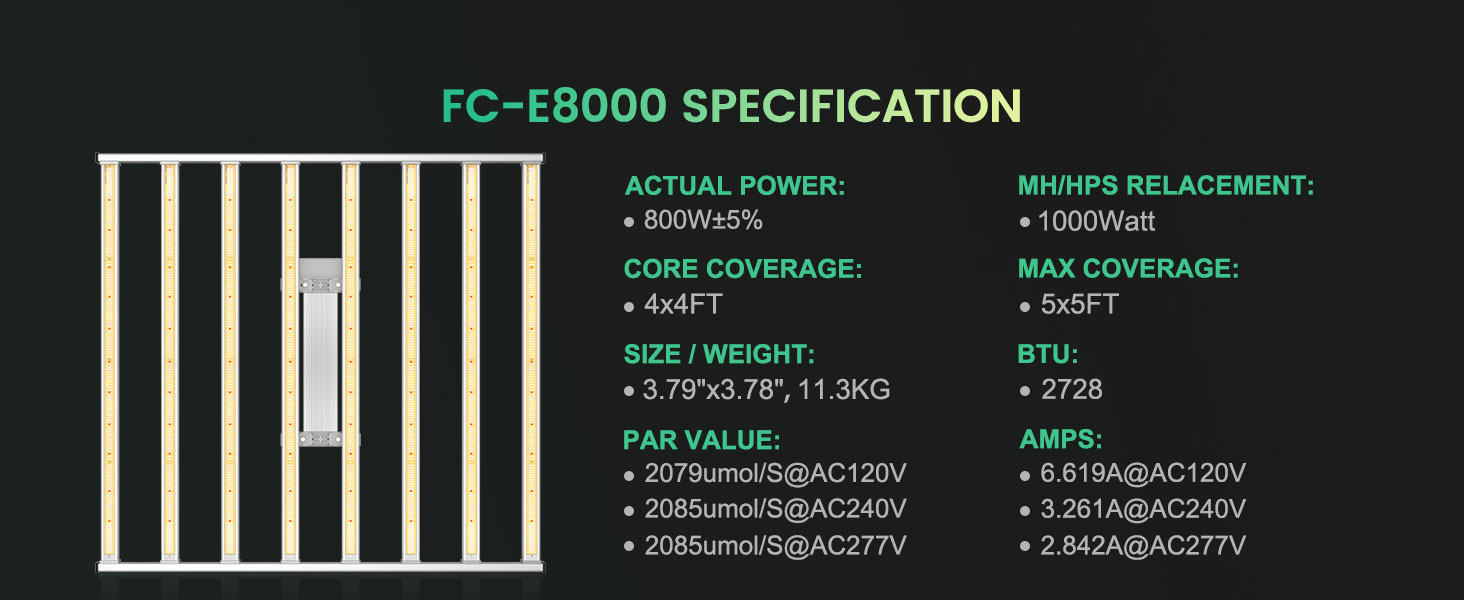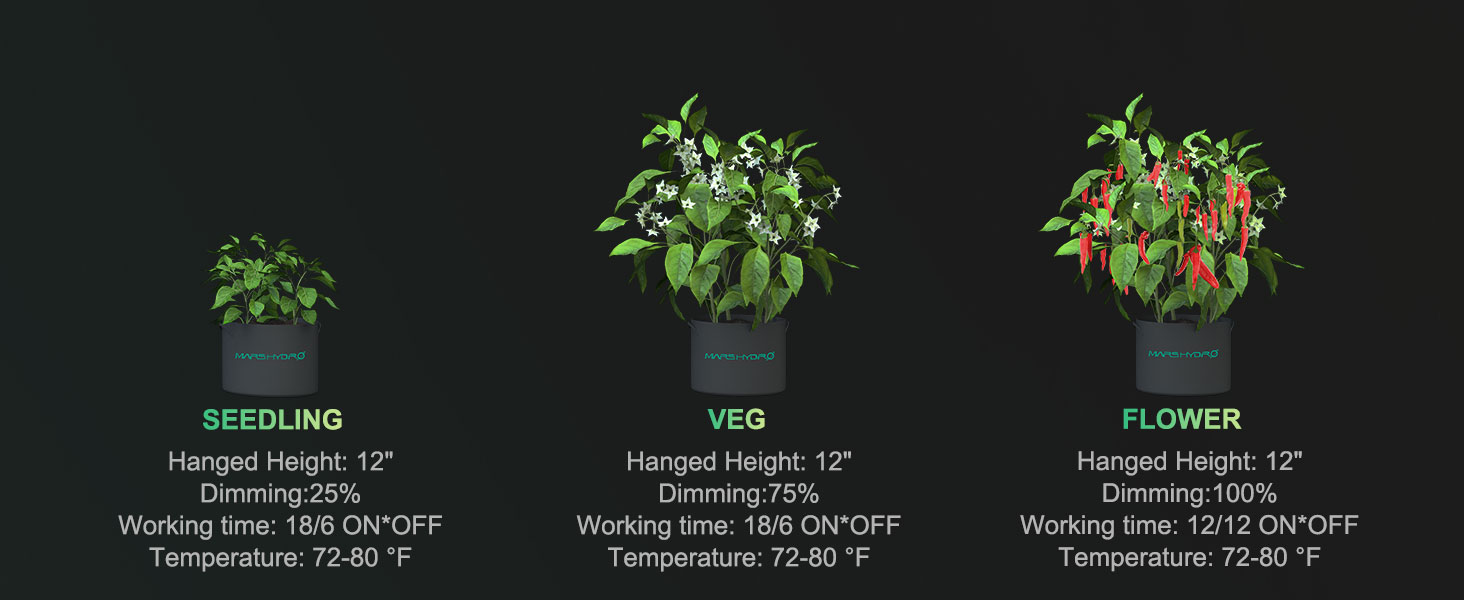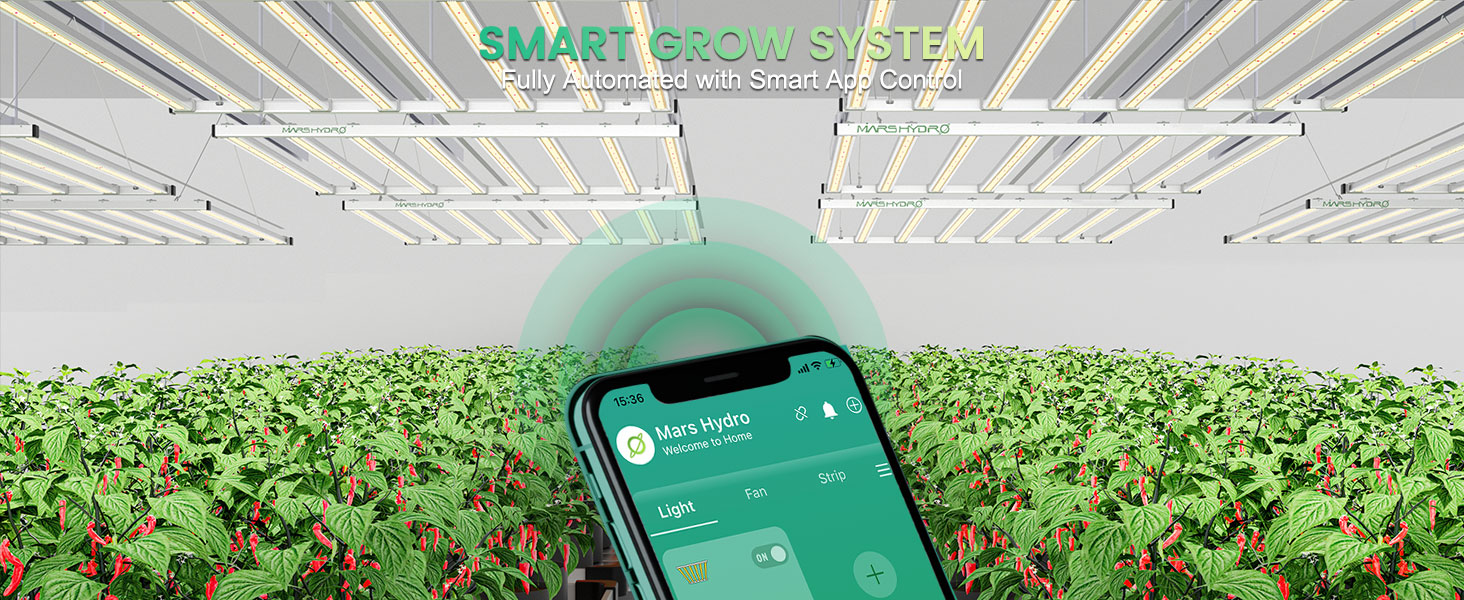 More Information

| | |
| --- | --- |
| WATTAGE | 800W±5%@100-277V |
| Core Coverage | 4'x4' |
| Max Coverage | 5'x5' |
| PPE | 2.8μmol/j |
| PPF | 2231μmol/S |
| Chip Brand | BridgeLux |
| Spectrum | 660-665nm,2800-3000K,4800-5000K |
| Max Yield | 2.5g/W |
| Voltage | AC100-277V |
| Amps | 6.619A@AC120V 3.261A@AC240V 2.842A@AC277V |
| BTU | 2728 |
| Certificate | UKCA,CE,RoHS, ETL, IP65 |
| Lifespan | 50000 H |
| WARRANTY | 5 years |
| Dimension | 1162*1151*81MM |
Ask a Question
Verify that the Time Zone is set correctly. For more information, refer to the "Time Zone Problem" section. Once the device is connected to the app, it is recommended to avoid manual operations, as manual operations (adc mode) will override the app commands (cmd mode). If the setting command fails to be delivered successfully, it is advised to reconfigure and deliver the command (configured settings) once again.
There are two types of upgrades on the Mars Hydro App: 1. Proactive Upgrade: Ensure that the device is connected to WiFi. Access "Me→Equipment Settings→Equipment Update". Refer to this video tutorial for detailed instructions: [https://youtu.be/EQHmQvPeBIA]. 2.Mandatory Upgrade: During the initial connection of the device to your WiFi, the app will automatically initiate a mandatory upgrade for your device. After entering your WiFi account and password, the app will switch back to the device scanning interface and begin the OTA mandatory upgrade process. The upgrade typically takes 2-3 minutes. After completion, please reconnect your device to...
Read more
Follow these steps to check and refine the WiFi connection: 1. Ensure that the WiFi account and password are entered correctly. 2. Remove any special characters, spaces, or symbols (e.g. #, $, %, &, *) from the WiFi name or password. 3. Note that the device does not support 5G WiFi. If you are using a 5G network, switch to a 2.4G WiFi network. 4. If the previous attempts fail, you can try resetting the device. Refer to this guide for instructions: [https://www.youtube.com/watch?v=nLCp___nduY]. After resetting, reconnect the device to your WiFi. 5. If all the previous attempts fail, try connecting using a mobile hotspot. Please note that the device does not support 5G hotspots. If you can successfully connect using a mobile hotspot, it indicates that the brand/model of your router (WiFi) may not be compatible with this device. Note: During the initial WiFi connection, the app will automatically initiate a mandatory upgrade for your device, which typically takes 2-3 minutes. Once the upgrade is complete, you can connect your device to the WiFi...
Read more
Features
Upgraded Installation Method

Featuring BridgeLux chips and a special chip arrangement that allows a more even distribution and efficiency of 2.8 µmol/j, FC-E8000 can take care of every plant well and grow the best results.
Professional LED Grow Light Performance

In a special combination of spectra, the FC-E8000 is a full spectrum LED grow light which beneficial to the entire plant growth cycle, with more red light added contributing to flowering.
Remote Control and OTA Data Transfer

The movable light bar can be used to freely adjust the light density at different points within the effective coverage area, maximizing light utilization and creating an even crop. At the same time, it is easy to install, store and replace.
Precise Configuration And Auto-Dimming

The dimming knob can adjust 0-100% of brightness to cope with the different plant growth stages, making dimming more convenient and saving electricity costs. Up to 30 lights can be controlled by the daisy chain with one master light.
Which light is right for you?