Frequently bought together
Specification

Additional Information

| | |
| --- | --- |
| Weight | 10 |
| Item NO. | Grow Tent 27''x27''x63'' |
| Material | Heavy Duty Nylon |
| Canvas Density | 1680D |
| Connecter Material | Steel |
| Electrical Port Quantity | 2 (3'') |
| Ventilation System | 1x8" roof mount; 2x6" upper side mount; 3x0.5 sq foot lower vents2 x 6" + 1 x 8" |
| Door Quantity | 1 |
| Draw power | 134W + - 5%@AC120V 138.9W + - 5%@AC240V |
| Coverage | Core coverage: 2'x2' |
| Spectrum | 650~665nm 3000~3200nm 6000~6500nm, |
| Chip Brand | Epistar |
| Work Temperature | -4°F ~105°F (-20°C ~ 40°C) |
| Compare to HPS/MH/HID | 250w HPS |
| Lifespan | 50000 hours |
| Decibel Value | 0db |
| Plug Type | USA. UK, EU, AU, Japan |
| View Angle of LED | 90°-120° |
| Humidity | ≤90% |
| N.W/G.W | 10KG |
| Warehouse | USA, UK, DE, AU, Canada |
| UPC Number | 686494423268 |

Spectrum/ Par

Grow Tips

1.How do I determine the right light for my grow area?

Measure the floor space. Multiply the length times the width and this will give you the square footage. You should be able to get decent results with 30-50 actual watts of power per square foot.

2.For larger areas should I go with a single large panel or multiple medium to small lights?

Using multiple lights allows you to better distribute the intense light in more areas of the grow space instead of having all of the higher intensity light concentrated in only one area while the outer edges never receive intense light.

3.Recommended Hanging Distance Above Plants Seedling stage: 24~30'',Veg Stage: 16~24'',Flowering Stage: 12~16''

4.Here are more tips for grow under our light: Growth stage, turn Growth switch on. Bloom stage, turn Growth and Bloom switches on.

5.Recommended Lighting Time Veg: 18/6(on/off) or 20/4(on/off) Flower: 12/12(on/off)

6.Recommended Growing Conditions The rate of photosynthesis and transpiration are directly affected by temperature, humidity and airflow. The perfect temperature and humidity for your plants are found between 75°-85°F and 50% - 70% humidity, with plenty of airflow to replenish CO2. PH is 6-6.5. You may add more calcium and magnesium than normally needed.

7.Please Note The light is not water-proof, so do not use it under water environment. Light may be too strong, please wear your sunglasses when looking at it. Some leds seem dim. They are IR. Human eye can not see IR very clearly, but you can wear sunglasses to check.

Q&A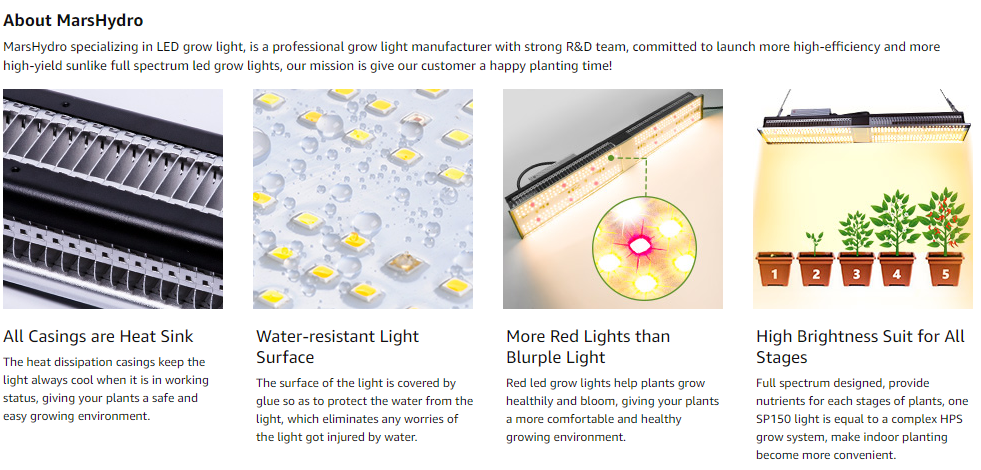 You may also be interested in the following product(s)
Customer Reviews
5 item(s)
Wonderful tent and light kit!It solves my difficult choice and save 10USD for me. hoping to launch more such series, good item deserve good recommendation!

Great light and tent. Will use them for growing my little plants, Love them, love mars hydro!

Just receive SP-150 with 70*70 tent today! The shipping is so fast and the light looks very awesome, thanks and hope you will be better and better!

I have received them for two days, they are looking beautiful and I can see my plants love them and change little by little with their accompany. I love them!

This kit looks really good. Mars Hydro SP150 suit for the 70*70*160 grow tent. I can't wait to receive them and start my growing!
Add A Review
your email address will not be published . required fields are marked *