Mars Hydro iFresh 4-Inch Smart Inline Duct Fan and Carbon Filter Combo Ventilation For Grow Tent
US$125.99
Regular Price
US$139.99
Free Shipping to the United States on Orders Over $59
Support
Lifetime Customer Support
Quick Overview
Fan/Duct/Filter Size: 4 Inch
Airflow: 205CFM
Noise: 26.8dBA
Controller Type: Phone APP Control
The Mars Hydro 4'' Smart Ventilation Kit includes a 4" inline duct fan that can be controlled via the app, as well as a high-efficiency charcoal filter and ducting system. This kit provides an intelligent cooling and filtration system for your grow tent, regulating and purifying the airflow and climate within your grow room.
Ventilation Kits Include:
Included in the ventilation kit are a 4" inline duct fan, a 4" carbon filter, a speed controller, a 25-ft flexible duct tube, 3 duct clamps, and 2 hanging straps.

For a tutorial on how to use the Mars Hydro iFresh smart inline duct fan, please visit https://youtu.be/ZzFlk6IyM6w.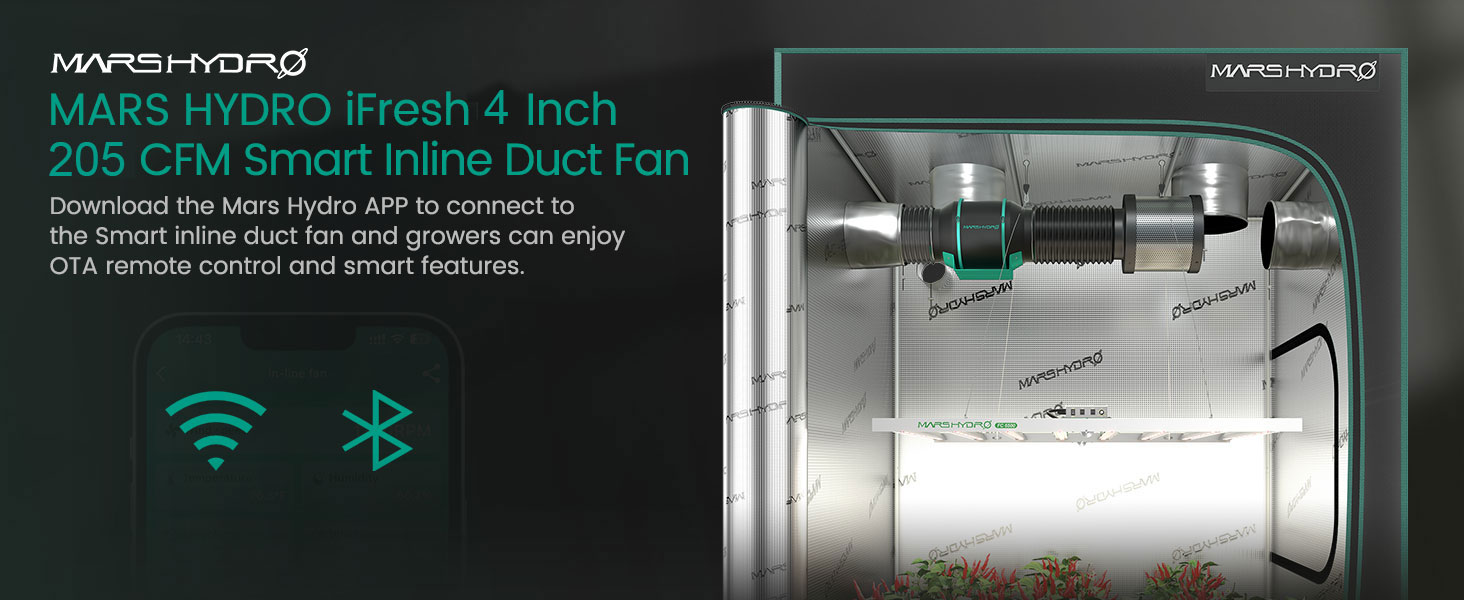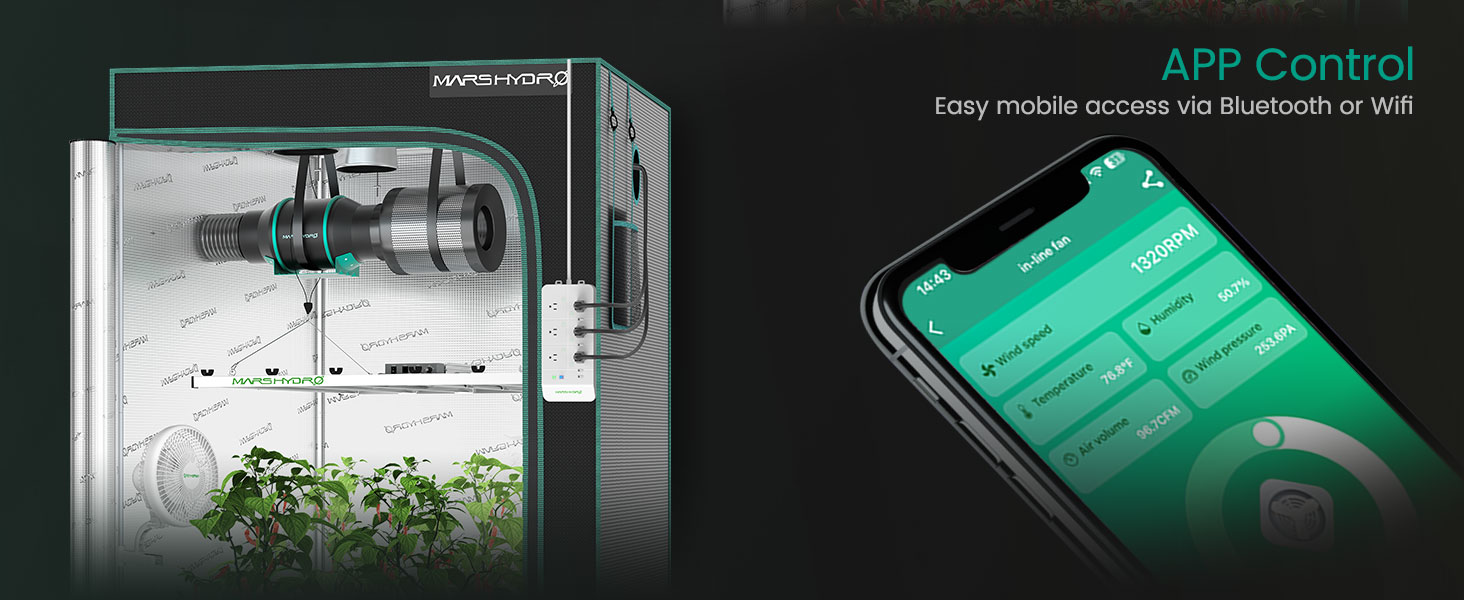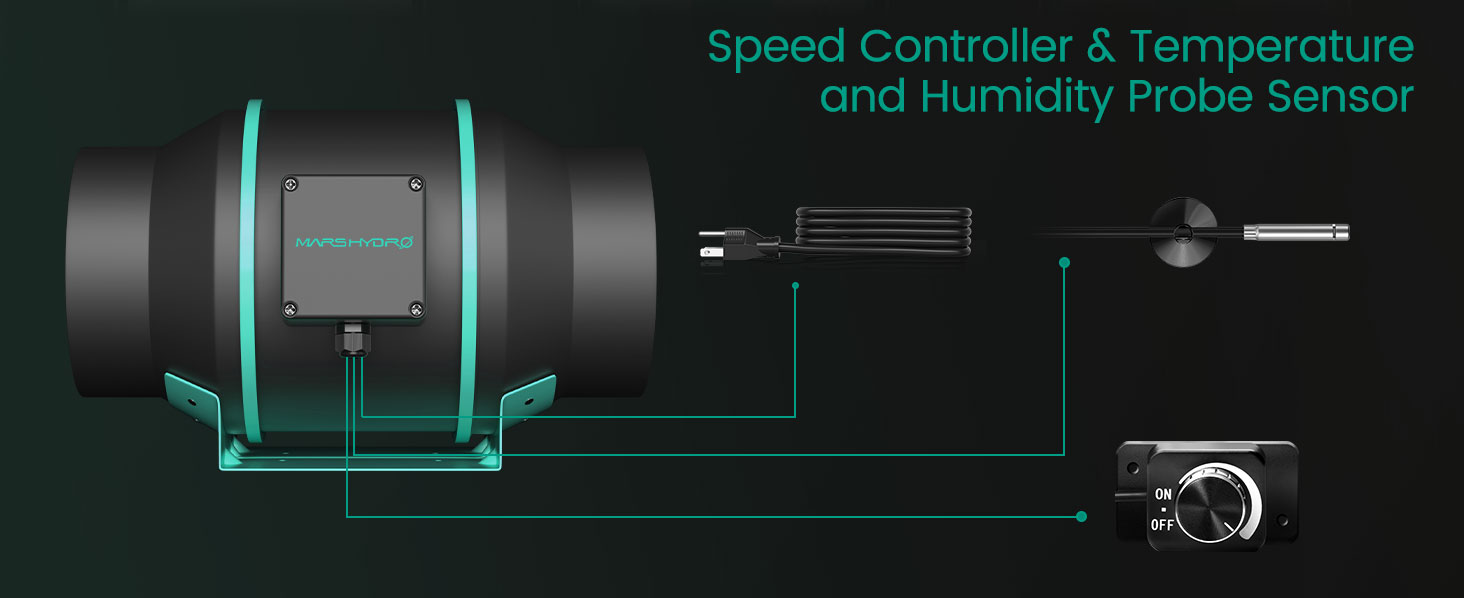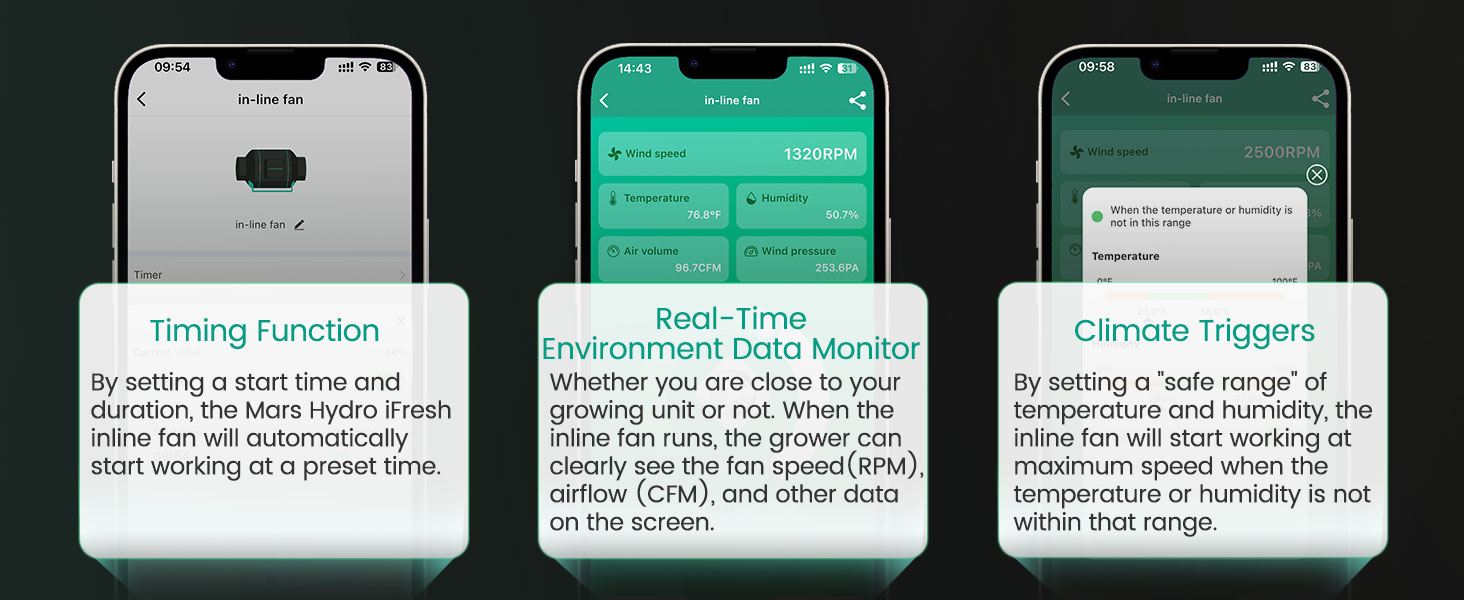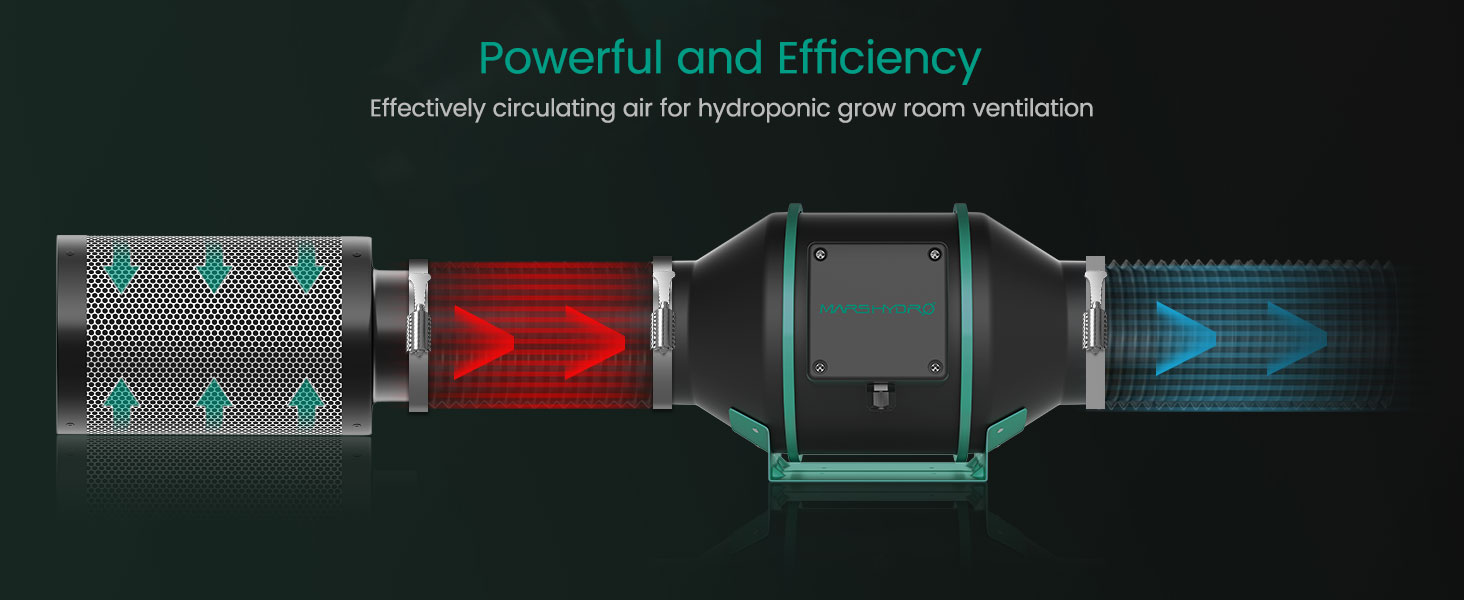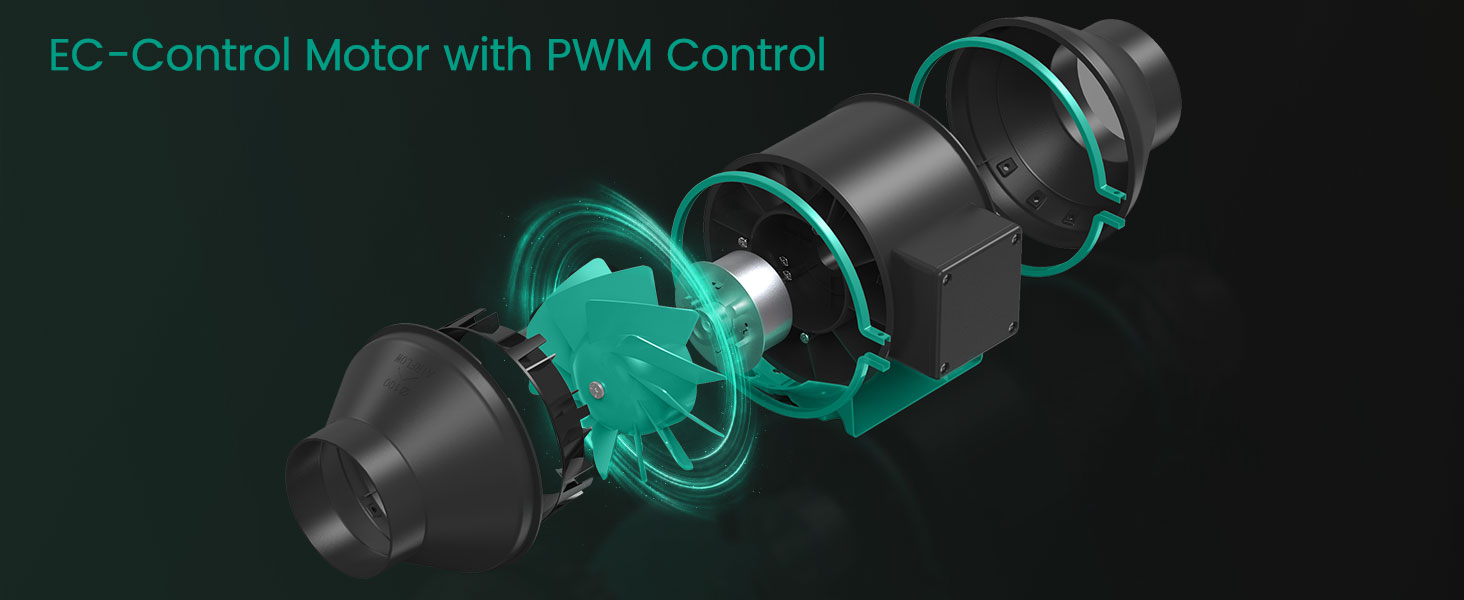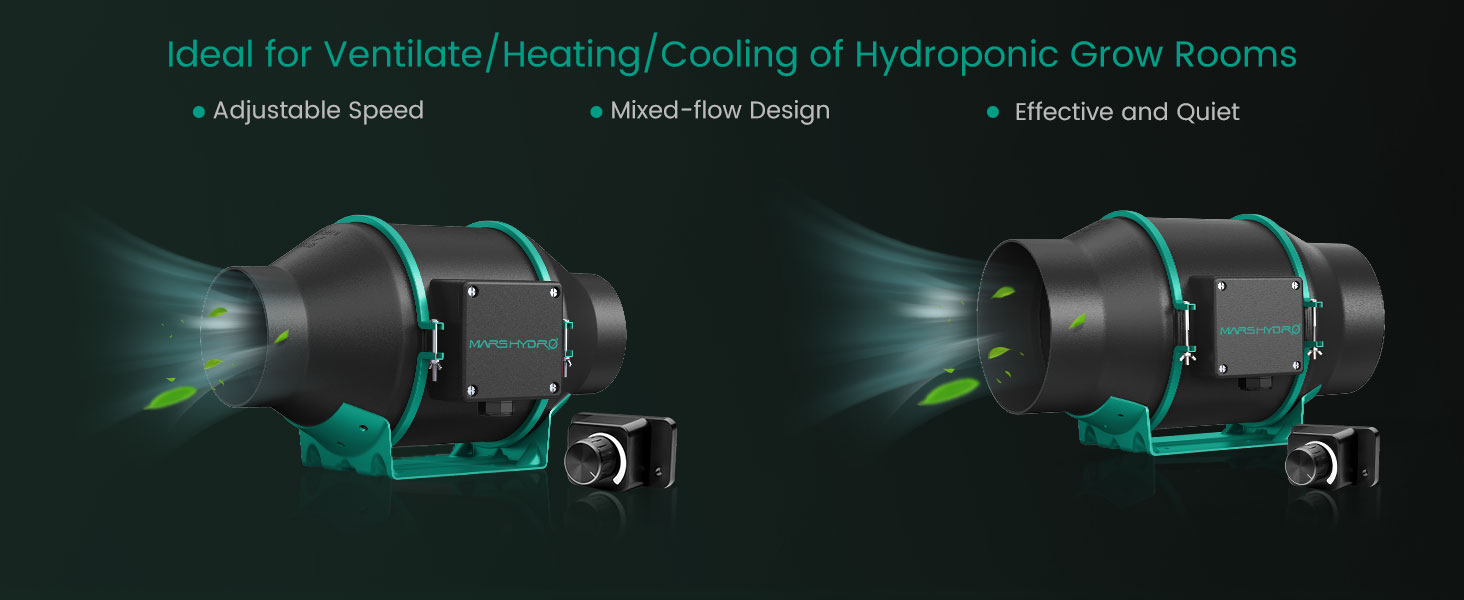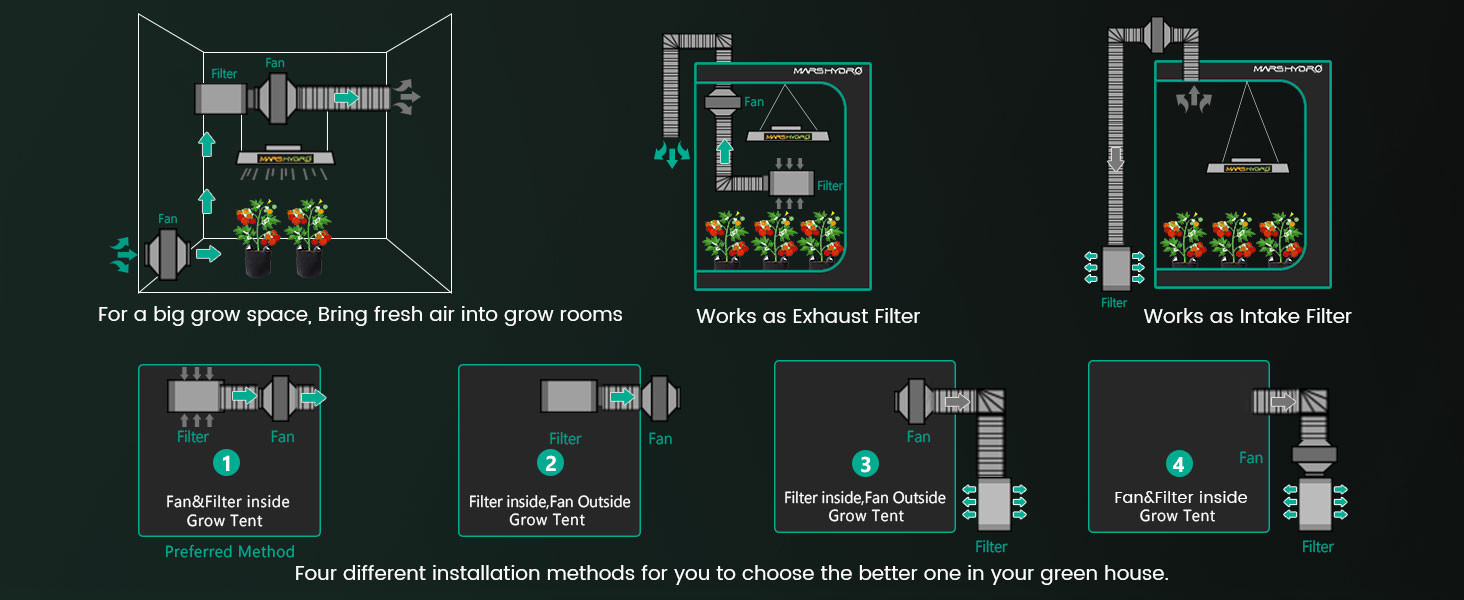 More Information

| | |
| --- | --- |
| FAN SIZE | 4'' |
| CARBON FILTER SIZE | 4'' |
| Airflow | 205CFM |
| Noise | <26.8dBA |
| Voltage | AC ~ 110-240V |
| Fan Controller | Smart Controller |
| Dimension | 303mm*202mm*190mm |
Please complete order for the product to write review.
Ask a Question
Follow these steps to check and refine the WiFi connection: 1. Ensure that the WiFi account and password are entered correctly. 2. Remove any special characters, spaces, or symbols (e.g. #, $, %, &, *) from the WiFi name or password. 3. Note that the device does not support 5G WiFi. If you are using a 5G network, switch to a 2.4G WiFi network. 4. If the previous attempts fail, you can try resetting the device. Refer to this guide for instructions: [https://www.youtube.com/watch?v=nLCp___nduY]. After resetting, reconnect the device to your WiFi. 5. If all the previous attempts fail, try connecting using a mobile hotspot. Please note that the device does not support 5G hotspots. If you can successfully connect using a mobile hotspot, it indicates that the brand/model of your router (WiFi) may not be compatible with this device. Note: During the initial WiFi connection, the app will automatically initiate a mandatory upgrade for your device, which typically takes 2-3 minutes. Once the upgrade is complete, you can connect your device to the WiFi...
Read more
| | |
| --- | --- |
| Size | 4" |
| CFM | 205 CFM |
| RPM | 2600 RPM |
| Noise | 26.8 dBA |
| Power | 25W |
| Frequency | 50/60Hz |
| APP Control | support |
| Dimension | 303*202*190 mm |
Features
Powerful and Quiet Inline Duct Fan

The Mars Hydro iFresh 4-inch inline fan utilizes a mixed-flow design and a PWM-controlled EC motor, allowing it to generate up to 205 CFM of airflow while producing minimal noise. This makes it suitable for ventilating and cooling grow tents ranging in size from 2x2 feet, 2.3x2.3 feet and 3x3 feet.
Activated Charcoal Filter Carbon Filter

The Mars Hydro carbon filter employs activated charcoal to effectively eliminate unwanted odors and particulates from grow tents and rooms. The filter's double-sided steel mesh body has a 53% open area for airflow, ensuring that the odor absorption and elimination process is thorough. The filter also includes a prefilter cloth that should not be removed while in use.
Remote Real-Time Environmental Data Sensor

By downloading the Mars Hydro app, indoor growers can connect to the iFresh 4-inch inline duct fan and access various smart features such as OTA remote control, climate triggers, alarms, and loop timers, all of which can be easily controlled from their smartphone. Fan speed and on/off functions can also be adjusted with a simple touch.
Daily Loop Timer Growing Schedule

The Mars Hydro iFresh 6-inch inline fan features a probe sensor that provides real-time monitoring of key climate data, such as temperature and relative humidity. Growers can easily view the fan speed, airflow, and climate data on the app screen, regardless of their location. With the loop timing schedule feature, growers can set a start time and duration for the fan to operate automatically.
Automatically Triggered By Climate Changes

The climate trigger feature allows growers to set a "safe range" of temperature and humidity, enabling the inline fan to operate at maximum speed when the temperature or humidity falls outside of that range. This ensures that the grow room maintains an optimal climate without the need for frequent adjustments.
Alerts and Notifications for Safety

The iFresh smart inline fan includes an alarms and notifications feature that immediately sends alerts to the user's phone when any suspicious behavior or triggers are detected in the grow room.
We found other products you might like!