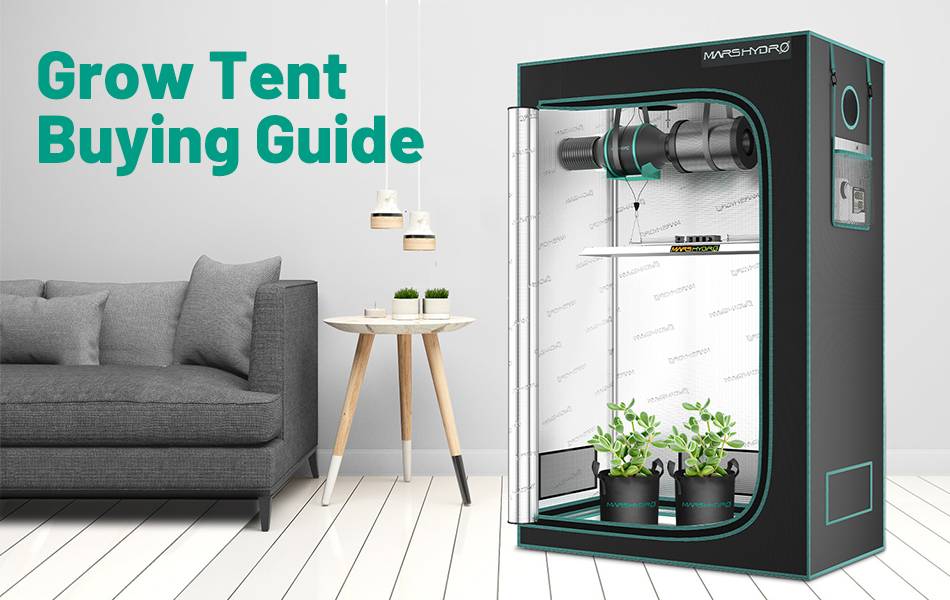 Picking the right grow tent can significantly impact an indoor cultivator's ROI. While it may seem like a steep upfront investment, high-quality grow tents always reward growers with more robust plants.
A tricky question is how new customers should pick the best grow tent. To be honest, there's no "perfect" tent model for every cultivator. Each person has different space requirements and gardening goals, so picking the optimal grow tent will depend on a gardener's specific situation. However, there are a few general guidelines every indoor cultivator could follow to figure out how to choose the best grow tent.
---
Wait, Why Use A Grow Tent?
People who are new to growing indoors may be itching to plant a few seeds in a pot and put a light over it. After all, plants don't really "need" a grow tent like they require water and light…right?
It's true that grow tents aren't an "essential" part of cultivation, but they certainly make growing indoors way less stressful.
Grow Tents Minimize Light Loss & Maximize Light Penetration
A key benefit to using a tent is concentrating your grow light's energy on your plants. It doesn't matter how high-quality your LED grow light is — without a grow tent, a significant percentage of photons will spill away from your plant. Grow lights have an interior reflective coating that efficiently concentrates lightwaves onto your plants.
Not only will grow tents intensify light penetration, they will keep this light from leaking out. This essential feature helps concentrate your grow light andprevents nosy visitors from noticing your operation.
Grow Tents Provide Convenient Plant Management
One of the advantages of growing indoors is that cultivators can control their environment. However, without a grow tent, you won't enjoy full mastery over your space.
Grow tents provide a compact space to cultivate within, making it easier to set the ideal humidity and temperature for whatever you're growing. You'll also find it costs less electricity to adjust your internal environment in this small space.
Grow tents provide a convenient way to manage plants at different stages of development. Indeed, many cultivators use separate tents for vegetative and flowering plants to better organize their harvest.
Grow Tents Give Indoor Cultivators Superior Security
Another benefit of using a grow tent is that they provide extra discretion and security for home cultivators. As long as grow tents hook up with a high-quality air filtration system, they won't give off any noticeable odors. Cultivators who value their privacy will appreciate how inconspicuous tents make their grow operation.
In addition to keeping pesky people out of your garden, grow tents do a fantastic job keeping literal pests out of your grow space. A well-threaded grow tent is the best defense against bugs and microbes.

How To Choose From A Grow Tent Out Of So Many?
Picking a grow tent is no easy task. There are so many competing models that it could make a cultivator's head spin. However, there are a few factors to note as you're trying to pick a grow tent.
What's The Grow Tent Brand's Quality Standard?
The first way to evaluate different grow tents is to look into each company's reputation. Does the company you're working with have awards and accreditations? How long have they been making tents? Do they have positive reviews from verified clients?
If a company has a long track record in the grow tents space, you should feel more comfortable with the quality of their products.
What Size Grow Tent Works For Your Space?
Even if you love a tent brand's reputation, it won't work if you can't fit their tents in your space. Please take detailed measurements of where you intend to place your grow tents. The area of your room should be slightly larger than the tents you want to put in it.
Please evaluate each grow tent's height, width, and length. If possible, use a smartphone measurement app to see if these specs make sense in your space.
How Many Grow Tents Do I Need For My Intended Plants?
Each customer will need a different number of indoor grow tents for their intended crop. In some cases, buying two small grow tents rather than one larger one may make more sense. Indeed, many people like to separate plants by their stages of development in different tents.
A significant benefit of indoor grow tents is that people can continuously cultivate plants for non-stop harvests. Cultivators can maintain and adjust their light schedule, temperature, and airflow throughout the year rather than relying on the vicissitudes of the outside world. Instead of enjoying one harvest during the fall, people who use multiple grow tents can manage many growing cycles yearly for huge returns.
How Do I Know My Plants Will Fit In A Tent?
Please also remember to figure out whether your grow tents will hold the number of plants you're interested in cultivating. Each tent size usually has a maximum range of plants it could handle, but you always have to factor in how large your preferred strains grow.
Most growers settle for tent sizes of 4' x 4' or 4' x 8', which tend to hold between 4 - 6 or 4 - 10 plants, respectively.
The smallest size for a grow tent is usually in the 2' x 2' range, and this choice is best for people interested in keeping a "mother plant" for clones. On the opposite extreme, 8' x 16' tends to be the largest tent model, but it's only intended for serious growers who have a lot of space and want 16 - 32 plants.
When developing your tent size strategy, please evaluate your year-round strategy and your plants' average size. The following picture is a rough reference for you, to look for a more detailed guide please check Mars Hydro previous post.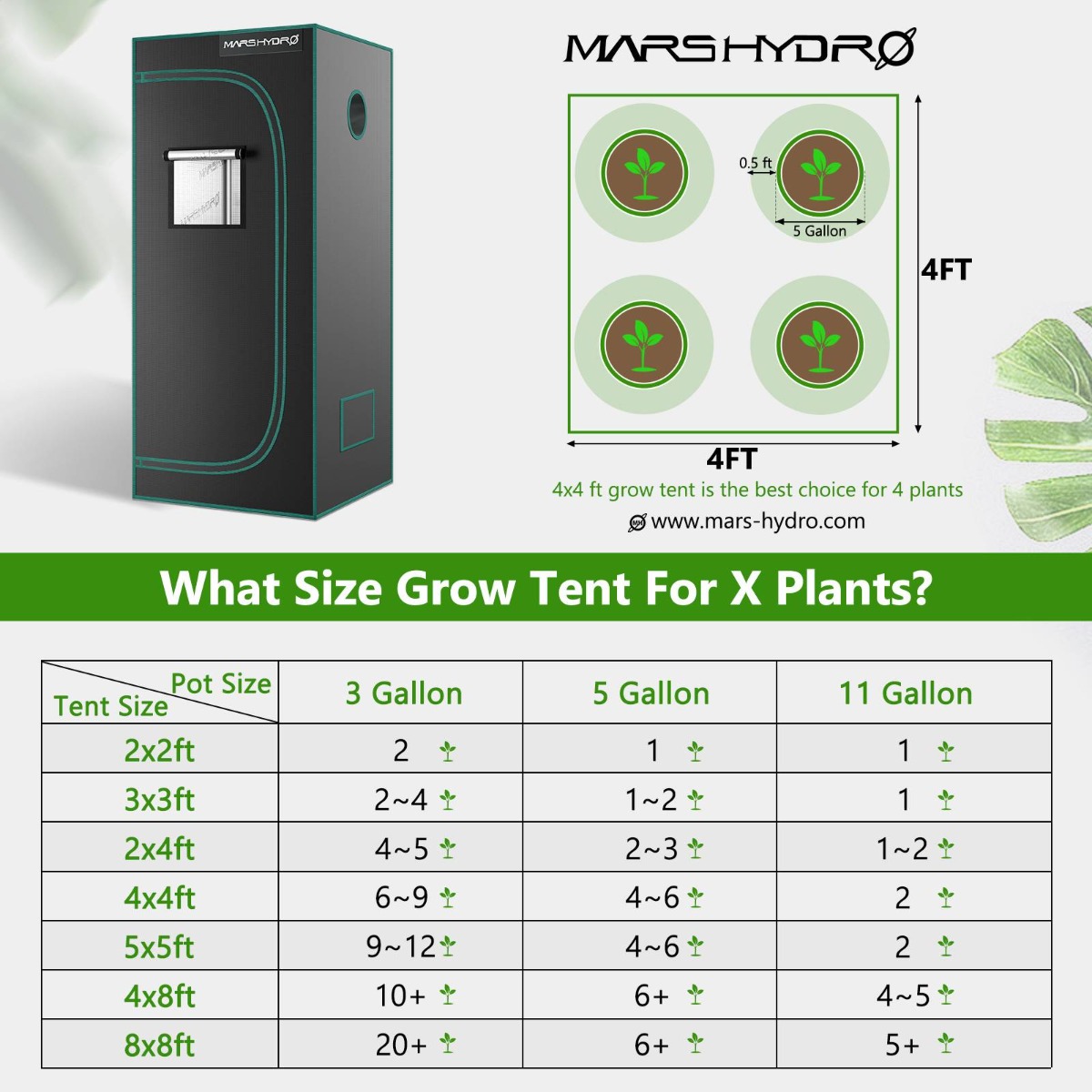 What To Compare When Picking A Grow Tent?
If you're still struggling to differentiate various grow tent offerings, there are a few features you could take note of when making product comparisons.
How Lightproof Is The Grow Tent?
"Denier" is a standard measurement in the textile industry that helps tell you how thick your grow tent is. The higher the Denier count, the more lightproof your grow tent will be.
The Denier of the grow tents on the market scores from 210D to 2000D. The closer to 2000D, the better quality your grow tent is. Decent grow tents should score well above 680D.
How Will Light Get Distributed In The Grow Tent?
In addition to being "lightproof," it's essential to review how reflective your tent's interior mylar coating is. Just because your grow tent keeps light in doesn't mean it's maximizing the light penetration on your foliage. High-quality tents need a mylar reflective coating with patterns that help concentrate light on your plants.
If you don't notice irregular embossed patterns in the mylar's design, you're not enjoying the max light reflection. Professional grow tent manufacturers should know that diamond-shaped patterns provide the best reflection and light coverage inside a tent.
How Firm & Sturdy Is The Grow Tent?
You shouldn't fret about your light falling once you hang it up. A manufacturer should list what materials they use to construct their grow tent's structure and how much weight they could hold.
Well-constructed tents will have an all-metal framework and a total carrying capacity of at least 40 kg. It's also essential for customers to review the connection sites in their tent's framework. Some supposedly "all-metal" tents have plastic connectors that don't provide the same stability as clean & simple metal corners.
Be sure you know how much weight you will put on these frames and whether your grow tent can handle it. Also, please don't assume a larger tent alwaysbears more weight than smaller models. The total weight a grow tent can handle all depends on the quality of its construction.

How Well Does The Tent "Seal Out" The Outside World?
Ventilation ducts are a crucial part of grow tent construction. Ideally, these ports will have a dual-cinching feature that helps you eliminate the external light entering your grow space. This design lets you run your equipment and cords without worrying about adding uncontrollable variables into your cultivation space.
You should also consider whether your grow tent has a clear window you could use to monitor your plants without entering the space. This bonus feature helps you keep tabs on your plants without excessive exposure to the external environment.
Of course, it's always best practice to keep a thermometer and hydrometer in your grow tent to manage temperature and humidity. With this device plus a transparent window, you could get a precise read on your tent's environment without constantly opening and shutting the door. Not only does this reduce the incidence of pests, it helps prevent shocking your plants with possible temp fluctuations.
Besides, you may also find it easier to do the cleaning after watering or exchanging pots of your plants if the grow tent has a removable and water-resistant floor tray in it. It prevents water and nutrients from soaking the tent fabric thus avoiding a cleaning mess. This is essential maintenance to make your grow tent last longer and make it worth your investment.
Learn More About Picking the Perfect Grow Tents On Mars Hydro
Mars Hydro is as passionate about consumer education as we are about making premier grow lights and tents. That's why we regularly post detailed info about being a savvy grow tent shopper on our blog.
If you're still trying to pick a grow tent for your cultivation project, please check out previous guides like this recent post. You could also reach out to one of our sales reps for personalized info on your cultivation situation.