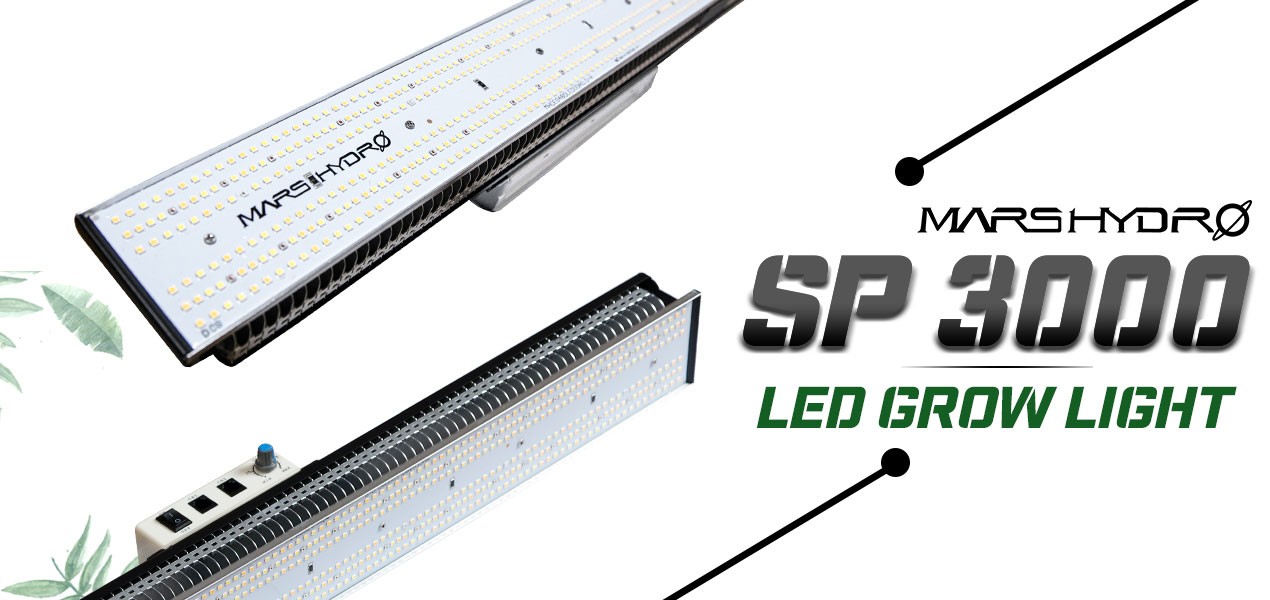 When we talk about Mars Hydro, the first impression might be: it is a middle high level brand, very cost efficient for most

personal growers, very great for veg, but bloom not that good. Personal only, not for commercial. etc. But this time, we are

releasing our new product SP 3000, which might overthrow the previous thoughts.



Why would we so confident?



- Sumsung lm301b & Osram 660nm leds




Unlike our previous grow light series, this time we choose only the high end ones. Sumsung lm301b is known to be one of the

best grow lightchip in the market, higher light output, less heat, and longer lifespan, also Osram's red leds are known in the

grow chip market as well. Fluence, HLG, Next Mega, etc are all using the same kind. These chips are great, but expensive as

well. So from the market, you might found most of the grow lights with these chips are not cheap. For example: Fluence Vyper2x

is over 700USD with around 700pcs leds, HLG 550 is over 800USD witharound 1100pcs leds which caculated to be around

0.7USD~1USD/pc; On our SP 3000, we uses 960pcs leds, which cost only 0.41USD/pc. Why 960pcs? Cause before we decide to

make this light, we did a lot tests, and we found when the chips are at 0.3w, they actually puts out the most, while saving more

energy. To make the light at 300w, we need 960pcs of chips. The final PPFD of this light is over 2.7umol/j. Helping growers saving

real energys, and replacing 600w HPS without any problem. Will 960pcs chips making too much heat? We also did a test,

compared with our SP 250(which has over 700pcs Epistar chips on the same size board, but 230w) We found that the heat

produced by the SP 3000 is actually lower than SP 250, which only increase less than 3C degrees for the tents temperature.



- Real Sunlike Full Spectrum

Spectrum is the key to plants growth. Before we finally decide to use this spectrum, we have done a lot experiments. Blue

spectrum which from 440~460nmare really great for plants growth, while 650~660nm are great for plants flowering. This is

known to all, but the hardest thing is to find the right ratio to mix all the light so that we can get the perfect spectrum. This

time, we add more walm white and also red chips, UV and IR are also there, and the spectrum are just perfect for plants growing.

Mars Hydro will no longer be the led grow light brand who can produce only "veg" light, but also the real great full spectrum

light for both personal and commercial growers!
- Easily Controlled Dimming Function



To help growers uses the light more conviniently, we do upgraded on our SP 3000 with the dimmer function. Growers now can

control the light density very easily without adjusting the hanging height. But how would just one dimming function differs Mars

Hydro from other brand? We add the dimming function to be connectable. If growers buy more than one light, they can actually

connect up to 15 lights together to control them on one lamp. Unlike other grow light brand, which might need growers to buy an

additional controller, and might cost around 800USD, we save this cost for you. Now from personal grower to commercial

growers, SP 3000 can be allsuitable. Using the least money, growing the best plants.
Other than the above features, we also remains the great features on our SP 250 as thick aluminum heatsink design to help heat

dissipate, IP 65, waterproof to help using in the high humidity growing conditions. 2 meter long extention cords to help growers

remove the driver away from the light. What is more, you will find our Mars Hydro Stickers in every light package.




Do you want this awesome light to help you grow big? Click here to order now! If you have any question, feel free to leave your

comment below!