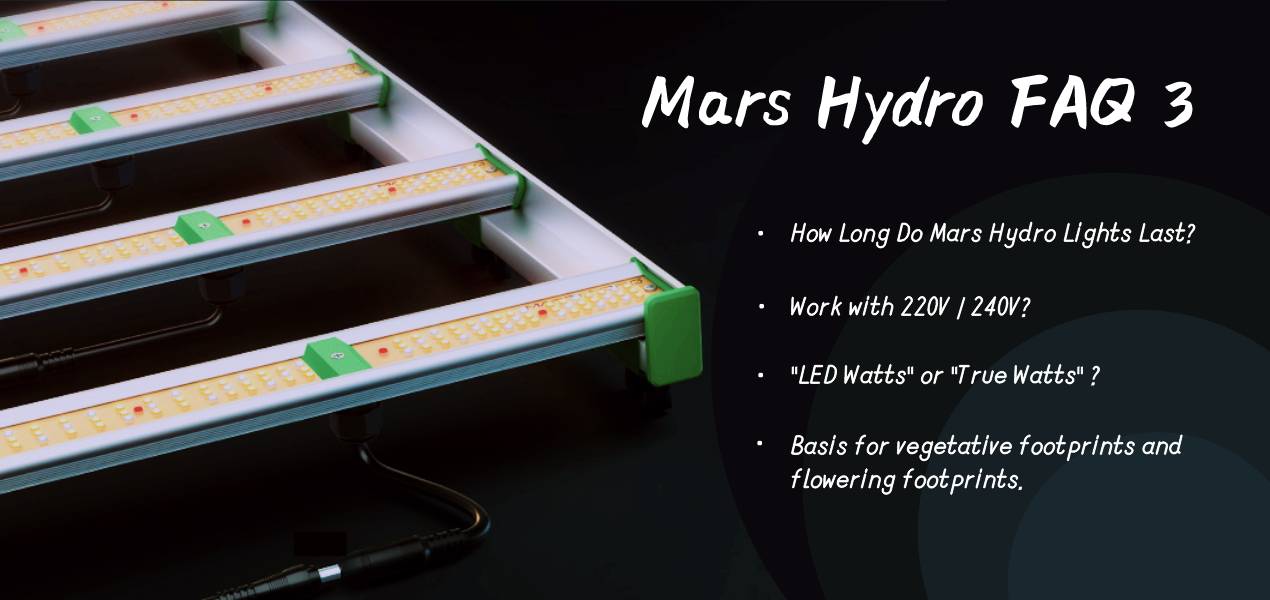 Hi dear growers, Here comes Mars Hydro frequently asked question 3 and the answers to them! Click to read through FAQ1 and FAQ2.
In this blog, we're going to discuss:
1)How long do Mars Hydro lights last?
2) Do Mars lights work with 220V/240V?
3) Difference between "LED Watts" and "True Watts" on LED grow lights?
4) Basis for vegetative footprints and flowering footprints in Mars Hydro LED grow lights.
---
How Long Do Mars Hydro Lights last?
-Mars Hydro LED grow lights last for 50,000 hours, that 5-6 years' longevity(service life), without improper use.
In addition, Mars Hydro offers a five-year warranty, local repair service, and fast response within 24 hours to help you with any issues.
Do Mars Hydro LED grow lights work with 220V / 240V?
-Yes, the input voltage of most Mars Hydro LED grow lights is 100V~277V. While TS600 and SP150 are different. They work on AC110-130V, or AC220-240V (two versions according to the location country).
All you need is the right power cord to plug into the outlet. We offer 110V/US, 220V/EU, 230V/UK, 220V/AU, 110V/JP. Plug types are shown in the below picture:

If the plug does not match your outlet, a plug adapter will fix it. If you need the appropriate plugs, you can contact us([email protected]) to purchase one.
What is the difference between "LED Watts" and "True Watts" in LED grow lights?
-"LED Watts" is the amount of power (wattage) that an LED grow light can theoretically handle. "True Watts" is the actual power(wattage) that an LED grow light handles when working, usually called "Draw from the wall" or "Consumption".
In general, there is a 5% error between the two. This is mostly caused by the different input voltages. The higher the input voltage, the lower the actual wattage.
What are vegetative footprintsand flowering footprints based on for LED Grow Lights?
-The light intensity. To be more accurate, the effective Photosynthetic Photon Flux Density(PPFD) for the plant growth in the vegetative stage and flowering stage.
The area with effective photosynthetic photon flux density (PPFD) is Mars Hydro's veg coverage(max coverage) and flower coverage(core coverage).
Light intensity for plants in vegetative stage: 250-600 umol/m2/s
Light intensity for plants in flowering stage: 500-1050 umol/m2/s
Take Mars Hydro FC3000 for an example. Its flower coverage is 3'x3'. So as you can see in the below PPFD chart, FC3000 delivers 500-1080 umol/m2/s PPFD in 3'x3' area, qualified to offer the adequate light intensity that plants needs in the flowering stage. (Light:100%, Height: 16'')