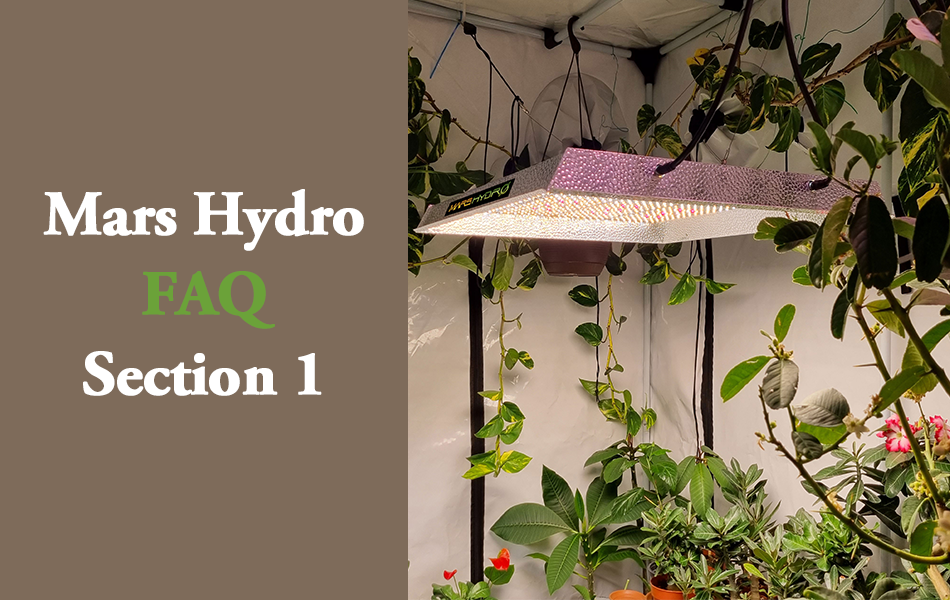 Here starts a new series of Mars Hydro Knowledge blogs. We'll irregularly upload a blog explaining some frequently asked questions about tips to use Mars Hydro Led grow lights, tents, kits...and about orders, shipments, reasons for product upgrades...
Mars Hydro Main FAQ page
---
Mars Hydro FAQ Section 1
Q: How to install/set up an inline fan and carbon filter?
A: Please kindly check this video for installation steps:
Click here to see a video about grow tent kit setup on YouTube
Click here to read a blog about grow tent kit installation steps.
Q: How to cool my grow tent?
A: Actually, the heat source is not the light but the driver/power supply of the light.
Tip 1: You can remove the driver off the light, and place it outside your tent. Mars Hydro grow lights now have a 2m long extension cord supporting you to do this.
Tip 2: You can add a fan blowing to the light, and keep your ventilation system working. It not only removes heat, but also helps build healthy air circulation in your grow room.
Q: How to clean my Mars Hydro led grow lights?
A: DO NOT clean directly with water!
1)Turn off the lights.
2)Unplug the power supply, so that the lights are in a Non-Electric state.
3)Use a clean cloth (with some alcohol) to gently wipe the light panels.
Q: How to use a dimmer box?
A: There are two switches on our dimmer box.
Dimming Switch: the switch on the back of the dimmer box
Light Switch: the switch in the front of the dimmer box
-Keep both switches on, the light is on and the dimming function is available.
-Keep both switches off, the light is off.
| | | | |
| --- | --- | --- | --- |
| | Dimming Switch | Light Switch | Light Status |
| Status 1 | On | On | On |
| Status 2 | On | Off | Off |
| Status 3 | Off | On | On |
| Status 4 | Off | Off | off |
Q: What are the hanging heights and dimmer settings of MARS HYDRO LED grow lights?
A: This is frequently asked since we have had dimmers on Mars Hydro grow lights. Here is the dimming guide for your reference, please adjust it appropriately according to the situation of your plants.
You need to have a dimmable light. (TS600, SP150 are not dimmable)

Confirm which Mars Hydro light model you have.

Turn all light switches on.

Find corresponding light dimming instructions in the sheet below.

Slowly increase the brightness of the light as the plants grow.
Hang Height And Dimming Scale For LED Grow Lights
There's a sheet of the hanging heights and dimming settings, please refer to MARS HYDRO MAIN FAQ PAGE
Attention 1: Hanging height is the distance between canopy and LED grow lights
Attention 2: Veg stage lasts for several weeks. Gradually and Slowly increasing the dimming scale and decreasing the height is the best way to find a suitable distance.

Attention 3: When you use the recommended hanging height for FC series & FC-E series, you need to keep the leaf temperature ≦ 30℃ ( 86℉); if the temperature is higher, then hang it higher.

For the height and dimming scale for FC & FC-E series especially, click here to watch a video for your reference.
More Grow Tips and Light use Instructions are on the way...
If you have any questions that you want to know about Mars Hydro, please leave a comment below this blog. We'll address it for you in a subsequent blog.
Thanks for supporting Mars Hydro.