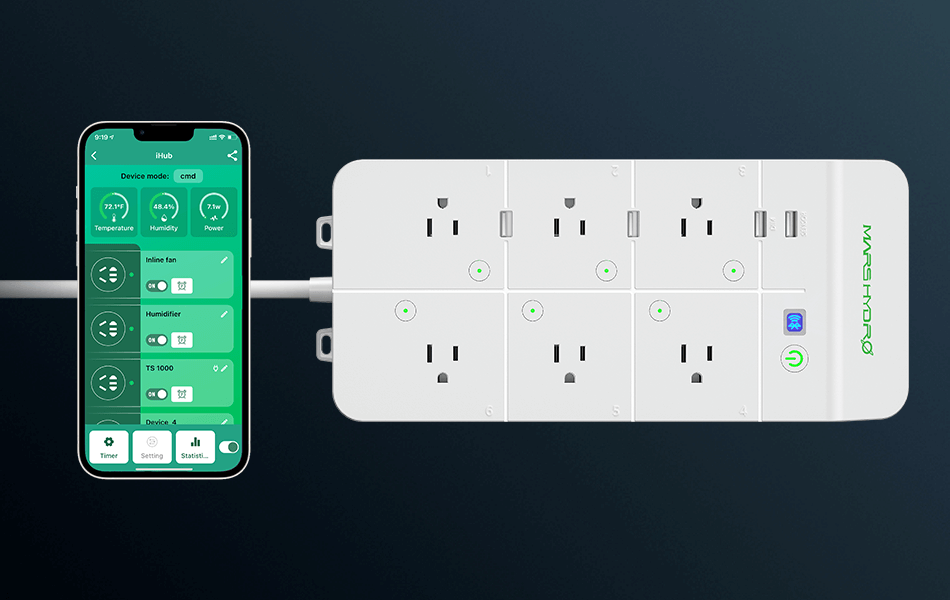 As you wake up and allow your eyes to gradually adjust to the morning sunlight, you turn over to check the time and come to a terrible realization: you overslept and you're late for work!
With a sudden burst of energy, you hastily put on your clothes and run out the door to try and make up for the lost time you spend in bed, sleeping peacefully.As you race to work you come to a second realization, you didn't water your plants! It's too late to go back now though, so, you begrudgingly continue on your journey and hope for the best.
That doesn't sound ideal, right? That's why Mars Hydro is releasing our new range of smart products, including the Mars Hydro iHub Power strip and the Mars Hydro APP. With these products, forgetting to water your plants, turn on your lights, and personally maintain the correct temperature and humidity of your grow area is a thing of the past! With a quick setup and an easy-to-use APP, you have full control of your growing environment from your smartphone!
---
Mars Hydro iHub Power Strip Overview
The Mars Hydro iHub smart power strip was designed to make controlling all of your equipment as simple and easy as it could possibly be. With Bluetooth and WiFi connectivity and over-the-air data transfer and storage capabilities, the iHub power strip is easy to connect and control from anywhere.
Designed with both beginner and experienced growers' needs in mind, the iHub helps towards keeping your plants safe and as healthy as they could possibly be. Together with the Mars Hydro APP you can automate and manage your grow area, view important data and receive updates and notifications, any time, from anywhere, all via your smartphone.
Product Specifications
| | | | |
| --- | --- | --- | --- |
| Rated Power Output | 1200W | Rated Current | 10.9A |
| Rated Voltage | 110-130V AC | No. of sockets | 6 |
| Dimensions | 285.7*128.7*40mm | Wire Length | 2.6m |
Immediate Control For Your Indoor Grow Garden

With the iHub power strip, the days of forgetting to turn on your lights and spending too much time worrying about your plants are over.
Working in unison with the Mars Hydro APP, growers are now able to manage, control, change and set different aspects of the growing environment all from a few clicks on their smartphone. Thanks to the iHub Power strips' USB ports that facilitate data transfers of all the information you need that can then be sent straight to your smartphone via the Mars Hydro APP. And in turn, you can configure your temporary settings in your grow space to modify the climate, lighting, circulation, and irrigation in a real-time manner.
Easy, Remote, Compatible Control Over Multiple Devices

The iHub power strip provides 6 outlets to power your grow house equipment that can be individually turned on or off at designated times, along with extra 4 USB ports dedicated to Mars Hydro Heat Mats, dimmable LED grow lights, and probe sensors to measure climate while also recording and transmitting data to the APP and simultaneously enabling control of all of your devices to meet all of your needs. All with just one iHub power strip.
On top of that, for dimmable grow lights using RJ11 or RJ12 dimming cables, the iHub power strip specifically provides the #3 outlet with a USB_DIM port, making it possible to dim your grow lights on the Mars Hydro APP, whether you're using Mars Hydro LEDs or not! Of course, the #3 outlet with the USB_DIM port is compatible with the dimmable Mars Hydro LED grow lights that are not smart to let them be smart!
Intelligent Timer Settings To Save You Time
With the intuitive timer feature, automating your growing experience is easy and simple to set up. We have listened to feedback from the Mars Hydro community and have learned that home grow automation is the future of growing. By setting a "start time" and "duration", the iHub power strip has the ability to turn on or off 6 separate devices at the allotted time of your choice, saving you the hassle of turning them on or off yourself.
Of course, if you want to run your devices overnight, this feature will totally do the trick and saves you from buying extra timers for your different devices. And these timers are able to be managed and regulated over thousands of miles away!
Dynamic Triggers To Maintain An Optimal Growing Environment
With the Mars Hydro APP, growers are finally able to set their desired temperature and humidity requirements for their smart indoor growing area. Once you've decided on the right temperature and humidity range for your plants, set the values via the APP and then sit back and relax as your Mars Hydro products will automatically cooperate to ensure that the climate levels do not exceed the range you set, thus maintaining the optimal growing environment. That is what we used to call "climate triggers". Once the climate is out of the optimal range, the trigger is pulled, and the selected devices on the iHub power strip start to work.
Intuitive APP Controls & Data Monitoring

Plugging in with the probe sensor and connecting with the Mars Hydro APP, the iHub smart power strip cleverly allows growers to monitor important climate data from inside their grow areas along with the power consumption of their growing equipment all while keeping growers up-to-date via notifications sent to their smartphones. The Mars Hydro APP will display the temperature, humidity, voltage, current, and wattage all in real-time data with time-slotted records allowing growers to go about their day knowing that if there is an issue. You'll be notified immediately on the APP that a climate change, a trigger, a setting, or an issue happens. And you can just take out your phone and carry out instant operations if necessary.
In addition, you can have a clear overview of the indoor grow space you've built based on the data recorded and how they fluctuate, so you can further refine your grow space to perfection - and then, big harvests!
Reliable Safety Protection
Obviously, safety is a top priority for our end users. With that in mind, we designed the iHub smart power strip with a built-in 16A overcurrent fuse that will cut off power and notify you via the APP in case of overload to ensure your growing environment is as safe as it could possibly be! In addition to that, we included outlet safety doors so that the iHub power strip provides protection from sudden electric shock when the device is being plugged into an electrical outlet. Your safety is our top priority!
Environmental requirements for storage and operation of the iHub power strip:
Operating temperature 0°C – 40°C (32°F – 104°F)

Storage temperature 40°C – 60°C (-40°F– 140°F)
Your Smart Indoor Manager

Every ambitious indoor grow room will be paired with various grow equipment such as led growing lighting, ventilation system (inline duct fan, clip fan, etc), climate stabilization system (humidifier, heater, dehumidifier, heat mats, small ac, etc), and even irrigation system (hydroponic system, dripping system, etc). When your indoor growing system is flushed with multiple devices, it'll be a hard time calibrating each device to harmony. You need a manager to set you free from all the hassle, and it is Mars Hydro iHub power strip.
Mars Hydro iHub power strip provides you with smart, remote, compatible, safe control over your indoor growing devices, and along with the Mars Hydro APP, a scheduled, dynamic, balanced cultivation can be achieved to optimize your grow setups, simplify your growing experience, and maximize your plant's production!
Learn the operation details in a video here: Tutorial Of Mars Hydro iHub Smart Power Strip