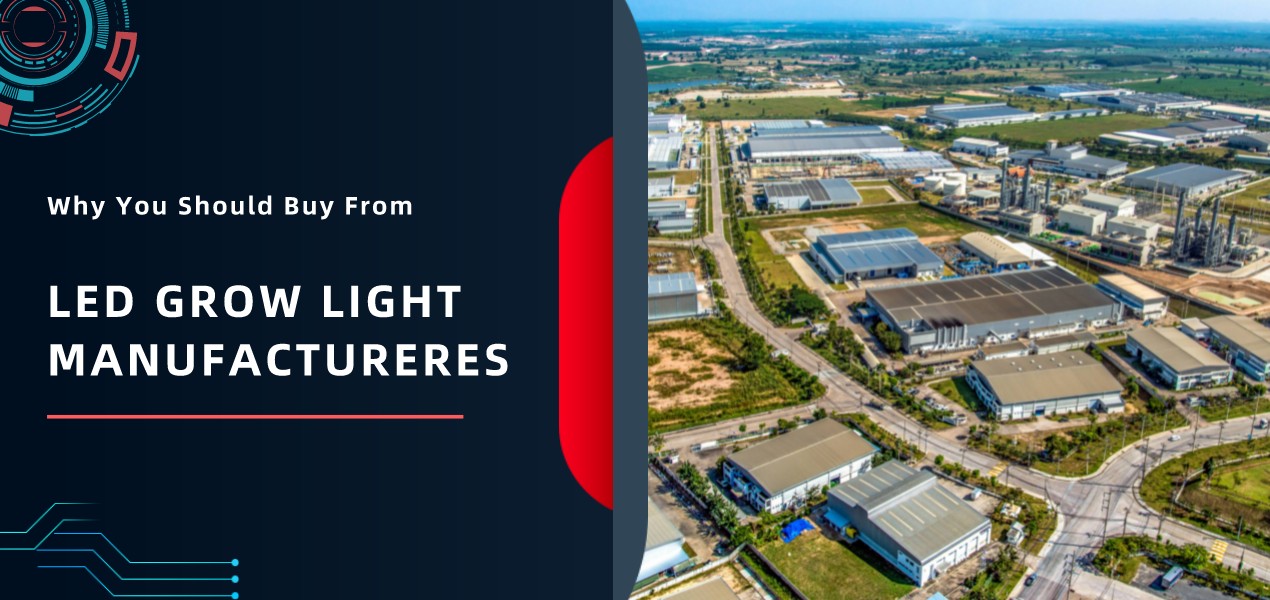 As the first bell rings for 2022, it's time to take a look back, and we're excited to find out how the plants industry has grown exponentially over the years.
While entrepreneurial growers are scrambling to figure out the best way to grow valuable crops, ambitious suppliers, in particular, are flowing into the foremost sector -- LED grow lights -- and flooding the market with a handful of messy choices. It's easy to get lost in a sea of choices, but with a little sifting, qualified grow lights are easier to spot, whether you're growing plants, food, or ornamental plants.
---
LED Grow Light Manufacturers

The original LED grow light manufacturers have been engaged in LED production for many years. Ever since the pioneering work of the High Times in 1974, there has been a misconception that it wasn't long before LEDs were finally introduced to plant cultivation. In fact, it's been nearly two decades. Nowadays, thousands of suppliers in other industries follow the footsteps of profits and easily "part-time "LED manufacturing, bringing prosperity to the LED market, but also the phenomenon of "the bad driving out the good", resulting in the expulsion of many established LED grow light suppliers with a long history and frontier technology.
Nevertheless, there are still many strong established players with consistent curiosity and abiding passion for LED lighting and agriculture, stubbornly investing in expensive technology research and development to provide global cultivators with access to responsible, sustainable and energy-efficient LED lighting products. For example, Fluence, Gavita, and, oddly as it may seem provided by ourselves, Mars Hydro.
---
Advantages And History of Original LED Grow Light Manufacturers
Compared with the "halfway" suppliers, initial LED grow light manufacturers are more experienced, professional, and cautious. Almost every new LED grow light they launched was a success, as it had undergone long-term research, rigorous testing, and thoughtful market research, in addition to being certified with reference to agricultural trends and integrated feedback from professional cultivators. "Halfway" manufacturers, on the contrary, release copies because those mimed models were already successful - they have no idea about the principles and applications.

[True History Speaks Louder Than A Thousand Words]
Mars Hydro pitched into the LED grow light industry as an original manufacturer in 2008 and has become one of the leading manufacturers of high performance LED grow lights designed for plant cultivation.
In 2008, Blurple LED grow lights were our first lines in the grow light market where orange-hued High Pressure Sodium lights were making a big splash in that era. By force of amazing performance as good as HPS in terms of plant production, we gained our first fans. Blurple series "MARS COB", "MARS PRO"...were popular among plant growers who preferred a narrow-band spectrum to enhance vegetation or flowering. However, we've come to realize that blurple lights can't compete with HPS only until LEDs were able to replace the sun after hundreds of experiments.
In 2015, there arose a debate in the agriculture community about the spectrum - narrow versus broad. Taking this opportunity, we visited several large plant farms in the world to conduct a few on-site comprehensive surveys on and process of plant cultivation. Our efforts paid off.
In 2018, after intensive research, we released the first full-spectrum white light - SP series single bar LED grow lights, and made our splash. Until now, the SP LED grow lights are still one of the best-selling LEDs. They offer a broad spectrum, focusing more on photosynthetically active radiation in the 400-700 nanometers band, which changed the impression that LEDs are inefficient.
In 2019, the TS series LED grow lights -- the most affordable and reliable quantum board LED -- were created to enable LED grow lights to grow plants at home more easily and efficiently. Home growers get exponentially increased yields and exquisite flavors without having to worry about the high upfront costs of LED grow lights.
In 2020, multi-bar LED grow lights, the Mars Hydro FC series LED grow lights were introduced to the grower community in the name of brightness, coolness, uniformity, as well as efficiency of 1,000-1,200 micromoles/m2/sec. Powered by the high-end Samsung LM301B diodes, FC LED series is our innovative PRO-level LED grow light series for professional grow and commercial cultivation on a large scale, especially for single or multi-racking scenes and it has received overwhelming support from farmers around the world.
In 2021, the FC-E plant LED series was released for cultivators who prefer the uniformity that comes with a multi-bar design at a more adorable price, with a view to save upfront costs on the premise of nearly-equivalent efficiency and ulteriorly improve marginal returns for commercial growers.
In late 2021, research results hatched. Determined to push the envelope on the light intensity - up to 1,500 micromoles/m2/sec -- Mars Hydro FC8000 and FC-E8000 LED grow lights rode the indoor growing trend and became the latest commercial horticulture models. Providing a proportional amount of photons for cultivation with supplement carbon dioxide, FC8000, and FC-E8000 will further improve crop growth rates and the weight and quality of fruits.
This evolution has taken 14 years. In the future, we'll be heading for high performance, intelligence, remoteization; taking control of the artificial sun, including increased light intensity, spectral conversion, wireless management, smart programming; holding ourselves accountable to elicit desired results ....Mars Hydro is ready to work with you to achieve a bright and confident future.
Why You Should Buy From Original LED Grow Light Manufacturers
When one asks why to buy from LED grow light manufacturers, I'd say making LED grow lights is an easy job, I choose the original manufacturers because,
-Their price is ex-factory without intermediate charge.
-Their LED lights are reliable as the production is carried out by their own proprietary factory with rigorous quality control rather than outsourcing.
-Their grow lights are grower-friendly due to their long-term customer survey and an extraordinary sensitivity to market trends.
-Their technology is advanced, innovative, and evolving on account of the specialty literacy of mature and experienced R & D departments.
-They are capable of rapid customization in large quantities in accordance with personalized demand. (OEM/ODM)

---
Possessing passion and faith, whether made in Germany, in the USA, or made in China, the original LED grow light manufacturers should always be your first choice in mind when purchasing any LED grow lights for future cultivation.
In 2022, we're to explore possibilities. Come with us, come with Mars.