Frequently bought together
Growing Feedbacks for SP 250
@Goliath Grower: Big Mac, Blueberry Mac, Mac N Cheese and Caramelicious x Macr, growing under 2pcs SP250
@YYC Green, Grapefruit Diesel-17 weeks growing in 4'x4' room
@Growing Answers, Pepper growing in different PH
We developed several lines of grow lights and Mars SP series is one of the greatest ones, great choice for home and commercial growers both.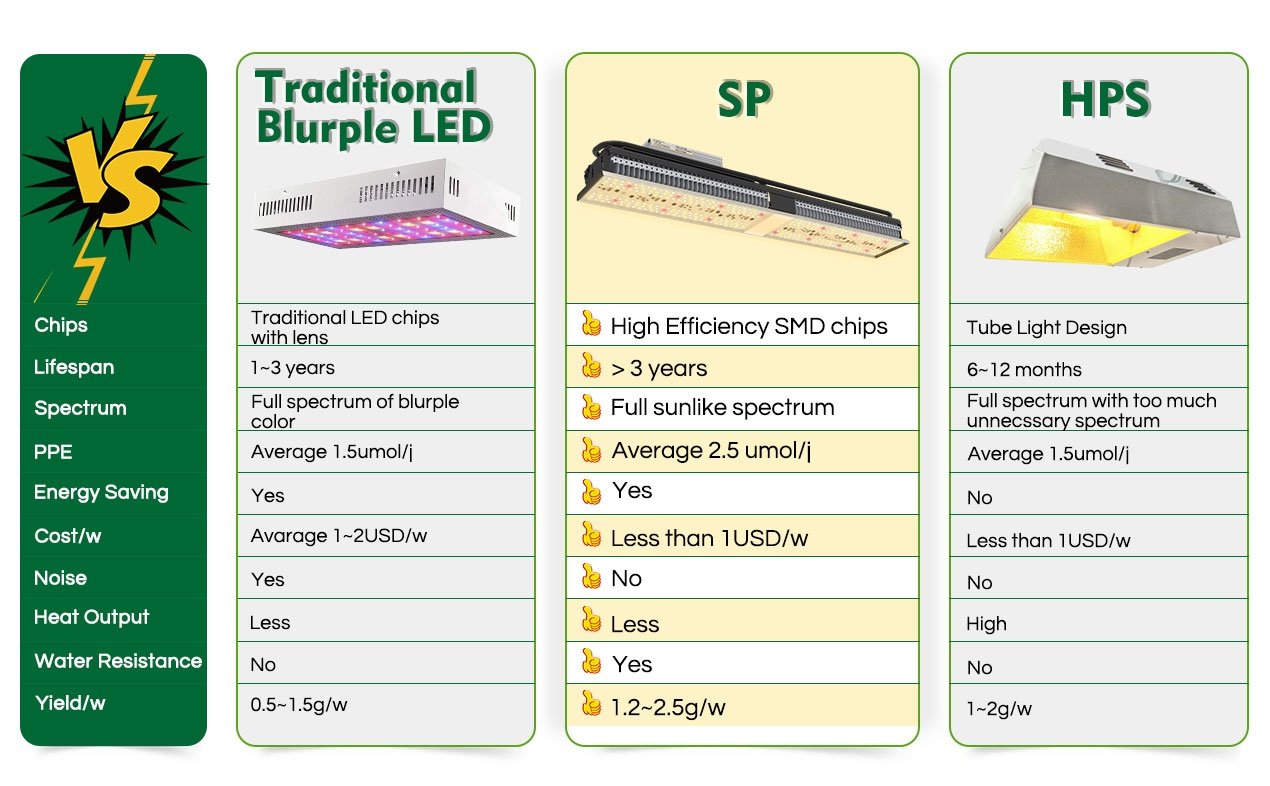 Reviews

Amazing light at a good price. Hangers need improvement.

I bought one SP250 to go with my new Mars Hydro 120x60x180 tent. Just flipped from 18/6 to 12/12 and so far I love this light! I am writing up a more in-depth review that I will post after harvest.

The only reason for the 4 instead of 5 stars is what others have mentioned. The hanger wires don't match up with any of the holes on the light unless you twist the ends, and even then one of the holes is blocked so the hook can't go all the way in. I managed to figure out a way to hang it with the hooks on the side of the casing, but it doesn't feel as secure as I would like.

I have one SP250 and getting two more ASAP
Plenty of research beforehand but impressed way beyond my expectations..
It hardly draws any more power than my old light, yes it feels a bit warmer at full chat, when close but that's fine.
Importantly it's not too hot and I hardly notice temp difference when off/on. Immensely bright, almost more than enough for my current setup but now expanding to a 5x5 so looking to max up to 3 of these altogether in time.
Great design.
Build quality is superb.
If any constructive criticism it would be that the hangers could be more sturdy/robust.
Perhaps a couple of pairs or lobes or holes in the otherwise flawless heatsink, for the ratchet rope hangers would be an improvement in this area?
And perhaps more flexibility for brightness control or a kit to help with simple relocation of driver away from light, outside of growspace.
These are minor criticisms or suggested improvements on an otherwise superb light.
Money well spent, can't wait for the next two.

Great light for 2x4 ten be and bloom

Great light and in am very interested in your others light to light my. 8x8x9 bloom room if your looking for someone to get the mars name out to the workers I work at a lp cannabis producer and I am a lead grower and I speak to home growers on the daily

Works great then it shut off

Love the light but 3 months into my grow and it just turned off. I don't know what the problem is but a few mins later it came back on. Now I'm wondering if I need to buy a new light to replace this one. Up to now it's been a great light. I hope I can find out what the problem is with the light and get it fixed or my plants will suffer.

Hi Smallgrow, our lights have 1 year total free and 3 years limited warranty, please kindly email us at: solutions@mars-hydro.com and we will help you solve this issue. :)

The light runs very cool especially with drive out of grow area. The is really bright! It's so far producing nice looking buds! Hands down for the price you can't beat this light.

I have one SP250 I received in January for my. Medical grow, I have ran 3 plants flowering at 12/12 since I got it and they are doing amazing.
I threw one of my trichocereus cacti in there and it seems to be loving it as well after sitting in my window sill for months. I am going to buy another one now and possibly more soon for my indoor vegetables and succulents.
It is a very well built light, I bought this after deciding I wanted more power than my blurple reflector from them.
Totally recommend over the cheaper built ones or the way over priced gavitas.

Only concern is with quality of hanging hardware and one hole that makes the light hang uneven

After much reading of grow journals and product reviews I decided to pick up 2 of the SP 250.

Shipping was fast and packaging was of good quality and fairly discrete in nature!

Customer service has been prompt and courteous when a question arose about a possible missing product on my door step. (Neighbor picked the boxes up since it was raining and forgot to tell me)
Set up was easy.

My criticism is small at this point and is directed toward the hanging of the light and the gear provided.

The gear is of lighter duty then I am comfortable with. The plastic parts on the rope ratchets the rope itself and the metal hooks are thinner then most I have purchased or been provided for the HID Reflector kits that are 1-2 times lighter then the weight of the SP 250. Also one of the hanging holes on one side of the light does not go all the way through the metal and blocks the hook on the metal hanger so it does not hook all the way through the hole. This does not make me feel comfortable using the metal hooks AND the light does not hang level.


Best lights for money value. Excellent service.

I just purchased 2X SP-250 and 4X TS100w lights.They have been delivered fast and in perfect condition. I would also thank you for the amazing gift. The lights look to be excellent after the first measurements taken before the setup. A second review will be followed regarding the efficiency of the lights during the grow. Thaks Mars Hydro and hope to deal again.

Best light I've owned so far. Excited to see what the future has in store.

Got 2 SP250 for my 120x120x200 grow box.
Extremely fast shipping and nice customer support.
The light is very well built, you can detach the driver from the led bar and put it outside your grow box, thanks to the long cable, so you'll have less heat and humidity when the light goes off.
Plants seem to react very well to the light, they're only 3 days in veg so I'm keeping the bars at about 70-90 cm distance.
I will update my review after the harvest but I'm very happy so far.

Add A Review

your email address will not be published . required fields are marked *

Q&A

Product Questions

What about buyers from other countries?

Just curious if this light carried ir leds. Thanks.

Hello, under description, dimensions 35.5x2.95x2.63ft, just wondering if that is correct?

is it dimmable?

I need to know do you have a par sheet with 2 sp 200 light for a 4x4 tent or can you test them and email me the PAR sheet. thanks

How much umol/J for this led?

Hi, when will be this led lights SP-250 available in DE Deutsche warehouse?

What is the warranty on the SP 250

How high from the canopy do I hang the SP 250? Is it 18-24" in veg and 12-18" in bloom?

Does the light come with necessary equipment for hanging?

How long of a warranty do you offer on your sp 250 lights

Can the light be daisy chained?

Is it waterproof?

What is the difference between SP200 and SP 250? They look the same.

Recently purchased the SP250 and love it, but the power supply gets too hot, is this normal?

How can I move the driver outside of the tent?

Can the light be daisy chained?

How can I adjust the wattage?

What is the recommended hanging height and hanging hours?

What is the SP 250's coverage for veg and flower?

What is included in the package when purchased?

There's some lights that they barely light up even when you see them using glasses is that normal?

Does the sp 250 have the veg to bloom switch

How long is the power cord that comes with the fixture?

Does the sp 250 have a red color adjustment to increase red for flowering?