Mars Hydro FC 4800-EVO SAMSUNG LM301H EVO 480W Smart LED Grow Light for Indoor Veg Flower
Free Shipping to the United States on Orders Over $59
Support
Lifetime Customer Support
Quantity
Bulk % discount
2
save

1

%
3
save

2

%
5
save

5

%
10
save

12

%
Quick Overview
The latest addition to the Mars Hydro grow light lineup, FC 4800-EVO is powered by highly-efficient Samsung LM301H EVO chips that boast a 3.14 μmol/j rating per diode, increasing the entire light's PPE to an impressive 2.85 μmol/j! Also, FC 4800-EVO features a smart system that offers various functionalities, including remote control, wireless dimming, automated programming, and growth plans to help growers improve cultivation productivity and harvest with superior crop quality.
Wattage - 480w
Personal Cultivation Coverage - 4x4 ft
Commercial Cultivation Coverage - 3x3 ft
For Indoor Horticulture growers, from professional cultivators to hobbyists.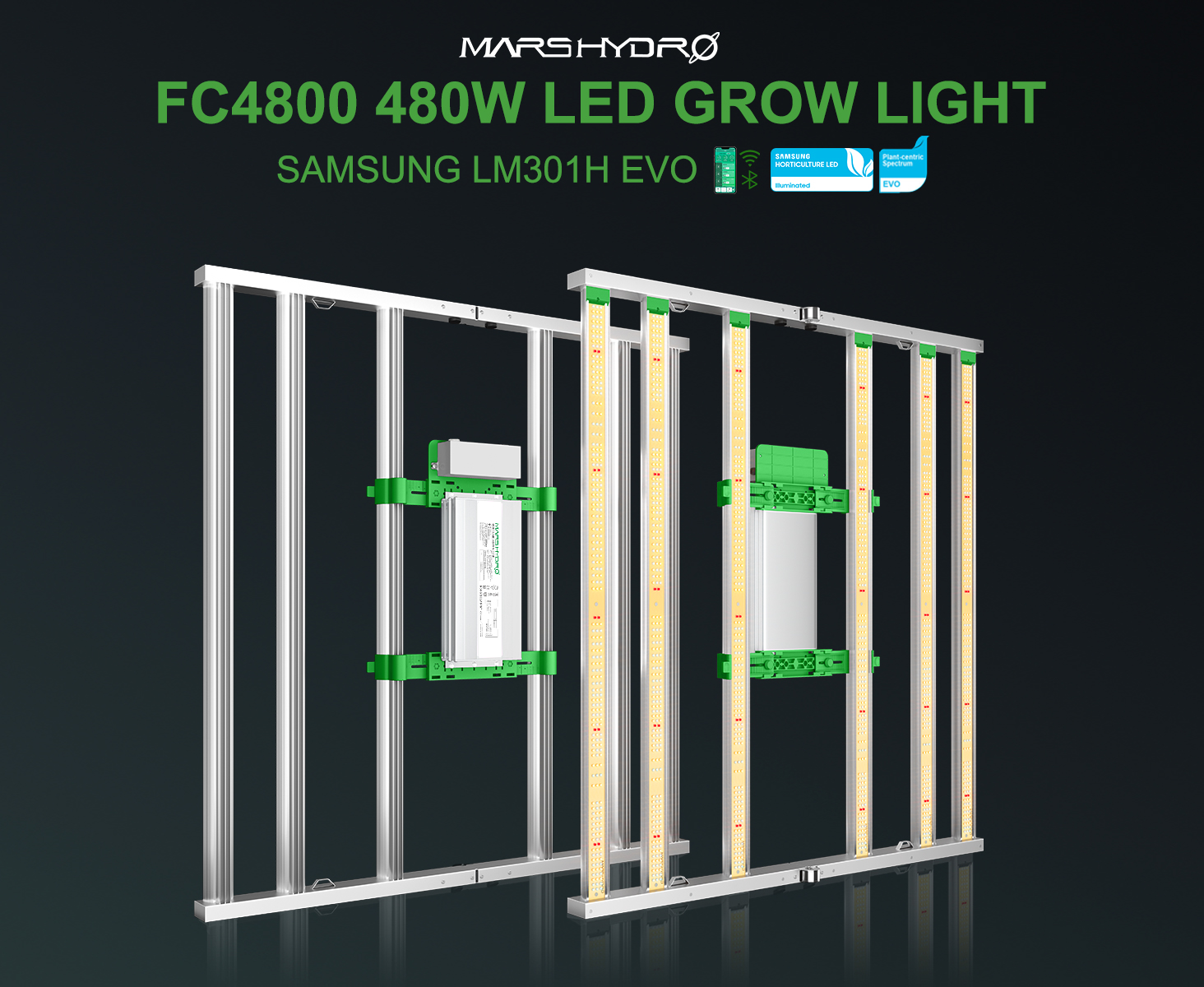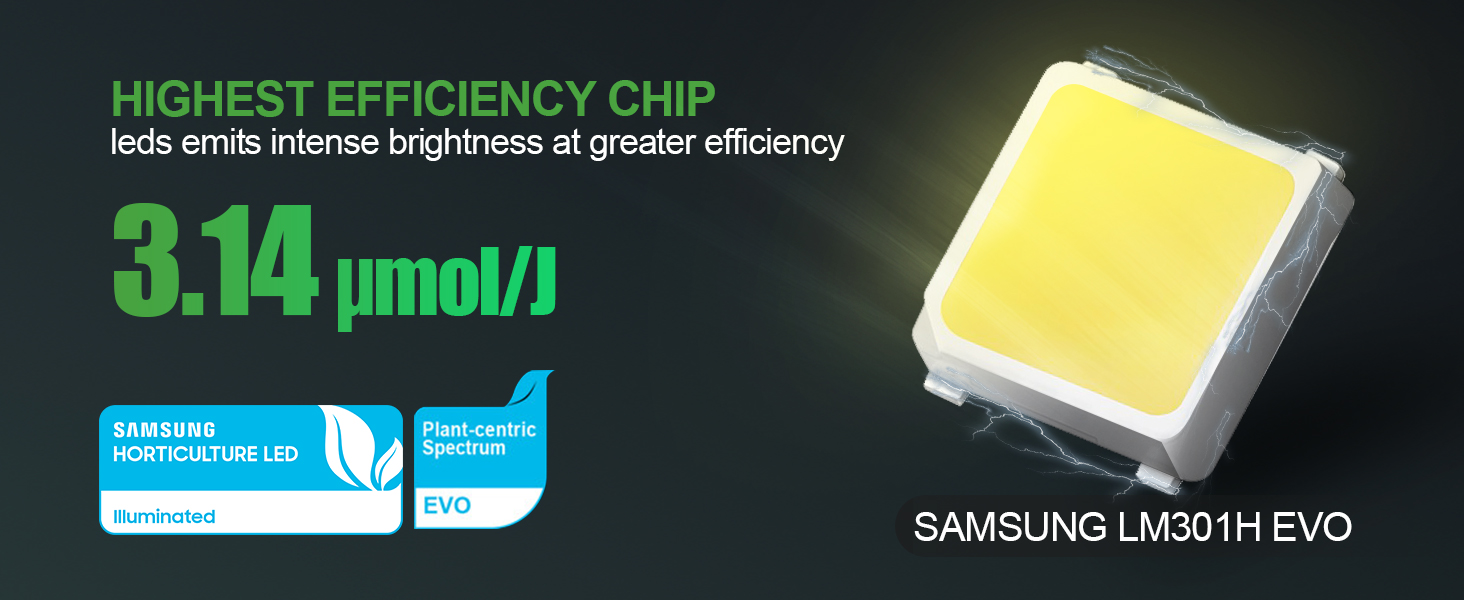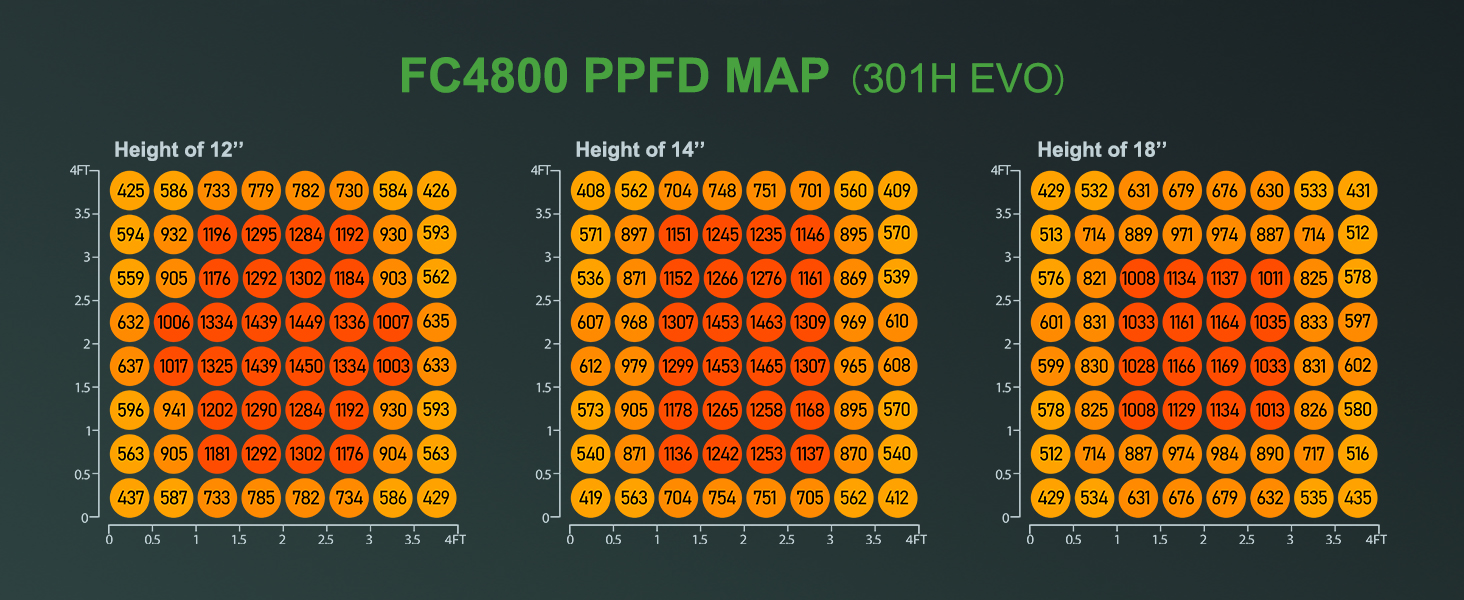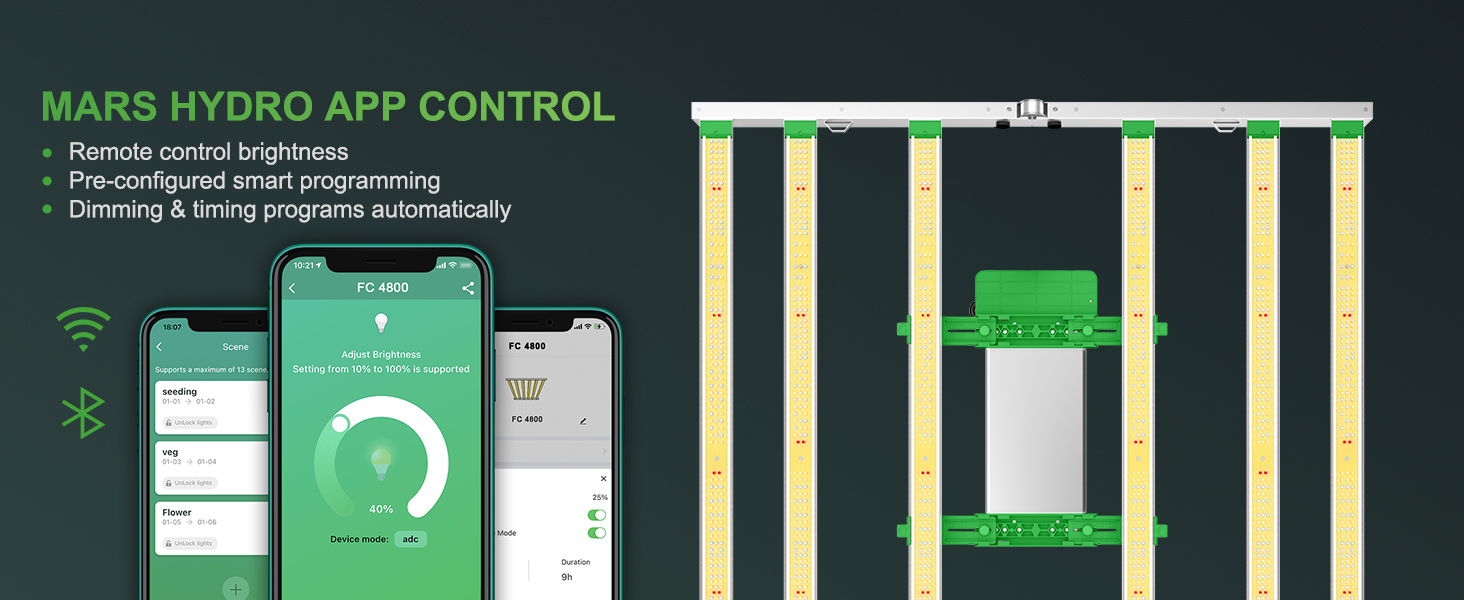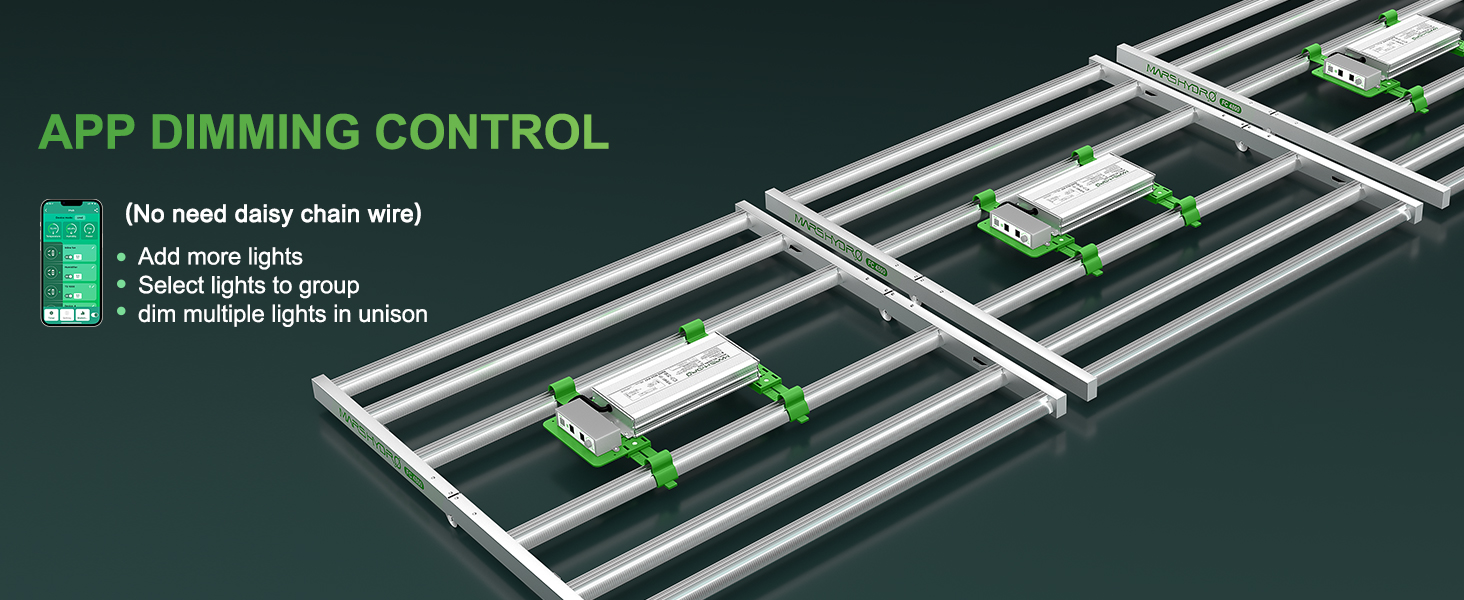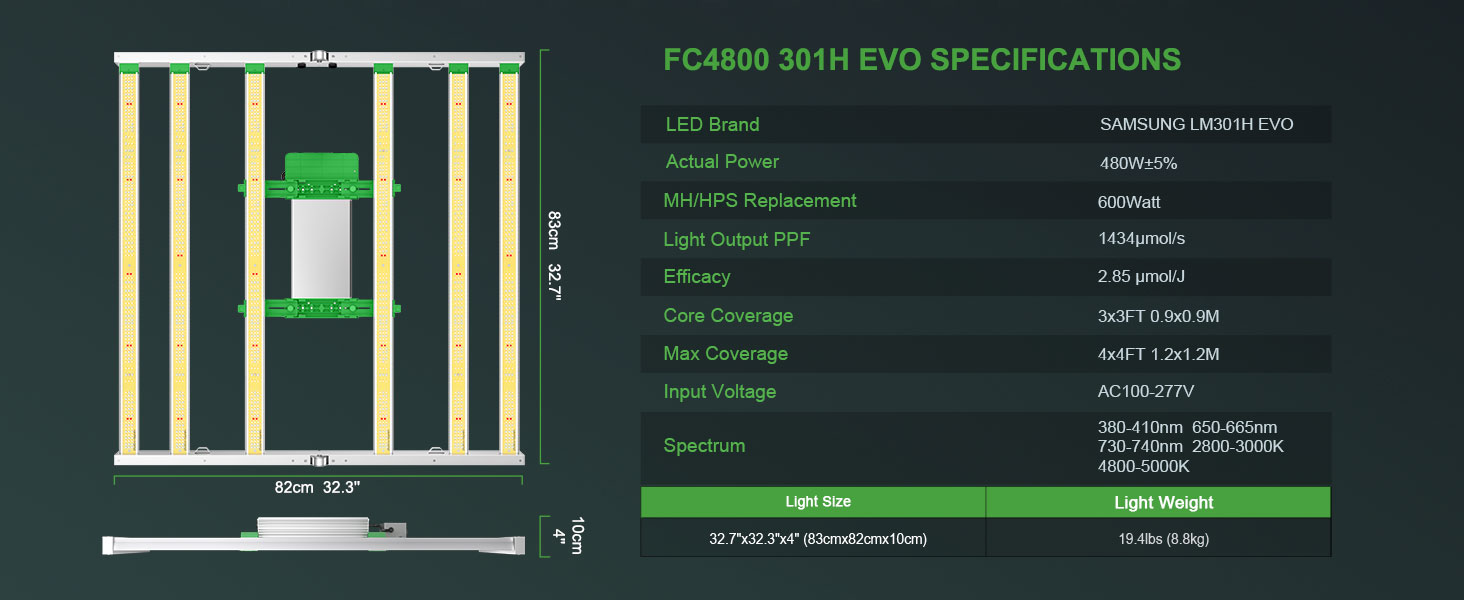 More Information

| | |
| --- | --- |
| WATTAGE | 480W±5%@AC120-277V |
| Core Coverage | 3'x3' |
| Max Coverage | 4'x4' |
| PPE | 2.85μmol/j (Entire Unit) |
| PPF | 1434umol/S |
| Chip Brand | Samsung lm301H EVO |
| Spectrum | 650-665nm 2800-3000K 4800-5000K |
| Max Yield | 3.5g/W |
| Voltage | AC100-277V |
| Amps | 3.995A@AC120V 2.024A@AC240V 1.780A@AC277V |
| BTU | 1636.8 |
| Certificate | ETL,CE,UKCA,RoHS, DLC,IP65 |
| Lifespan | 50000H |
| WARRANTY | 5 years |
| Dimension | 830*820*93MM |
Ask a Question
Verify that the Time Zone is set correctly. For more information, refer to the "Time Zone Problem" section. Once the device is connected to the app, it is recommended to avoid manual operations, as manual operations (adc mode) will override the app commands (cmd mode). If the setting command fails to be delivered successfully, it is advised to reconfigure and deliver the command (configured settings) once again.
Follow these steps to check and refine the WiFi connection: 1. Ensure that the WiFi account and password are entered correctly. 2. Remove any special characters, spaces, or symbols (e.g. #, $, %, &, *) from the WiFi name or password. 3. Note that the device does not support 5G WiFi. If you are using a 5G network, switch to a 2.4G WiFi network. 4. If the previous attempts fail, you can try resetting the device. Refer to this guide for instructions: [https://www.youtube.com/watch?v=nLCp___nduY]. After resetting, reconnect the device to your WiFi. 5. If all the previous attempts fail, try connecting using a mobile hotspot. Please note that the device does not support 5G hotspots. If you can successfully connect using a mobile hotspot, it indicates that the brand/model of your router (WiFi) may not be compatible with this device. Note: During the initial WiFi connection, the app will automatically initiate a mandatory upgrade for your device, which typically takes 2-3 minutes. Once the upgrade is complete, you can connect your device to the WiFi...
Read more
Features
Samsung LM301H EVO Chip

The Samsung LM301H EVO stands out as the optimal horticultural lighting diode and the most efficient chip available on the market, boasting an impressive efficacy of 3.14 μmol/j per individual diode. The LM301H EVO emits a unique plant-centric spectrum that supports both physical and nutrient growth. As a result of its superior per-diode efficacy, the FC 4800-EVO is a highly efficient and effective solution for stimulating photosynthesis, producing bioactive compounds, enhancing plant quality, and saving energy.
Professional Samsung LED Grow Light

The Mars Hydro FC 4800 is an innovative LED grow light that leverages the latest Samsung LM301H EVO diodes to achieve exceptional results. With a consumption of 480W and a remarkable photosynthetic photon efficacy (PPE) of 2.85 μmol/j across the entire unit, the  FC 4800-EVO represents an ideal lighting solution for indoor plants, offering a reliable and consistent source of energy that is well-suited for both personal growers and commercial cultivation facilities (especially vertical farming).
High PPFD and Even Light Distribution

The smart FC 4800-EVO provides an impressive PPFD of up to 1434 μmol/m²/s, making it an excellent choice for commercial cultivation and enhancing flowering to produce higher quality crops and greater yields. The LED chips on each light bar are arranged in a scientifically optimized pattern, resulting in even light distribution that promotes uniform plant growth while avoiding hotspots in the center.
Full Spectrum Light Rich in Red and Blue

This unique spectrum blend of the FC 4800-EVO contains a precise combination of blue and red light, along with sufficient green light to promote optimal plant growth. The Blue light stimulates vegetative growth and supports the accumulation of essential phytochemicals, while the abundant Red light accelerates the maturation process and improves the overall quality of buds and flowers produced by the plants. Adequate green light is also incorporated to ensure necessary plant growth and enhance light penetration.
Smart FC4800 LED Grow Light In Smart Grow System

By connecting to the Mars Hydro APP, the smart FC4800 grow light enables convenient mobile access to your smartphone or tablet, allowing for remote control and data transfer. With this feature, it's easy to manage and schedule the smart FC4800 from anywhere, with just a few taps on the device. All the settings and data are securely stored and transferred using OTA (Over The Air) technology, ensuring hassle-free and efficient data transfer between the devices, advantageous for busy growers who cannot devote much time to tending to their indoor plants and for commercial growers who are operating hundreds of lights simultaneously.
Auto-Dimming and Precise Configuration Capability

The smart FC4800 grow light offers an auto-dimming feature that can be fine-tuned to the year, month, day, hour, and minute, guaranteeing that the light intensity is customized to align with your grow schedules. This level of precision provides the Sunrise & Sunset Simulation feature that replicates the natural photoperiod of plants, offering a professional-level option for personal growth.
Fast Heat Dissipation

The wave-shaped heat sink allows for quick heat dissipation, preventing any disruptions to the light's operation. The multi-bar style design incorporates reserved space between the light bars for cooling, effectively mitigating any potential hot spot issues.
Which light is right for you?
We found other products you might like!