Mars Hydro FC 1000W-EVO Smart LED Grow Light Samsung LM301H Scalable CO2 Commercial Lamp (Pre-Order before 10th Dec)
Free Shipping to the United States on Orders Over $59
Support
Up to 5-Year Warranty  
Lifetime Customer Support
Quick Overview
(Pre-Order before 10th Dec)
Wattage -1000W±5%@AC240V, 900W±5%@AC120V
General Cultivation Coverage - 4x4 ft
Extented Cultivation Coverage - 4x6 ft
The FC 1000W is a 1000-watt smart LED grow light installed with Samsung LM301H chips and APP remote control, built for high PPFD cultivation (such as highly-concentrated CO2 grows). It provides the most powerful lighting energy with a whopping PPF of 3029 umol/s and an average PPFD of 1,900 μmol/m²/s. It's also scalable to be configured into a potent 4x4 LED grow light for enhancing flowering, or into a 4x6 ft grow light for 6-ft-wide rolling tables.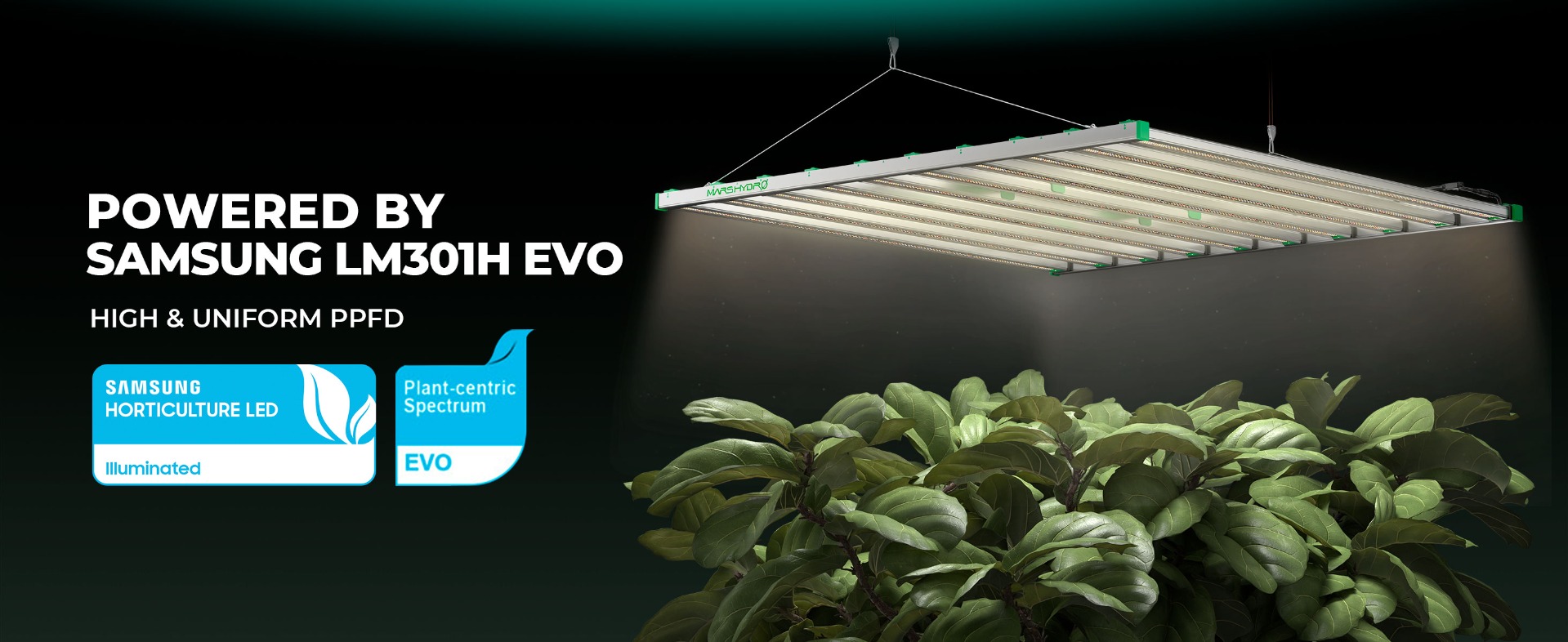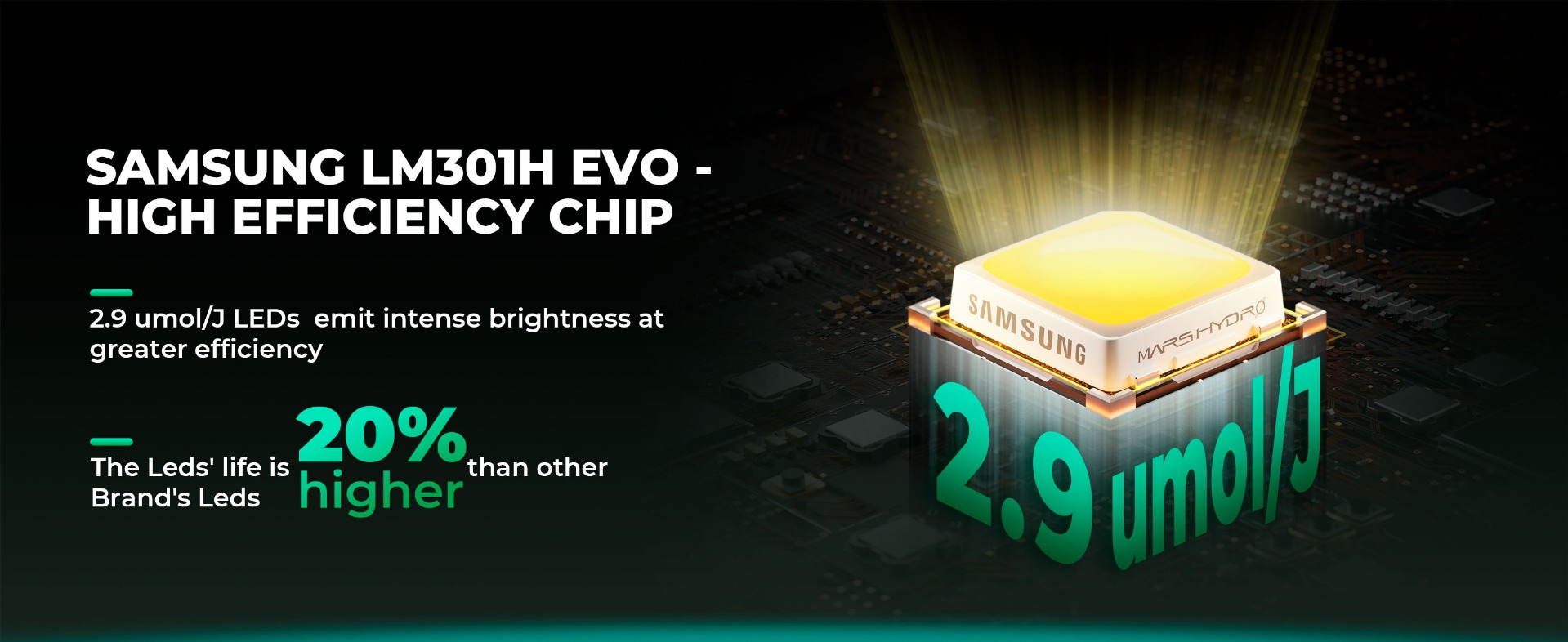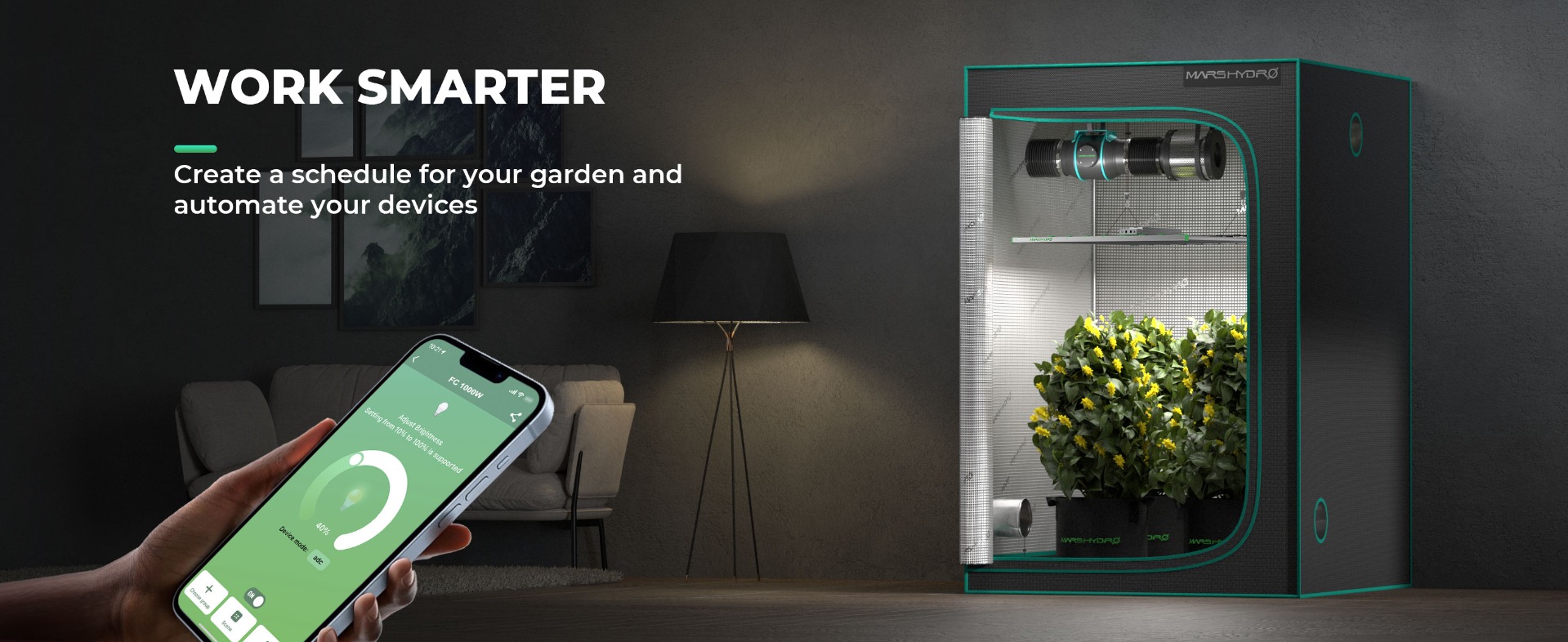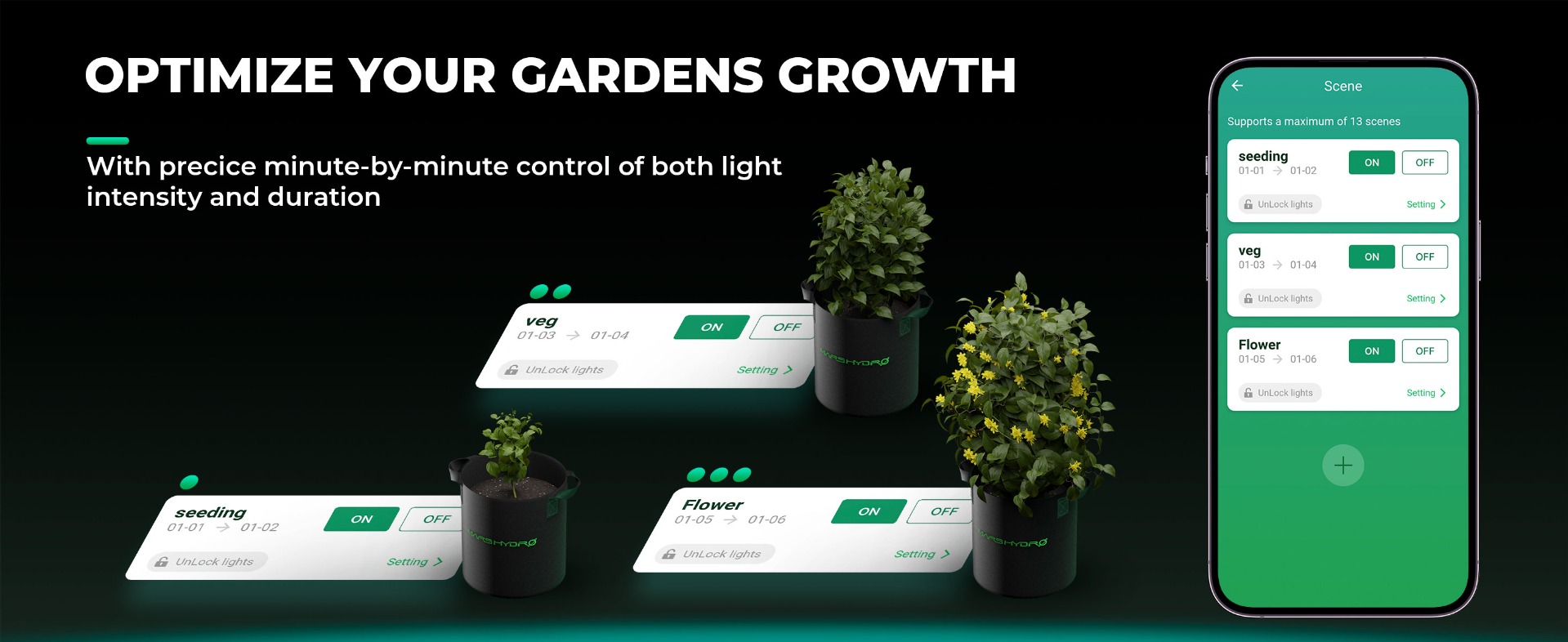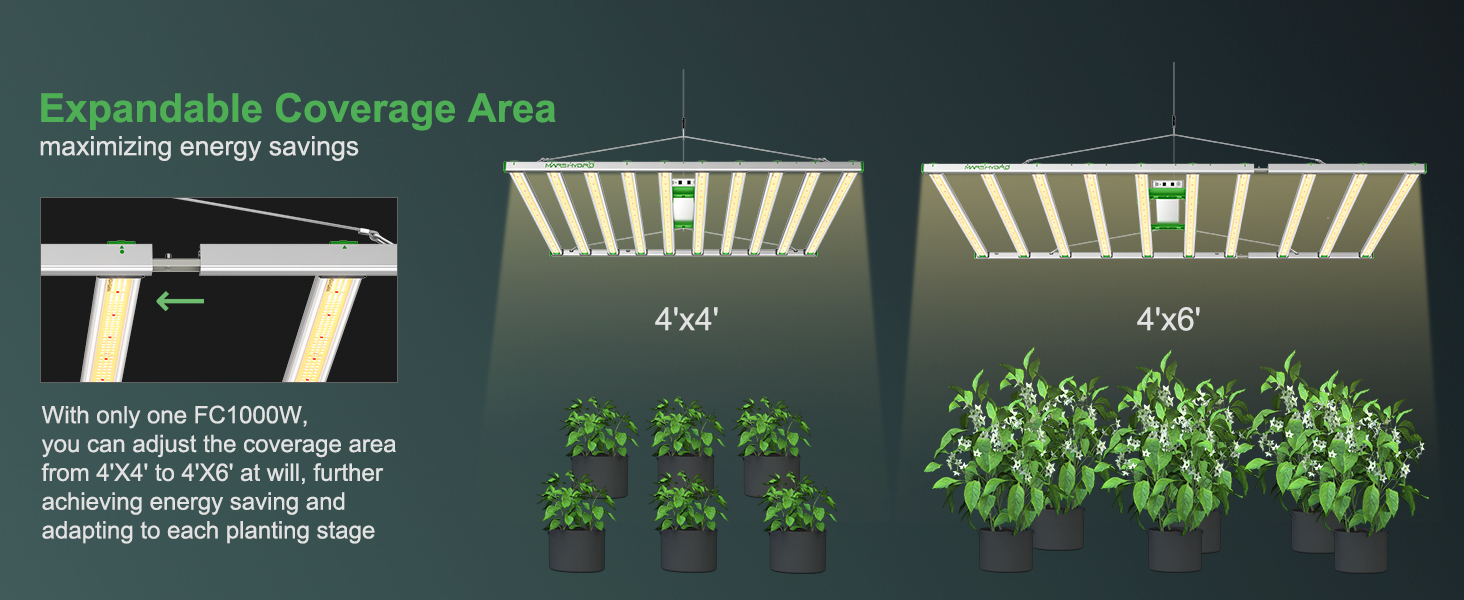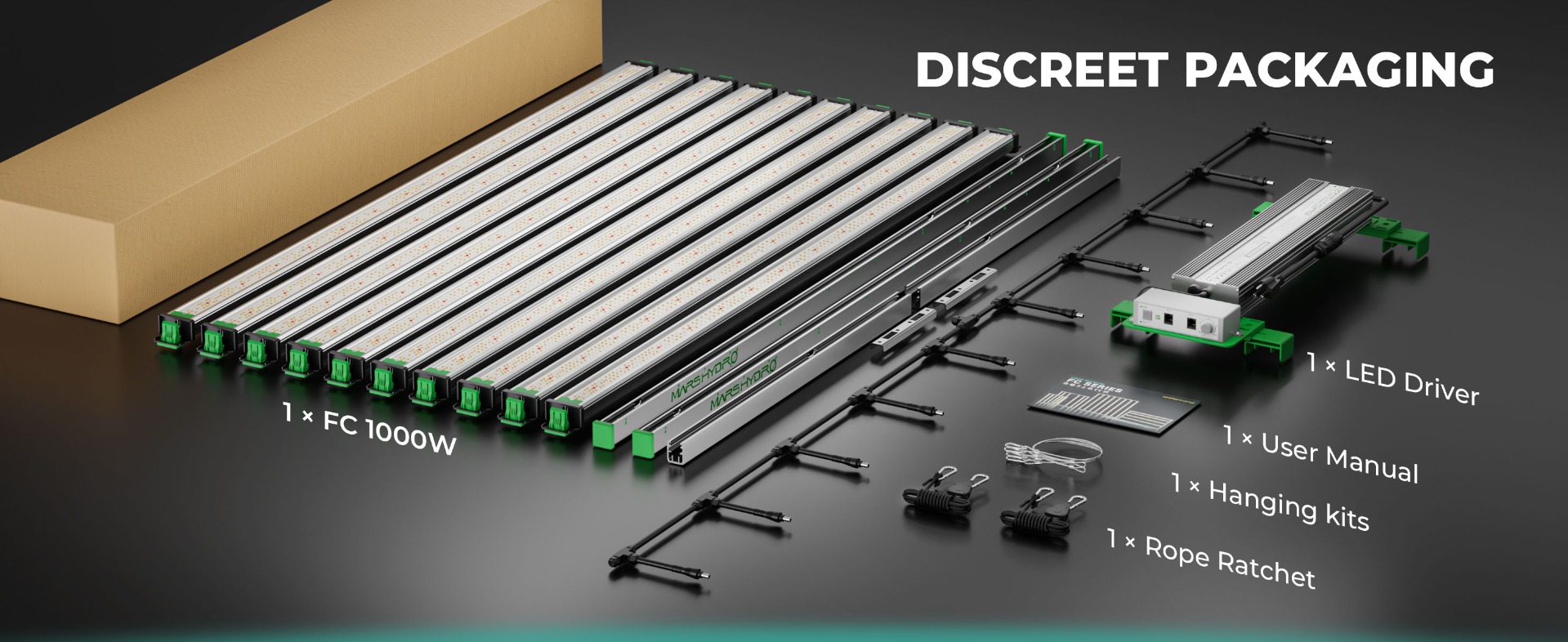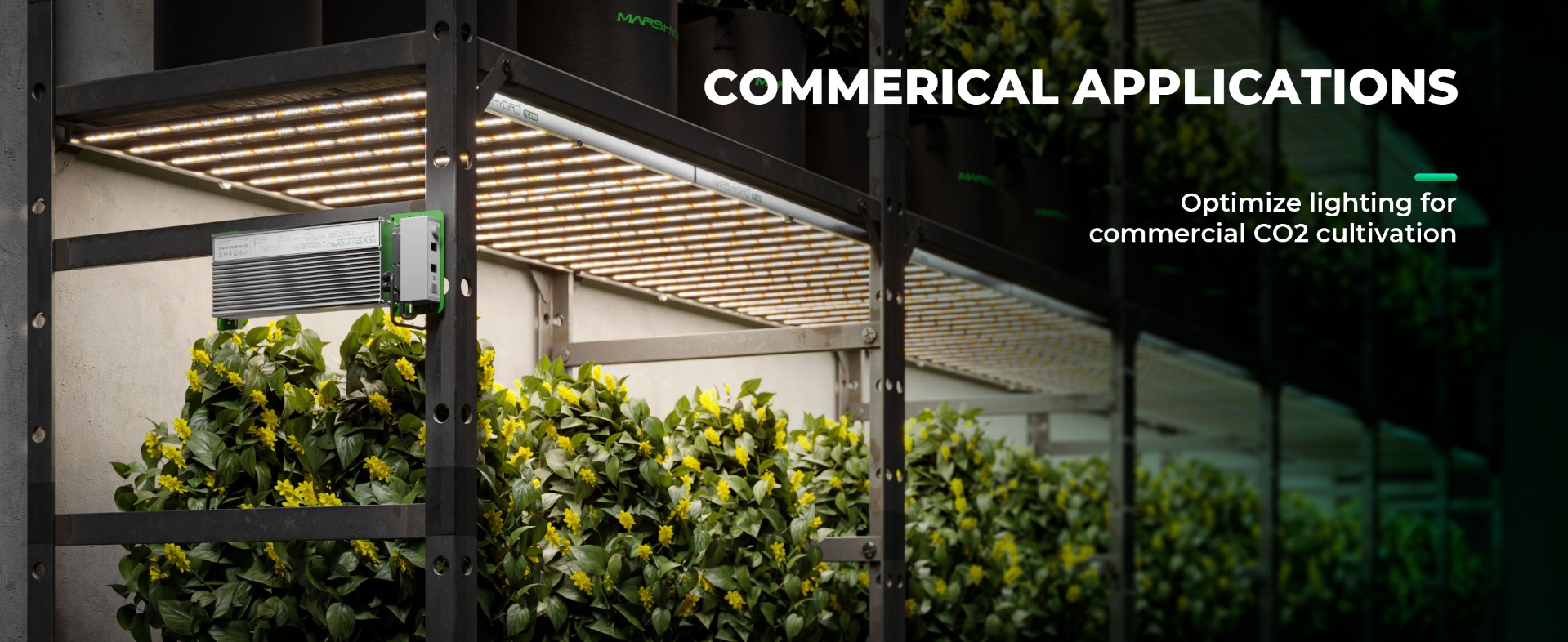 More Information

| | |
| --- | --- |
| WATTAGE | 1000W±5%@AC240V, 900W±5%@AC120V |
| Core Coverage | 4'x4' |
| Max Coverage | 5'x5' |
| PPE | 2.9μmol/j |
| PPF | 3029μmol/S |
| Chip Brand | Samsung Lm301H EVO |
| Spectrum | 660-665nm,2800-3000K,4800-5000K |
| Max Yield | 3.0g/W |
| Voltage | AC100-277V |
| Amps | 8.074A@AC120V 3.839A@AC240V 3.325A@AC277V |
| BTU | 3411 |
| Certificate | UKCA,CE,RoHS, ETL, IP65 |
| Lifespan | 50000 H |
| WARRANTY | 5 years |
| Dimension | 67*45*3.7 inch |
Please complete order for the product to write review.
Features
Powered By Samsung LM301B Diodes

The Mars Hydro FC 1000W 1000W LED Grow Light is built with high-performance Samsung LM301B chips for scientifically precise light and quality-assured longevity, resulting in a high efficiency of 2.9 μmol/j in PPE, a high PPF of 2885 μmol/S, and a long-lasting color rendering capability that provides sufficient and consistent light energy to indoor plants.
Potent 4x4 Flowering Light

In its general form, the FC 1000W has 10 light bars arranged on 2 support bars to provide excellent and powerful energy (1,500~1,900 μmol/m²/s PPFD) for a 4x4 ft area, ideal for cultivation during the blooming period or for cultivation supplemented by highly-concentrated CO2.
Scalable To 4x6 Ft Coverage

The scalable flexibility of FC 1000W allows for customization. 2 extended support bars (1.8' long) can be connected to the light to stretch the lighting coverage to 4x6 ft while still providing exceptional PPFD (1,000~1,300 μmol/m²/s PPFD), which is dedicated for commercial grow racks of 4-ft-wide or 6-ft-wide, and especially ideal for the 4x6 ft rolling benches.
Smart & Remote Light Control

The FC 1000W is a smart LED that can be remotely controlled with your smartphone using the Mars Hydro APP. It allows remote control, timer, and automatic dimming with precise time settings to help you configure the LED to better fit your lighting schedule.
Professional Full Spectrum Lighting

The full spectrum of the FC 1000W is enhanced in the blue and red light bands. Blue light stimulates plant growth and promotes the accumulation of phytochemicals. Rich red light improves plant maturation and flower quality.
Heat Management Designs

The corrugated heat sink dissipates heat quickly, so the low-temperature operation of the LED lights does not disrupt the already controlled and stable environment. The multi-bar design also avoids hot-spot problems by reserving heat sink space between light bars. The detachable design allows for easy installation and storage.
DLC Qualified LED

DLC-certified LED Grow Lights are high quality and high efficiency, meeting the highest standards in the industry and capable of operating for at least 36,000 hours while maintaining 90% efficiency. In addition, Mars Hydro promises a 5-year warranty and local repair service to ensure that the LED grow lights work properly and perfectly throughout their lifespan.
Which light is right for you?
We found other products you might like!