Mars Hydro VG80 80W 4ft LED T5 Grow Light for Veg and Seedling
US$84.99
Regular Price
US$109.99
Free Shipping to the United States on Orders Over $59
Support
Lifetime Customer Support
Quick Overview
The VG80 LED T5 Grow Light is designed for seedlings, cloning, vegetable propagation, and indoor tropical plant cultivation, offering wide coverage and low power consumption. It features a full-spectrum design, using OSRAM chips, and has an IP65 waterproof rating, making it suitable for fast growth of clones and low DLI green leaf plants. It consumes less energy and costs less electricity than fluorescent T5 bulbs. Providing high-quality vegetable light, the VG80 promotes healthy plant growth.
Wattage - 80W (40W Each Light Bar)
Core Coverage: 4ft*2ft
Recommended tent size: 120x60cm
【Energy-efficient】: Capable of providing high light intensity with lower energy consumption, contributing to reduced electricity costs.
【Long lifespan】: Fewer tube replacements and maintenance costs.
【Low heat generation】: Unlike traditional fluorescent tubes, LED tube produces very little heat, aiding in maintaining indoor temperatures.
【Compact design】: Thinner than traditional T5 fluorescent tubes, making it easier to install on plant cultivation racks or in planting boxes.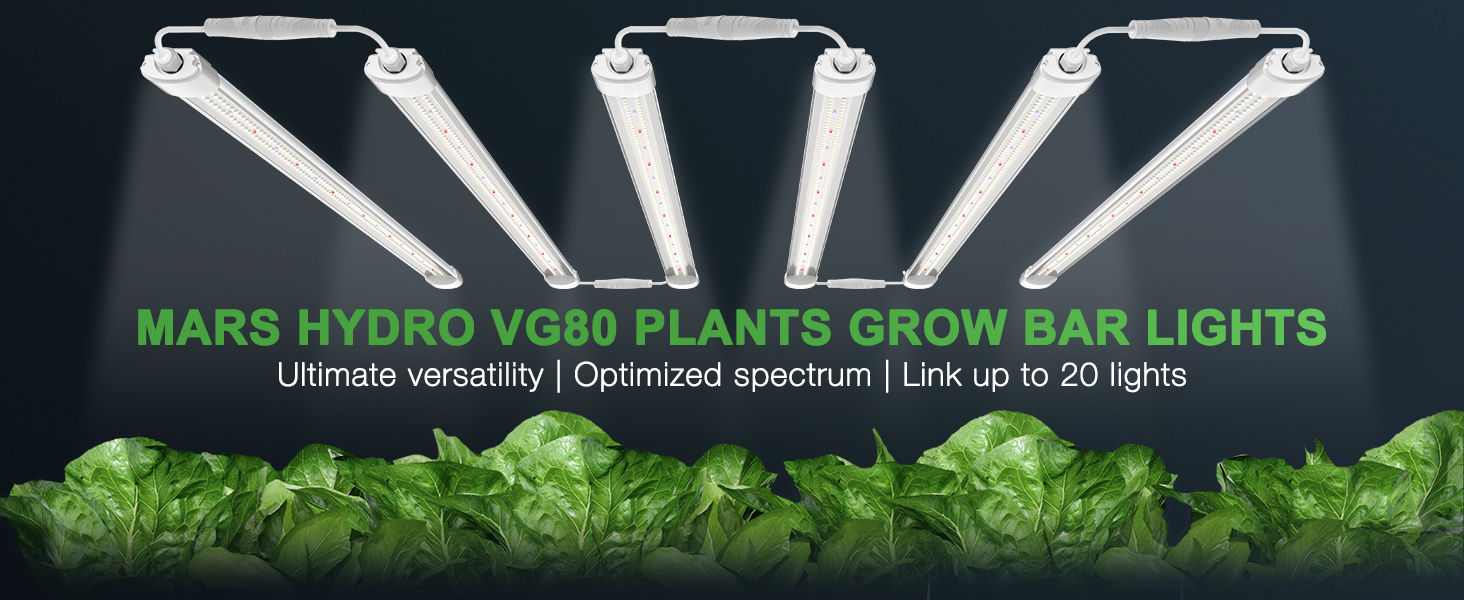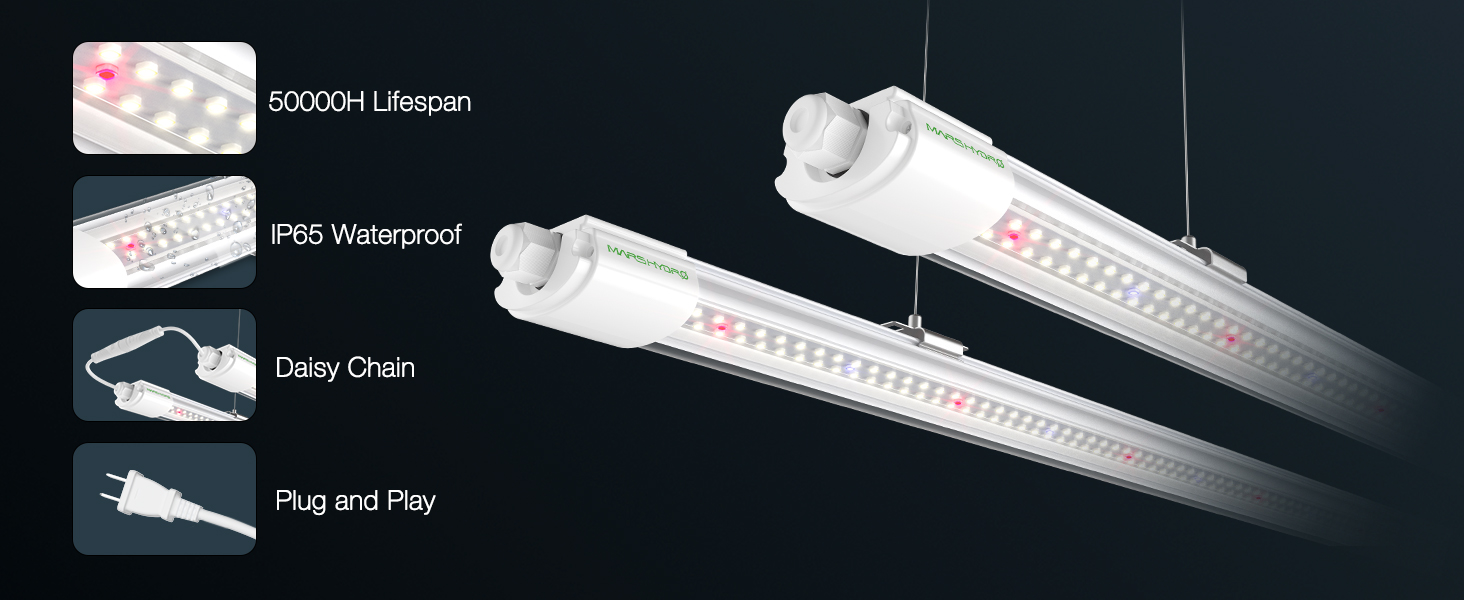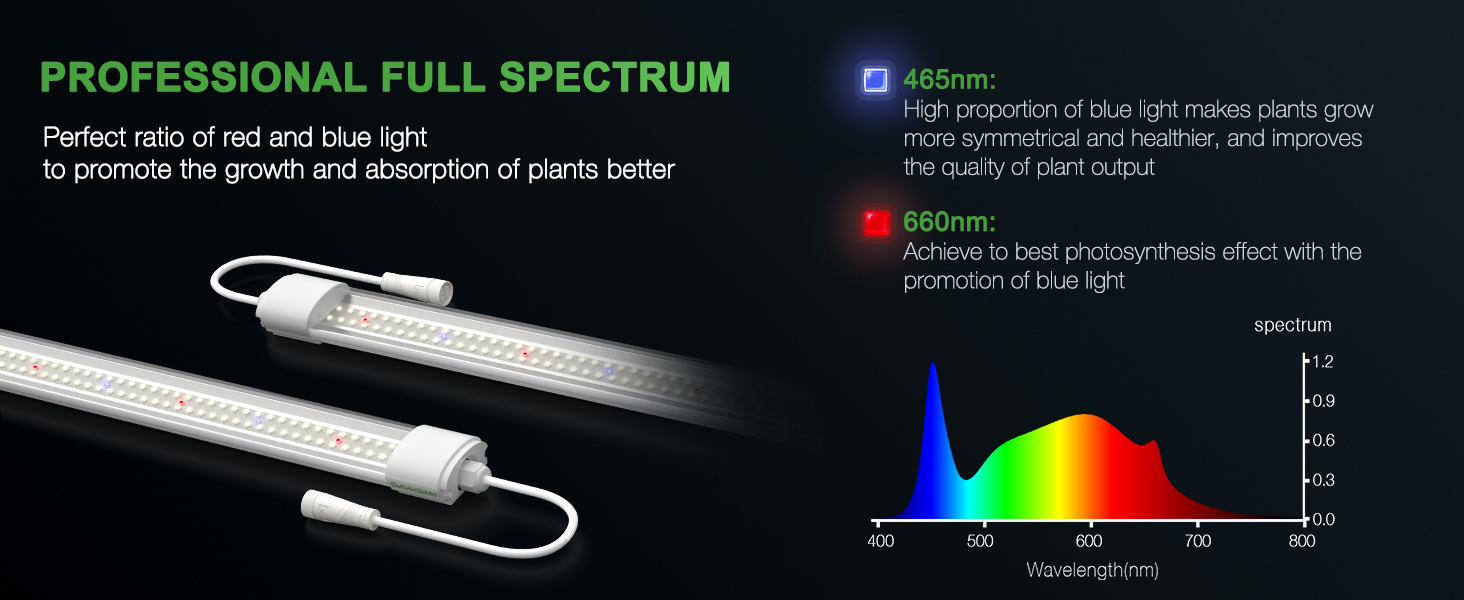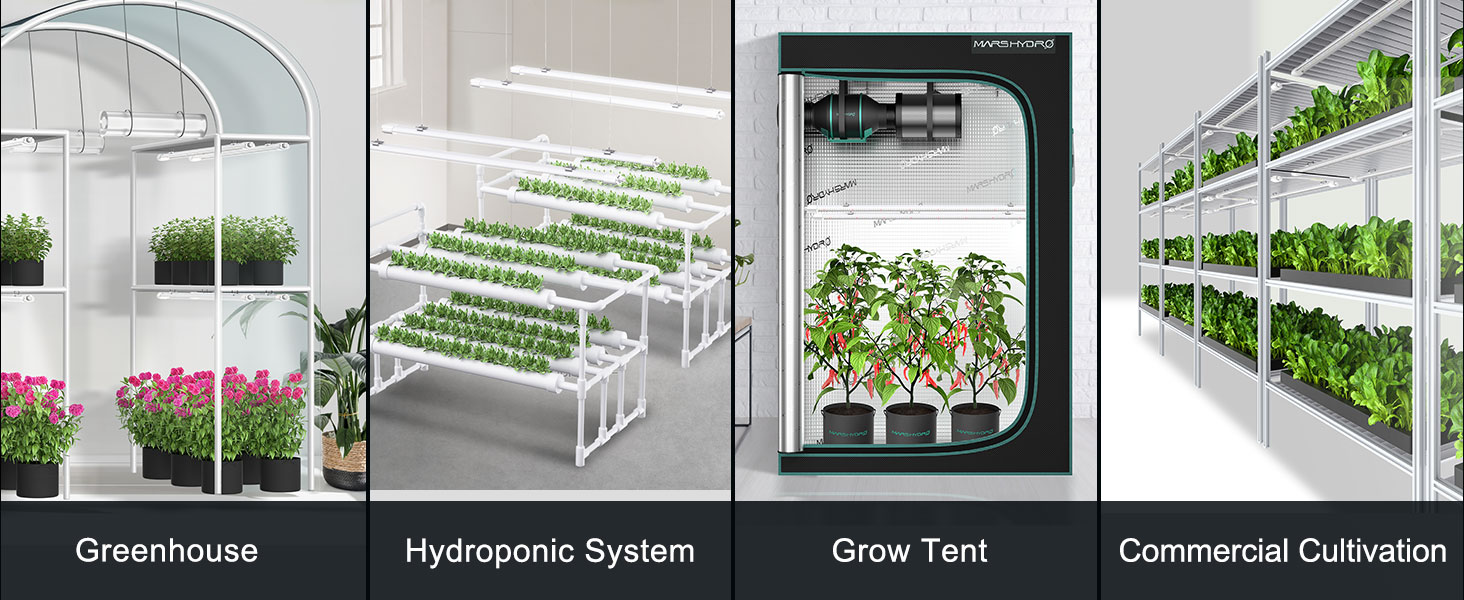 More Information

| | |
| --- | --- |
| WATTAGE | 80W±5% 100-277V |
| Core Coverage | 2'x4' |
| Max Coverage | 2'x4' |
| PPE | 1.98μmol/j |
| PPF | 155umol/S |
| Chip Brand | OSRAM |
| Spectrum | 4800-5000K,455-465nm,650-665nm |
| Voltage | AC100-277V |
| Amps | 0.682A@AC120V 0.351A@AC240V 0.315A@AC277V |
| Certificate | ETL,CE,UKCA,RoHS, DLC,IP65 |
| Lifespan | 50000H |
| WARRANTY | 5 years |
| Dimension | 1150*50*31MM |
Features
Optimized for Cloning and Vegetative Growth

The VG80 is a low DLI plant light designed specifically for vegetables, seedlings, and clones. With only 80 watts of power, its low heat output allows it to be hung at a lower height on plant racks without harming plants. Despite the low wattage, it can cover a large area and achieve the same effect with less energy consumption.
Cost-Effective Option and Maximum Production

While the VG80 can be used for seedling cultivation and cloning separately, however, if it is coupled with lights that are more suitable for the flowering stage along with adopting a cyclic planting method the VG80 can shorten the harvest cycle and maximize your yield.
Daisy Chain and Functional Diversity

The VG80's easy installation and ability to daisy-chain up to 20 LED lights make it convenient for commercial growers. It is also compatible with various indoor planting systems, including bottom, side, under-lighting, and top lighting, and can also solve slow growth and narrow leaves due to insufficient light in tall plants.
IP65-Rated Water Resistance

The VG80's light panel is installed with a special transparent waterproof lampshade to protect the diode and circuit from moisture, ensuring that it can work properly in highly humid environments without shortening its lifespan. The interface of the VG80 is also made with a special waterproof treatment to ensure that the whole grow light is water-resistant.
A T5/T8/T12 Replacement and a Partner for Plant Racks and Stands

The VG80 is an optimal LED alternative for T5/T8/T12 fluorescent grow lights and provides effective, potent, and cool lighting performance on plant racks, plant shelves, and plant stands.
Compared to products from other brands

When compared to budget alternatives in the market, our product stands out with its exceptional features:

1.432 high-quality LED beads for superior performance.

2.Daisy Chain connectivity allows you to connect up to 20 units seamlessly.

3.Low energy consumption and high efficiency make it ideal for professional indoor greenhouse setups.

4.Impressive 50,000-hour lifespan with a 5-year warranty for added peace of mind.

Choose our product for unmatched quality and reliability in your indoor cultivation needs.
We found other products you might like!