Mars Hydro Smart FC3000 300W Samsung LM301B LED Grow Light
Free Shipping to the United States on Orders Over $59
Support
Up to 5-Year Warranty  
Lifetime Customer Support
Quantity
Bulk % discount
2
save

1

%
3
save

2

%
5
save

5

%
10
save

13

%
Quick Overview
The FC-3000 300-watt LED grow light is part of the Mars Hydro smart grow system, supporting mobile control via the Mars Hydro APP and growth plan programming. The FC-3000 features cutting-edge Samsung LM301B diodes that enhance its high-performance capabilities. These advanced chips enable the FC-3000 to deliver an impressive photosynthetic photon efficacy (PPE) of 2.85 μmol/j and a PPF of 854 μmol/s. Providing a robust energy source for indoor plants, the light also offers uniform photon distribution, an even PPFD, and optimal PPF across the canopy. The FC-3000 is ideal for individual growers
Wattage - 300w
Personal Cultivation Coverage - 3x3 ft
Commercial Cultivation Coverage - 2.5x2.5 ft
The overwhelming choice for most growers applying in grow tent, small room, cabinet & closet, and plant shelves.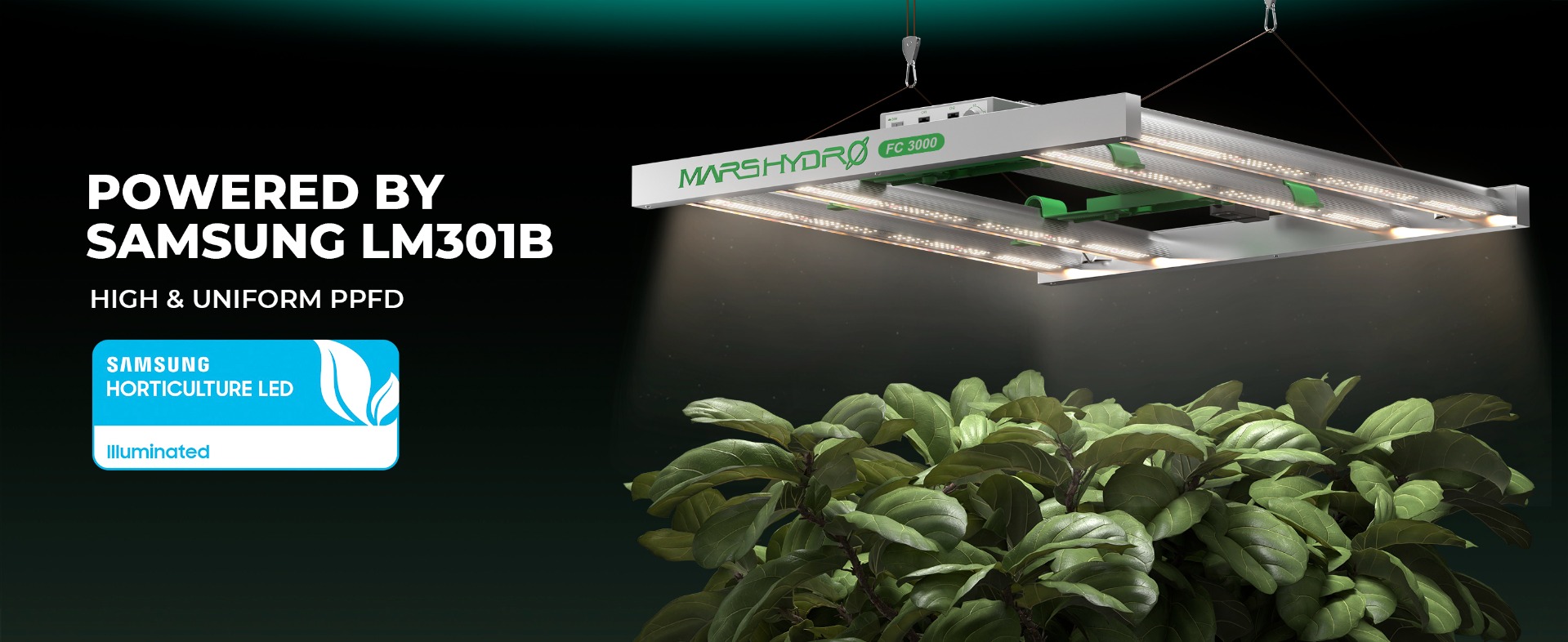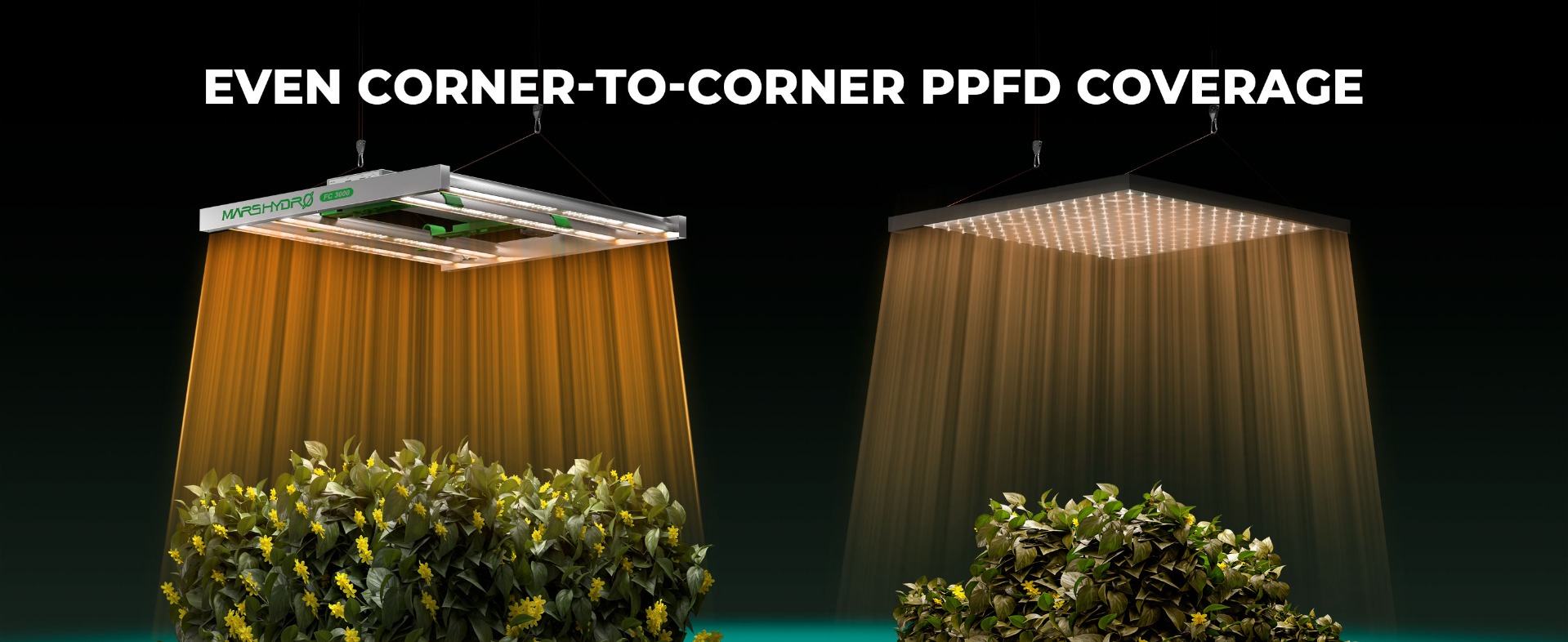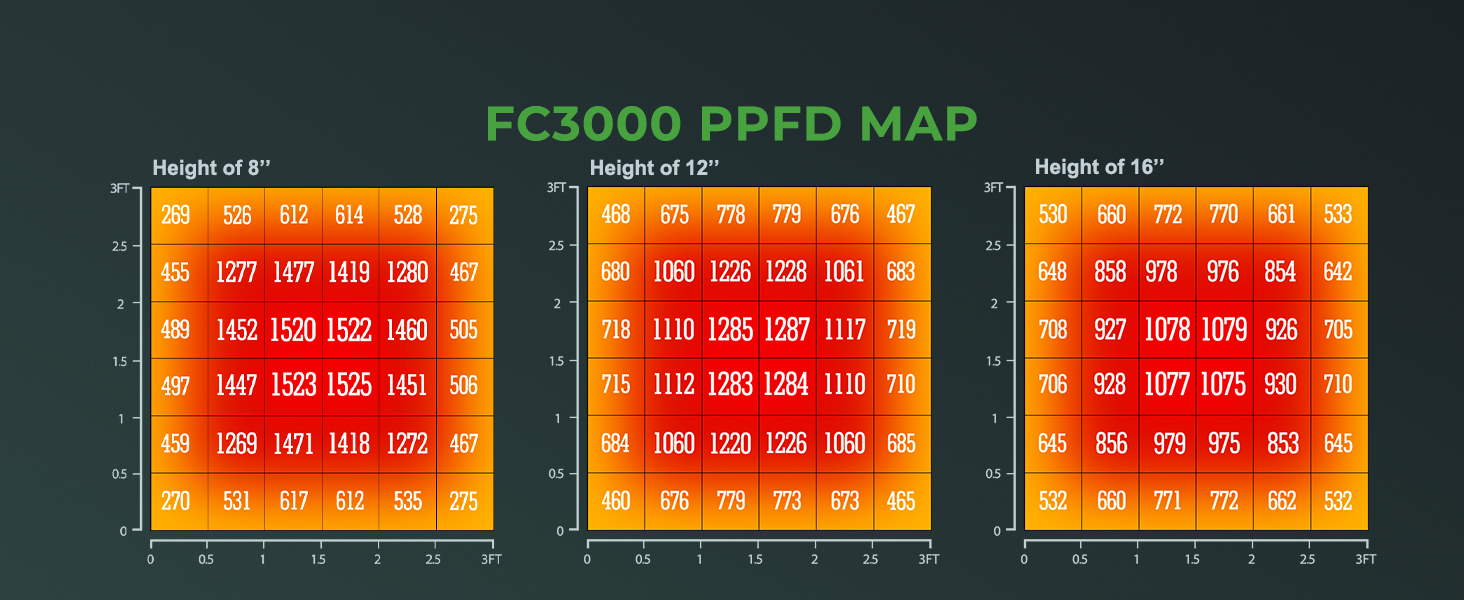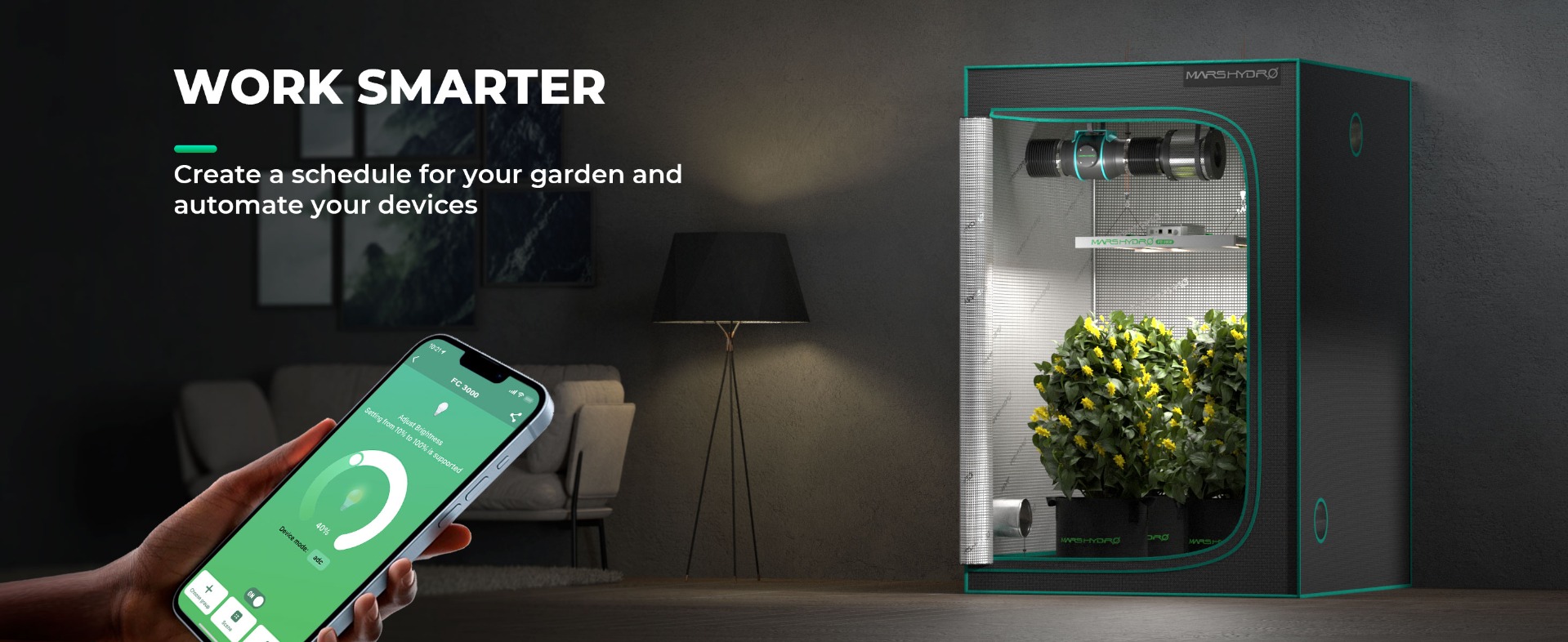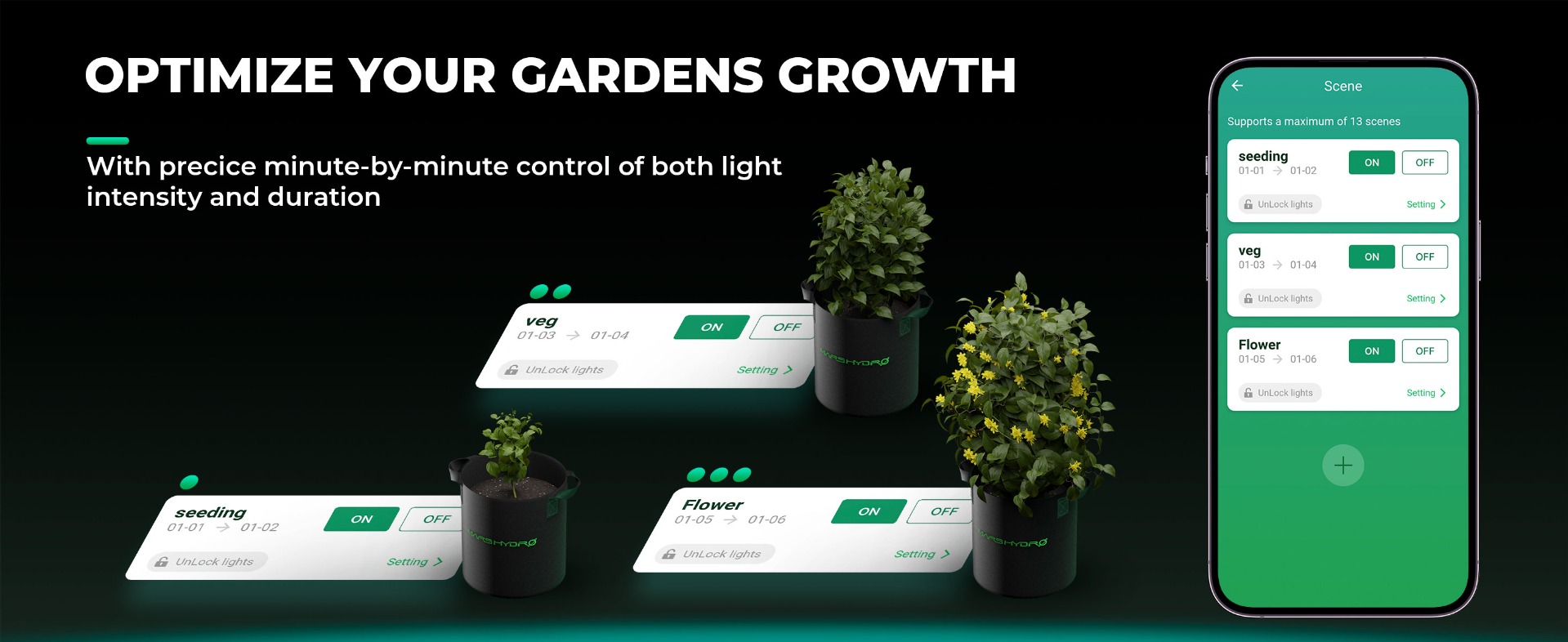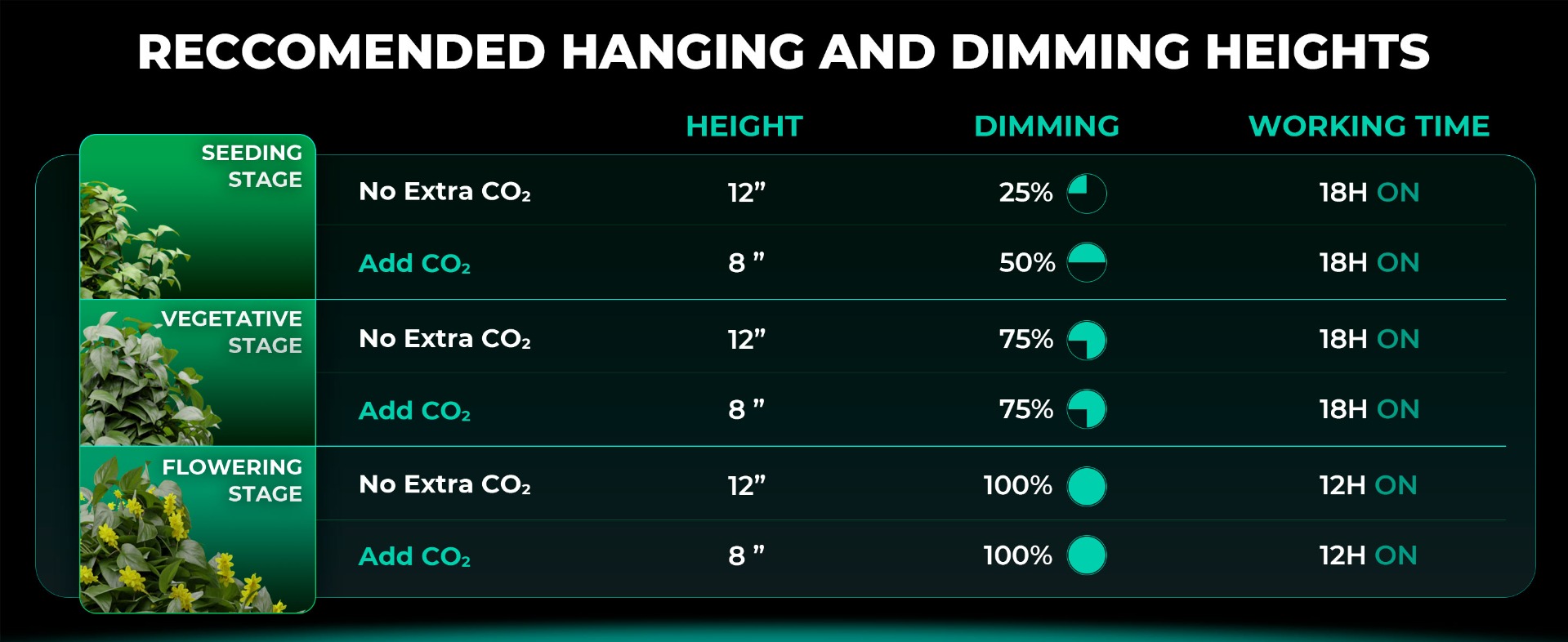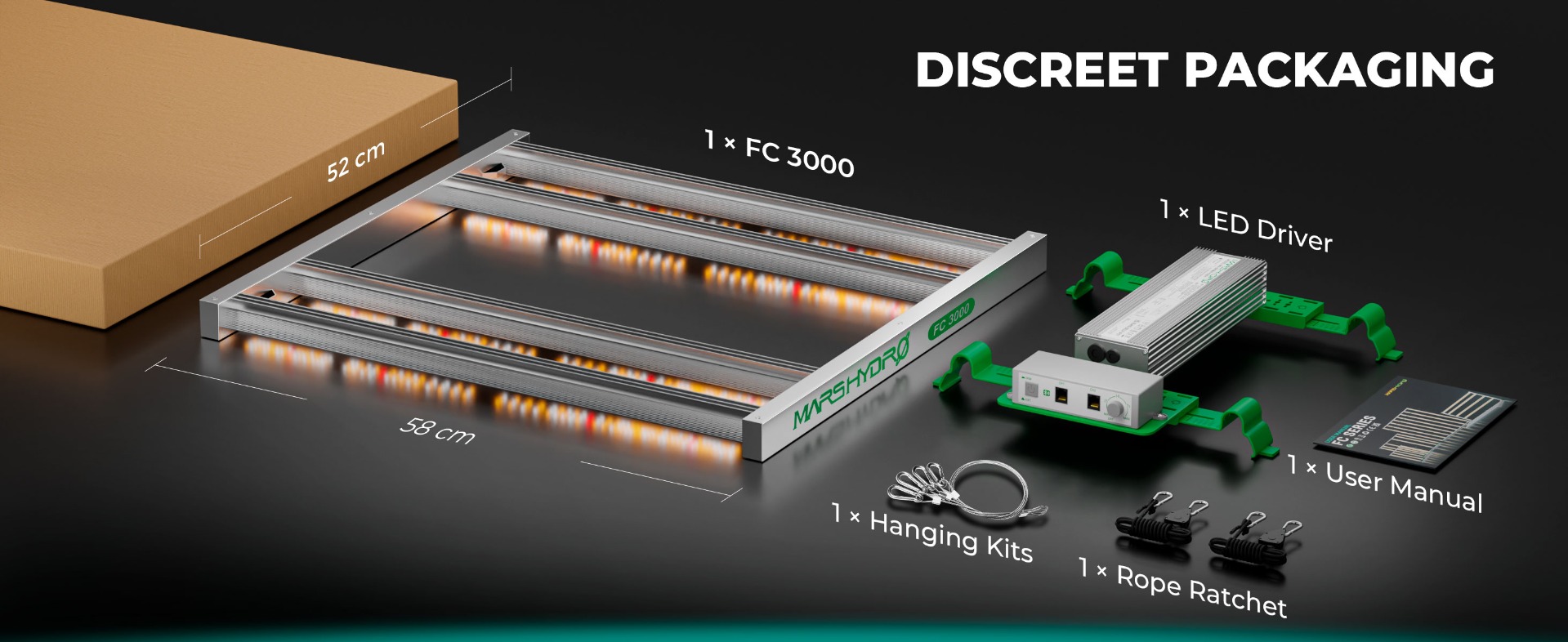 More Information

| | |
| --- | --- |
| WATTAGE | 300W±5% 120-277V |
| Core Coverage | 2.5'x2.5' |
| Max Coverage | 3'x3' |
| PPE | 2.85μmol/j |
| PPF | 854μmol/S |
| Chip Brand | Samsung Lm301B |
| Spectrum | 660-665nm 2800-3000K 4800-5000K |
| Max Yield | 3.0g/W |
| Voltage | AC120-277V |
| Amps | 2.455A@AC120V 1.230A@AC240V 1.078A@AC277V |
| BTU | 1023 |
| Certificate | ETL,CE,UKCA,RoHS, DLC,IP65 |
| Lifespan | 50000H |
| WARRANTY | 5 years |
| Dimension | 22*20*3 inch |
Please complete order for the product to write review.
Features
Professional Samsung LED Grow Light

The Mars Hydro FC 3000 300 watt LED grow light boasts cutting-edge Samsung LM301B diodes that drive its high-performance capabilities. The advanced chips help the FC3000 deliver a remarkable photosynthetic photon efficacy (PPE) of 2.85 μmol/j and a PPF of 854 μmol/s high photon flux, providing a substantial and enduring lighting energy source for indoor plants. Together with a long-lasting color rendering capability, Samsung LM301B chips make sure the light spectrum emitted is consistent and stable throughout the lifespan of the product. Ideal for both personal growers and racking cultivation operators.
Exclusive Recipe Of Full Spectrum Light

This specialized spectrum blend incorporates blue and red light, and adequate green light, with the blue stimulating veg growth and facilitating the accumulation of essential phytochemicals, and the abundant red light enhances the maturation process and enhances the overall quality of buds and flowers produced by the plants. Adequate green light is added as well to support necessary plant growth and increase light penetration.
Fast Heat Dissipation Avoid Hot Spot

The wave-shaped heat sink allows for quick heat dissipation, preventing any disruptions to the light's operation. The multi-bar style design incorporates reserved space between the light bars for cooling, effectively mitigating any potential hot spot issues. This feature ensures that the grow light operates optimally and reliably, delivering consistent and uniform lighting to the plants, ensuring that the temperature remains stable and does not interfere with the carefully controlled environment.
Smart LED Grow Light In Smart Grow System

Remote Control On The Cellphone: The Mars Hydro smart FC3000 comes equipped with advanced features for remote control and data transfer, enabling easy mobile access to your grow light via the Mars Hydro app on your phone or tablet. This convenient feature allows for effortless control of the grow light and scheduling of grow plans, all at your fingertips, from wherever you may be. All data and settings are stored and transferred using OTA (Over The Air) technology, ensuring seamless and efficient data transfer between devices. Super convenient for growers who don't have enough time to sit in front of their indoor plants.
Plan Your Grow Light and It Runs Automatically

The smart FC3000 boasts precise configuration capabilities and an auto-dimming feature that can be adjusted to the year, month, day, hour, and minute, ensuring that the light intensity is tailored to match your specific grow schedules, providing the utmost precision and automation in lighting control for your convenience. A Sunrise & Sunset Simulation option, which mimics the natural photoperiod of plants, is also provided for professional personal grows.
Over The Air Daisy-Chaining & Group Devision

FC3000 Smart LED Grow Light enables independent control of multiple lights simultaneously, allowing for seamless switching and dimming of up to 100 FC 3000 plant lights without the need for additional dimming cables. The Mars Hydro app also allows for easy division of the LED grow lights into different lighting groups, even when they are located in separate rooms or tents. This feature makes it possible for the independent management of various ongoing cultivations, enabling users to monitor and program each grow plan without interference from other cultivation plans.
Which light is right for you?
We found other products you might like!