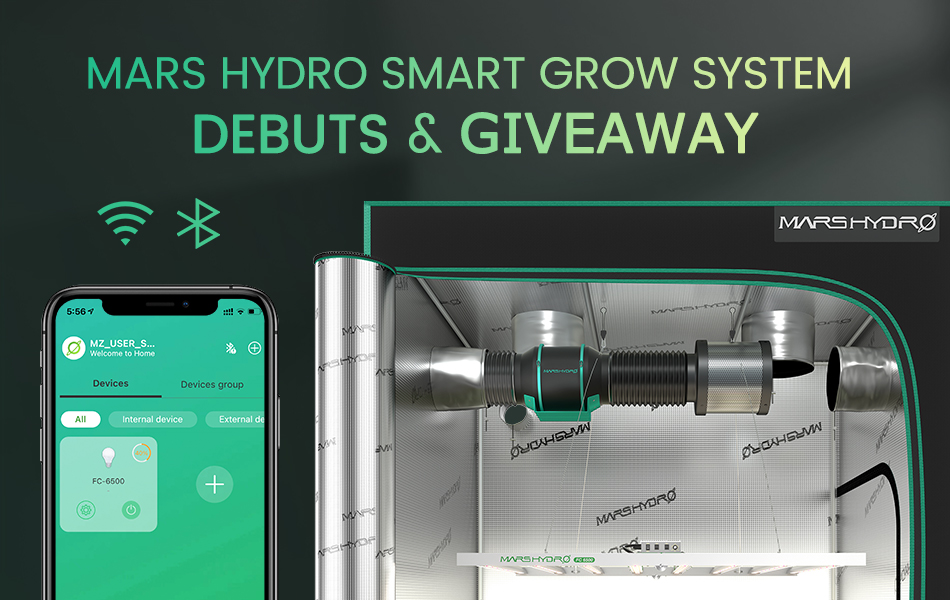 Good news, Mars Hydro Smart grow System is now available. Modern technological changes have made human life easy and fast. When it comes to growing, it is important for growers to enjoy the benefits of modern technology as well. Today, a cell phone can precisely control the light system for plant growth. Mars Hydro has always insisted on reforming and innovating to provide growers with a better experience and better products, therefore, the FC-E Smart LED Grow Light was released in June.
---
New Changes in FC-E Smart Grow System
FC-E Smart LED Grow Light is one of the products of Mars Hydro Smart Grow System, the models include FC-E3000, FC-E4800 and FC-E6500. Based on the design of FC-E series, it installs an intelligent control system for the whole light, and you only need to download the app to control the operation of the light remotely by WiFi or Bluetooth. Let's see how it will affect your growing. Before that, please download MarsHydro APP in the App Store or Google Play.
·WiFi & Bluetooth Remote Control - Easy Button Operation

Do you struggle with frequent trips to turn off/on or dim the lights? Having FC-E smart LED grow lights is the perfect solution for running troubles. On the MarsHydro app you can choose Wifi or Bluetooth to connect your light and then control the light on/off and dimming remotely via on-screen prompts. The smart system helps growers easily control everything about their plants' growth.

·Multi-Light Dimming - No Wire Connection
The intertwined wires look messy and may cause you some trouble. Especially if you have a very large grow area and you need to connect them together via wires for dimming. The Mars Hydro FC-E Smart LED Grow Light allows growers to remotely control the dimming of multiple lights without connecting any dimming wires. As long as the signal allows, growers can add 10+ lights via WiFI and connect up to 100+ lights via Bluetooth for dimming and other operations. If you have multiple grow rooms, you can use the device group function for group dimming.
·Set the Timing Scenes - Free Your Hands

Perhaps setting up auto-dimming scenes is the most important reason why you should choose smart grow system. It is a feature that really frees your hands. The grower adds the light time and light intensity needed for each stage of the plant to the scene and then selects the group of devices to be controlled. If you are a novice, you can refer to the pre-set scenes for different stages of planting. The dimming scenes can automatically simulate the solar rotation to give your plants a good natural ecological environment.

These are the new advantages of FC-E smart light. It maintains the advantages of FC-E strip light such as high efficiency and fast heat dissipation, creating a new smart growing model for growers. However, FC-E Smart Light is just a new beginning, and Mars Hydro will develop more smart products in the future.
Giveaway - Find Tester For Smart LED Grow Light



Prize: 1*FC-E3000 Smart LED grow light
Participation: Leave your comments and suggestions about the Smart LED grow Light below the blog.
WinnerSelection: Randomly pick up a winner from the comments
End Date: June 30th, 2022
Notice: Pease confirm that your email address is ACTIVE so that we can announce you in time if you are the winner
Winner Announcement
Exciting times! As of June 30th, there were 522 participants. Thanks to everyone's active participation, now WINNER details are announced below.
Congratulations to #100, Jason Pimentel for being our giveaway winner.
Please send your shipping information to [email protected] when you see this message.
Subscribe to the website to get the latest giveaway and promotion information.
Grow on Earth, Grow with Mars!