When the first sunshine in the morning cross through your window, you stretch yourself, put on your slippers, and walk to the kitchen. A bunch of greens jump into your sight. The fragrance of herbs follows. Your breaths get soft and smooth, but your stomach rumbles. You gonna make healthy breakfast.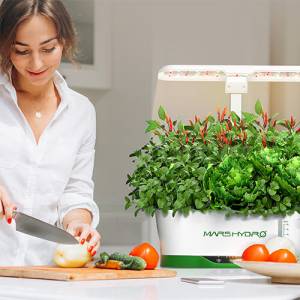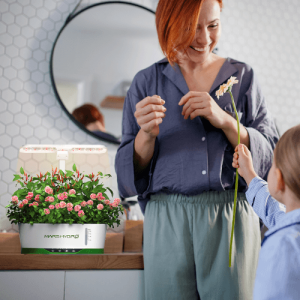 Jenny walked home with her backpack. She learned a word today - life. She lifts her chin, her eyes glowing, and asks, "Daddy, what is life?" You point to her, point to your wife, point to the dog under the couch, point to the cat on the TV, point to yourself, and say, "we are lives." But you know deep down this is not enough. Some beautiful cheery red on the table caught your eyes.
Toxic purple and dirty orange neon lights flicker as you walk past the dark dark green street. A scorching smell faintly evades your nose. Chronic illness is crushing your body. Apartment door near, no feelings felt, something in your chest held, you're about to escape. However, you open the door, and something shines bright like a diamond arises in your eyes in the dark. It's time to take some "medicine".
Fortunately, you have a small garden in your kitchen, on your table, in your grow room. It's a hydroponic garden kit, with a white LED grow light shining above the greens, and a water tank pumping underneath.
Well, there are times when you grow your organic food, ornamental plants, and medical plants plants. From the scenes above we know who today's protagonist is - Hydroline12 - a countertop hydroponic grow system released by Mars Hydro in 2022 for home indoor gardening and plants cloning.
---
Specifications Of Hydroline12丨Tabletop Hydroponic Garden
Built for tabletop hydroponics, Hydroline12 is small in size so it fits anywhere in your house - 15 inches in length, 10 inches in width, 3.5kg in weight, and 17~25 inches adjustable in height.
Hydroline12 consists of 4 main parts: 1 LED grow light, 1 retractable lamp post, 1 control panel, and a 6L water tank. The overall color is white and green, while the light is a full-spectrum white light with a warm white color.
Of course, other necessary accessories are also included in the garden kit: grow baskets, grow sponges, grow domes.
In terms of 2 different spectrum modes, Hydroline12 consumes different watts. When in vegetable mode, it consumes 24W; while in flowering mode, it draws 22W. The total PPF output is 43.5 umol/S(@120V).

Features of Hydroline12丨Designed to Home Hydroponic Growing System
Apart from the basic nutrient container and grow light function, Mars Hydro Hydroline12 has 6 specific features for home indoor gardening - more practical, more convenient, more intelligent.
Water Pump & T-Sprinkler: Mix The Nutrients And Air Thoroughly
Hydroline12 is fitted with a pump that will automatically run on a "30 minutes on, 30 minutes off" cycle once you turn it on. The water pump works in conjunction with a small T-sprinkler that constantly raises the nutrient solutions so that they mix well with the air and maintains sufficient oxygen in case of plant root rotting due to lack of oxygen.
We do not recommend growers to use a static hydroponic system, because dynamics is one of the important principles of a hydroponic system. It's critical to maintain sufficient oxygen when there's no soil as the medium.
Adjustable Light Post: To Fit With The Ever-Growing Plants
You may grow food, ornamental plants, medical plants, such as lettuce, tomato, Pepper, kale, herbs, vegetable, basil, salad greens curly parsley, thyme chive, mint, dill, parsley cherry tomato, rosemary, and plants seedlings and plants clones. Though all of them begin with a small seed, they grow into various sizes. Besides, the PPF numbers of LED grow lights rely on the distance between the plant canopy and the LEDs. The closer, the more PPF your plants will receive.
So, what to do when seedlings grow into "jungles"?
Mars Hydro designed the adjustable light post to solve this problem. The post is 11 inches which are suitable for any initial growth stages. Inside of the post, there's an 8-inch-long retractable post that provides a variation of 8 inches in height. You can freely adjust the distance between the plants and the light according to your plant needs. The maximum height from the tank board to the LED grow light is 19 inches.
Transparent Visual Window: Keep An Easy Eye On Nutrients Volume
Obviously, nutrient solutions are the major element of hydroponics, which offers the plants the necessary nutrients and PH environment to survive and grow. The lack of nutrients is the absence of plant health.
A visual window on the tank allows the growers to easily keep track of the nutrient stock at one glance.
Tips for using Hydroline12! Growers don't need to worry about the amount of nutrient solution at all times. Hydroline12 has a 6L tank, so we recommend that growers add or change the nutrient solution every 10 to 15 days.

2 Growth Modes & 5 Intensity Settings: For All Your Light Needs
Mars Hydro Hydroline12 adopts a full spectrum LED grow light, containing the whole PAR wavelengths which include 650-660nm,460-465nm,2800-3200K,4800-5000K.
We designed two growth modes on Hydroline12: vegetable mode and flower/fruit mode. The two modes are both full-spectrum, while the flower/fruit mode has more red light for boosting flowering and fruiting.
In both growth modes, there are five dimmer settings - 10%, 25%, 50%, 75%, 100%, to fit a wide variety of light intensity requirements of different plant species.
4 Auto-Cycle Lighting Time Schedules: Free From Frequent Operation
In addition to various light intensity requirements, plants need diverse daily lighting times. For example, tomato plants need 6~8 hours of light per day, while lettuce grows better under 14~16 hours of daily light. On top of that, the same plants in different growth stages need different lighting times as well!

Four lighting schedules are therefore provided to give growers the option of whether they need longer or shorter light times.
4 hours on / 20 hours off

8 hours on / 16 hours off

12 hours on/ 12 hours off

16 hours on / 8 hours off
With this function, you don't need to open or close your hydroponic garden light frequently to follow up on the changes in daily lighting needs. A click on the panel would make it work.
Power-off Memory Function: Be Your Memory
What if the power is suddenly/accidentally cut off during the growing process? All the lighting modes, lighting intensity, and lighting time schedules you have set up are all gone.
No! To reject such a disaster, Hydroline12 will be your memory.
When power is restored, Hydroline12 will continue to work in the same pattern you set before the power failure, including the same growth pattern, the same light intensity, and the same lighting time. You're free from the panic to recall the memories. Just restart your Hydroline12 and carry on with your organic life.
Mars Hydro Hydroline12 Hydroponic Growing System丨Make Your Life Organic
Indeed, an organic lifestyle is not just growing your plants. Nevertheless, growing your organic food, and adding some greens to the earth is the most fundamental method to have an organic life.
Mars Hydro Hydroline12 would like to be your best garden kit partner along this way.
Practical water pump and visual window

Adjustable light post and Six-liter large-capacity water tank

Vegetable and flower growth modes with five intensity settings

Four automatically cycling lighting time schedules.
Grow on earth, grow with mars.