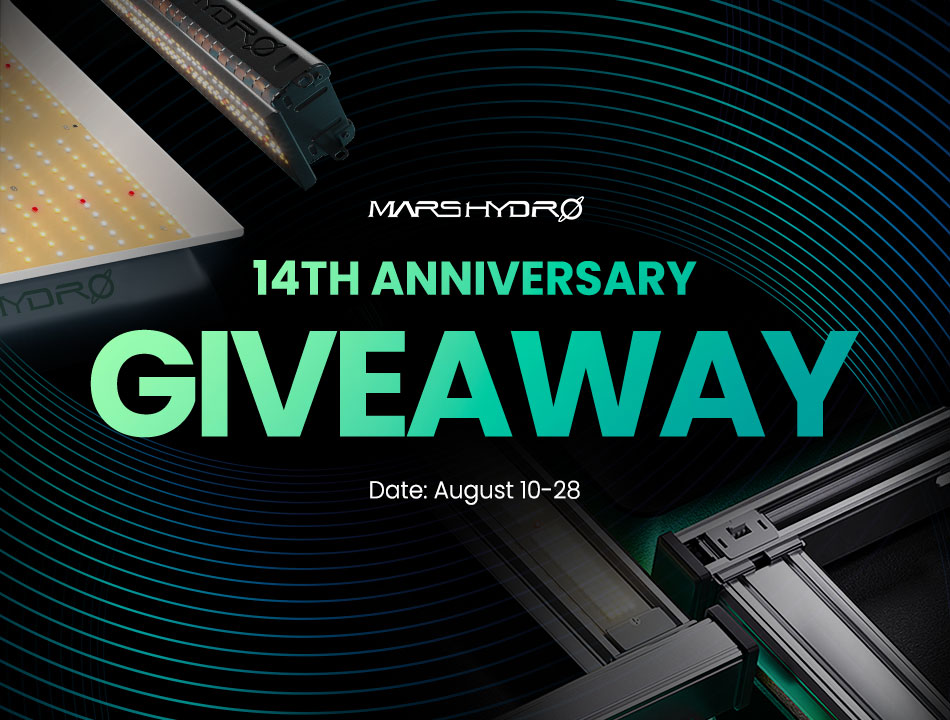 For 14 years, Mars Hydro has led the way in innovation, revolutionizing indoor plant cultivation and harvest. We take pride in the countless successes and milestones that have illuminated the path for indoor growers worldwide. And our gratitude goes out to all our customers who have journeyed alongside Mars Hydro. It is your love and support that has propelled us to achieve our current success.
To mark our 14th anniversary, we cordially invite you to join the celebration at Mars Hydro. We have prepared various discount activities on our official website for you. Don't miss out on these fantastic opportunities and make sure to participate and avail yourself of the discounts in time.
---
Mars Hydro 14-Year Brand Journey

Since our establishment in 2009, our main commitment has been to provide the most cost-effective indoor grow equipment available. With a strong belief in the power of innovation, we embarked on an ambitious journey that has reshaped the world of indoor cultivation.
In our early years,from 2009 to 2015, we laid the foundation for our success. Fuelled by our passion for plant growth, we assembled a dedicated research and development team and established a cutting-edge manufacturing facility. We developed our expertise in LED lighting technology through extensive experimentation and testing. This enabled us to create products specifically optimized for indoor cultivators. This led to the birth of the Mars Hydro brand, which quickly gained recognition among growers worldwide.
From 2015 to 2018, we emerged as a trusted leader in the LED grow light industry. Our first breakthrough came with the introduction of our high-quality and cost-effective purple LED lights, such as the acclaimed Mars 2, Mars Reflector, and Mars Pro Series 2. These lights quickly garnered a significant market share and growers embraced their exceptional performance and value. The Mars Hydro brand became known for their reliability and superior lighting solutions, capturing the hearts of cultivators around the world.
In 2018, we embarked on a new chapter that would redefine the LED grow light industry. Our hard work and dedication led us to the discovery of the untapped potential of white LED lights. We introduced the groundbreaking SP series, marking our official entry into the era of energy-saving and longer-lasting lighting solutions. The SP series quickly gained recognition for its superior performance, solidifying our position as a pioneering force in the industry.
True to our commitment to affordability,in 2019 we launched the TS series, a product line that broke down barriers to indoor cultivation. By providing top-quality yet affordable LED lights, we empowered a broader community of growers to pursue their passion and achieve remarkable results in regards to their cultivations. The TS series helped the Mars Hydro brand grow and become known for making high-quality LED lights accessible to cultivators at all levels.
From 2020 to 2022, our focus shifted to refining lighting performance and innovation. Collaborating with industry leader Samsung, we harnessed the power of multiple LED bars to create the revolutionary FC series. The FC series provided uniform Photosynthetic Photon Flux Density (PPFD), ensuring optimal and consistent growth conditions for plants. Additionally, we expanded our product offerings with the introduction of the cost-effective FC-E series, further diversifying our product range and removing the barrier of entry for our customers.
Today,in 2023, we stand at the forefront of the smart era. Our research and development team unveiled the Smart Grow System, a game-changing innovation that allows growers to control their equipment seamlessly through their smartphones. This technological marvel revolutionizes cultivation practices, offering unparalleled convenience and efficiency while preserving the human touch that drives growers' passion.
At Mars Hydro, our journey has been defined by our dedication and a commitment to revolutionizing the LED grow light industry. We are honored to serve growers worldwide, providing them with the most advanced, cost-effective, and reliable cultivation equipment on the market. As we look to the future, we remain driven by our shared values of professionalism, innovation, and a deep appreciation for the bond between growers and their plants.
Join us on this exciting journey as we continue to shape the future of indoor cultivation, one grower at a time!
Mars Hydro 14th Anniversary Promotion
Over the years, Mars Hydro has been dedicated to creating high-quality grow equipment while adhering to the customer-centric principle. Therefore, on the occasion of our 14th anniversary celebration, we express our heartfelt gratitude to all our valued customers. As a token of appreciation for your trust and support, we have launched a series of product promotions to bring you more benefits and surprises.
1. You can get a 14% discount on all products at Mars Hydro's official website from August 14th to 27th. The discount code: marshydro14th.
2. We host a "Growers' Thursday" flash sale every Thursday on Mars Hydro official website, but during the 14th-anniversary event period, the discounts are even more substantial! Every Thursday during August 17th to 24th, you have the opportunity to purchase our products at prices as low as $14 in flash sales!
3. We are starting to launch a membership points rule. For every 1 US dollar you spend on each purchase, you will receive 1 point. Once you accumulate 100 points, you will be able to redeem them for a 1 US dollar discount on your next order. Even more exciting, during our 14th-anniversary event, your points will be doubled, making it the perfect time to start accumulating and enjoying greater rewards.
Mars Hydro Community- An Exclusive Community of Growers
Apart from the 14th-anniversary website product discount event, we are about to launch a planting community for everyone. Here, you can freely express your thoughts, share your planting diaries, and ask for help or advice from other growers. Similarly, you can also help others with their planting inquiries.
In addition to that, we have also developed columns like giveaway, news, and FAQ to provide everyone with professional planting knowledge and occasional surprises. Please stay tuned and look forward to it!
Blog Giveaway
Prize: Mars Hydro TS1000 LED grow light
Participation Way: Leave your wishes for Mars Hydro's 14th anniversary or share your story with Mars Hydro and add the hashtag#marshydro14th in the comment.
Winner Selection: Randomly pick up a winner from the comments.
End Date: August.28th
Notice: Please confirm that your email address is ACTIVE so that we can announce you in time if you are the winner.
Winner Announcement:
As of August 28th, there are 346 participants in the giveaway. Thank you very much for your enthusiastic participation, now the winner details are announced as follows:
Congratulations to Keith McDaniel for being our giveaway winner.
Please send your shipping information to [email protected] when you see this message.
Subscribe to the website to get the latest giveaway and promotion information.
Thank you again for your love and support!