Mars Hydro 2x4 Grow Tent - 48''X24''X71''(120X60X180cm) (Pre-order before 30th Sep.)
Free Shipping to the United States on Orders Over $59
Support
Lifetime Customer Support
Quick Overview
Plant capacity: 2~4

Recommended Ventilation: 4'' Inline Fan

Covering a linear area, the best-selling veg tent and flower tent for beginners
Mars Hydro 2x4 grow tent features stable metal frame to support 110 lbs of weight easily. The tear-proof 1680D oxford fabric preventing light leakage, is lined with 98% reflective Mylar to enhance light intensity. All designs are to provide an enclosed indoor grow environment for your plants all year round.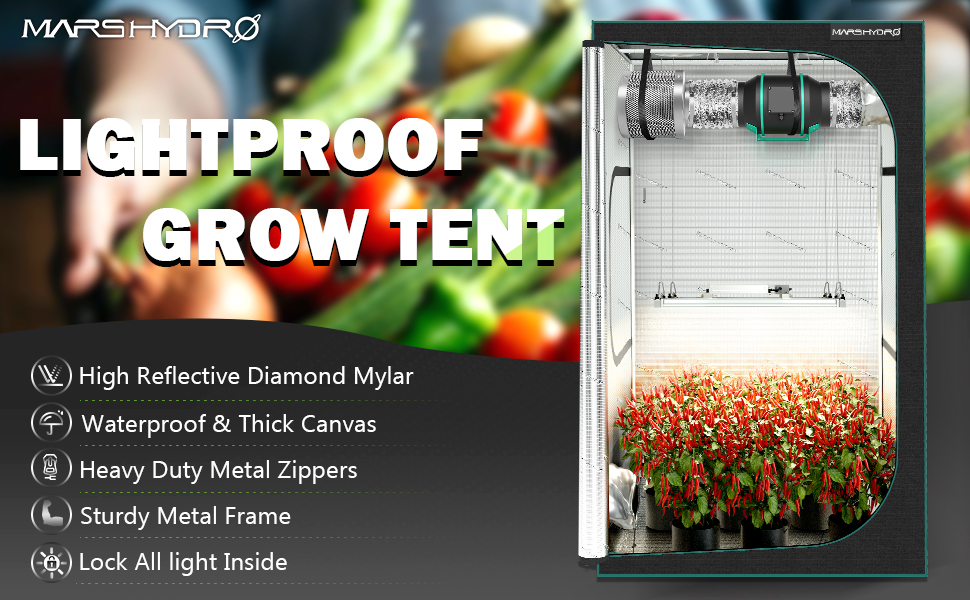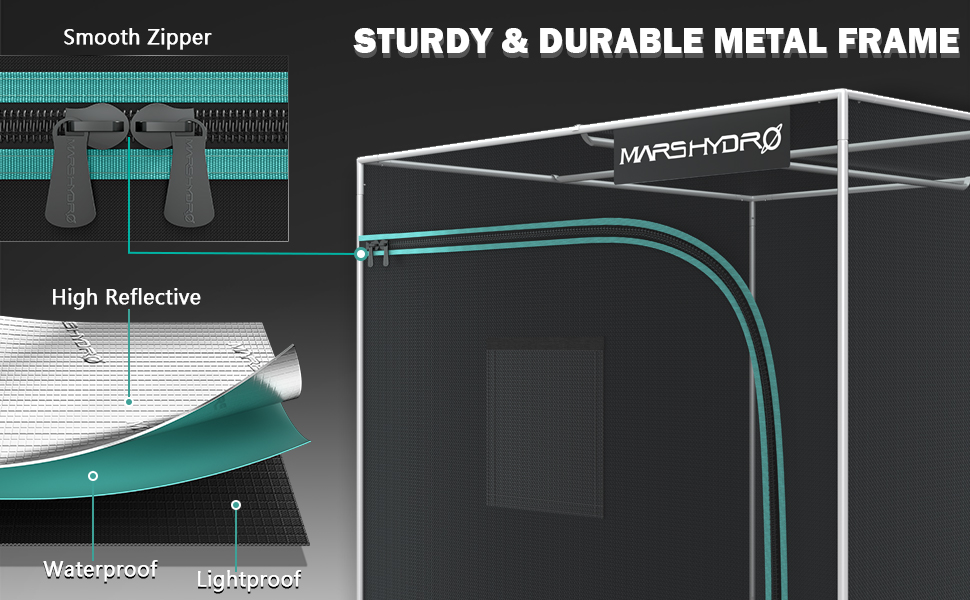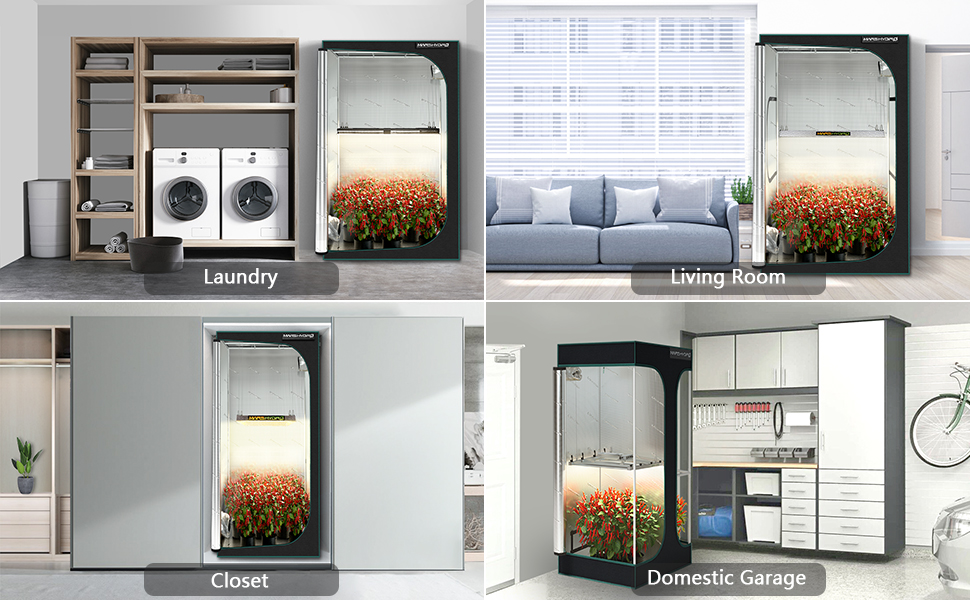 More Information

| | |
| --- | --- |
| Vent Size | 1x8'' (1x20cm) |
| Mesh Window Size | 1x10''x10'' (1x25x25 cm) |
| DOOR QUANTITY | 1 front door |
| SUPPORT CAPACITY | 50kg/110lb |
Ask a Question
The dimension of the product is: 115*26.5*15cm
The weight is at 19.3lb, which is about 8.8kg.
Features
No Light Leakage With High Reflectivity

Mars Hydro's 2x4 grow tent with high reflectivity and no light leakage for optimal indoor growing of your plants. Our grow tents are made with tear-proof 1680D canvas and carefully-stitched zippers, ensuring that all the light stays inside and preventing any light from leaking out.
Increased Light Intensity

The highly-reflective inner diamond mylar is a special material that can reflect light to every part of the plant, boosting light intensity by up to 25% and generating greater yields than growing without an indoor tent. Invest in a 2x4 grow tent with diamond inner mylar to optimize your plant growth and get the most out of your indoor gardening efforts.
Sturdy And Durable Indoor Grow Tent

Mars Hydro's 2x4 grow tent is designed to provide sturdy support for your plants. With a metal framework and metal corners that can support up to 110 pounds, our grow tents are highly durable and resistant to corrosion, tipping over, or getting crushed. You can trust that your plants will be safe and secure in Mars Hydro grow tents.
User-Friendly Concepts

This grow tent comes equipped with a variety of convenient features to make indoor gardening a breeze. The tent includes a mesh window for easy observation of your plants, a removable floor tray for easy cleaning, and circular air vent holes with flexible nylon straps to make it easy to install ventilation systems. Additionally, the tent includes an extra tool bag for managing small gardening equipment. With all these features, Mars Hydro's 2x4 grow tent is the perfect solution for your indoor gardening needs.
Personal And Perpetual Grow Area

With Mars Hydro grow tents, you can grow your favorite plants all year round without worrying about seasonal changes or unpredictable weather. Our grow tents provide a unique space for growers to cultivate their plants in a controlled environment, ensuring optimal growth and yield. Invest in a 2x4 grow tent from Mars Hydro and take the first step towards becoming a successful indoor gardener.
Trustworthy Grow Tents For Indoor Plants

As a top manufacturer of premium grow tents, Mars Hydro is committed to meeting the needs of indoor gardeners. With a focus on quality and customer satisfaction, our brand has become a trusted name among the indoor gardening community. Our grow tents are designed to create an ideal environment for your plants to thrive, no matter your experience level. With a Mars Hydro grow tent, you can trust that your plants will receive the support and protection they need to grow strong and healthy. Choose Mars Hydro for all your indoor gardening needs and experience the difference that quality and dedication can make.
Which light is right for you?
We found other products you might like!