With thirteen years of experience in the LED grow light industry, Mars Hydro knows exactly what kind of lights growers need to meet their growing demands. Hence, Mars Hydro has designed four series of lights according to the different requirements of growers. They are FC series, FC-E series, SP series and TS series. The names of these series represent the different features and usages of the lights. Knowing the meaning of product names can help you quickly pick the right light for you. If you wanna know what all of these names mean, keep checking our blog!
---
FC Series: Foldable Commercial
FC stands for Foldable Commercial. As its name suggests, we can see the two characteristics of the light series, commercial and foldable. Why is it a commercial light?
The advanced Samsung LM301b chip drives the entire light with low current, which can effectively avoid overdrive. Multi-bar design and precise chip layout make PPFD evenly distributed. In addition, the FC series is very efficient, with PPE values up to 2.8 µmol/j, and also increases plants yield by 3.0 g/w. The 180° foldable design is easy to install and store, helping you save time and space. Combined with these benefits, it is the light designed for commercial indoor and vertical grows. The FC series is also the best choice for personal grows if you are after high quality plants and have the budget for it.

FC-E Series: Flexible Commercial Economic
FC-E represents Flexible Commercial Economic, and its biggest advantage is its efficiency while having an affordable price.The high efficiency is manifested in its chip count, PPFD and PPE.
FC-E series adopts Bridgelux chips, the number of chips is twice as many as similar lights. The multi-bar design and unique chip layout enable the PPFD value to be evenly distributed in the effective range, and the efficiency can be as high as 2.7µmol/j. Furthermore, FC-E series adopt a removable bar design, which is very flexible to adjust the bar position according to your plants' space and arrangement. Personal growers who are seeking plants quality but are on a budget can choose the FC-E series. Due to its high efficiency and reasonable price, it is also a favorite light for investors in commercial growing, with low investment and high return.

SP Series: Super Penetration
SP series is the name of Super Penetration. The super penetration comes from the high quality Samsung chip and the unique light design.
The single light bar design makes the light smaller in size, dense arrangement of high quality chips on the light allows for a concentrated distribution of light, which results in a super penetration. More than that, super penetration enables the SP series to reach an efficiency of 2.8umol/j and an average yield of 2.5g/w. And it adds a rich red light to accelerate the transition from the growing stage to the flowering stage of the plant. Thanks to the single light bar design, the light is flexible and can be adapted to any growing space. With these features, we recommend the SP Series as a light for large-scale indoor growing and greenhouse growing, especially for tall plants.

TS Series: Traditional Substitute
The TS Series is our first generation of white light, replacing the traditional HPS and blue-red light. That's why it means Traditional Substitute.
As Mars Hydro's best-selling series, the TS series has a patented reflector design that maximizes the use of the light source. It can help increase plant yield up to 2.4 g/w. TS series not only performs well, but is also the most affordable light. If you are just starting to grow, the TS series is a nice choice. Meanwhile, it is mainly suitable for tent growing and large-scale indoor growing.

The above is the introduction of our four series. At the end of the blog, we have a giveaway.
Mars Hydro FC-E4800 Giveaway
Which Mars Hydro light is your favorite, leave your comment and we will randomly pick the winner. Detailed information is below:
Prize: One FC-E4800 LED grow light
Participation: Leave your favorite Mars Hydro light under this blog
Winner selection: Randomly pick up a winner from the comments
Deadline: 31th October
What the winner needs to do: Share your grow journal with Mars Hydro Grow LED grow light on social media.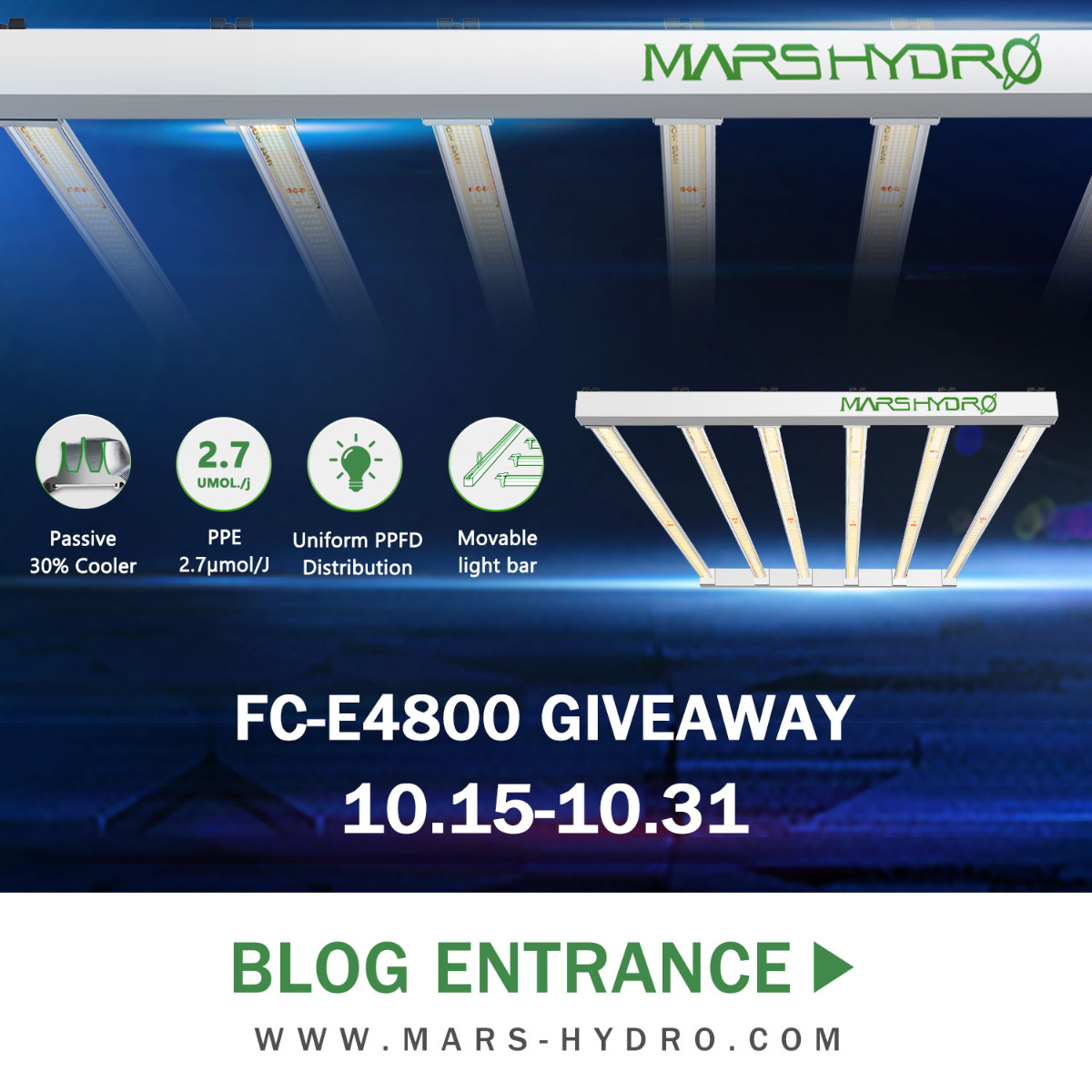 Winner Announcement
Congratulations to No.2802 on winning the giveaway! Since the giveaway started and to its end, we received 340 comments - from NO.2750 to NO.3090. By google random number generator, here comes out our winner:
Congratulations again! And pls kindly check your email box, pls contact us to pick up your prize!
Hope everyone will be blessed not only with giveaways but also throughout life.