Mars Hydro Smart FC-E6500 BridgeLux 730W Commercial LED Grow Light (Pre-order before 10th Oct.)
Free Shipping to the United States on Orders Over $59
Support
Lifetime Customer Support
Quantity
Bulk % discount
2
save

1

%
3
save

2

%
5
save

8

%
10
save

14

%
Quick Overview
APP-Controlled FC-E6500, member of the Mars Hydro smart grow system, supports mobile control and growth plan programming. Densely mounted with 3546 pcs BridgeLux chips, resulting in an average PPFD of 1200umol/m²/s. Coupled with enhanced red and blue light, the yield is increased by 2.5g/watt, making the FC-E6500 suitable for large commercial cultivation.
Wattage - 680w 730w(USA)
Personal Cultivation Coverage - 5x5 ft
Commercial Cultivation Coverage - 4x4 ft
For Indoor Horticulture growers, from professional cultivators to hobbyists.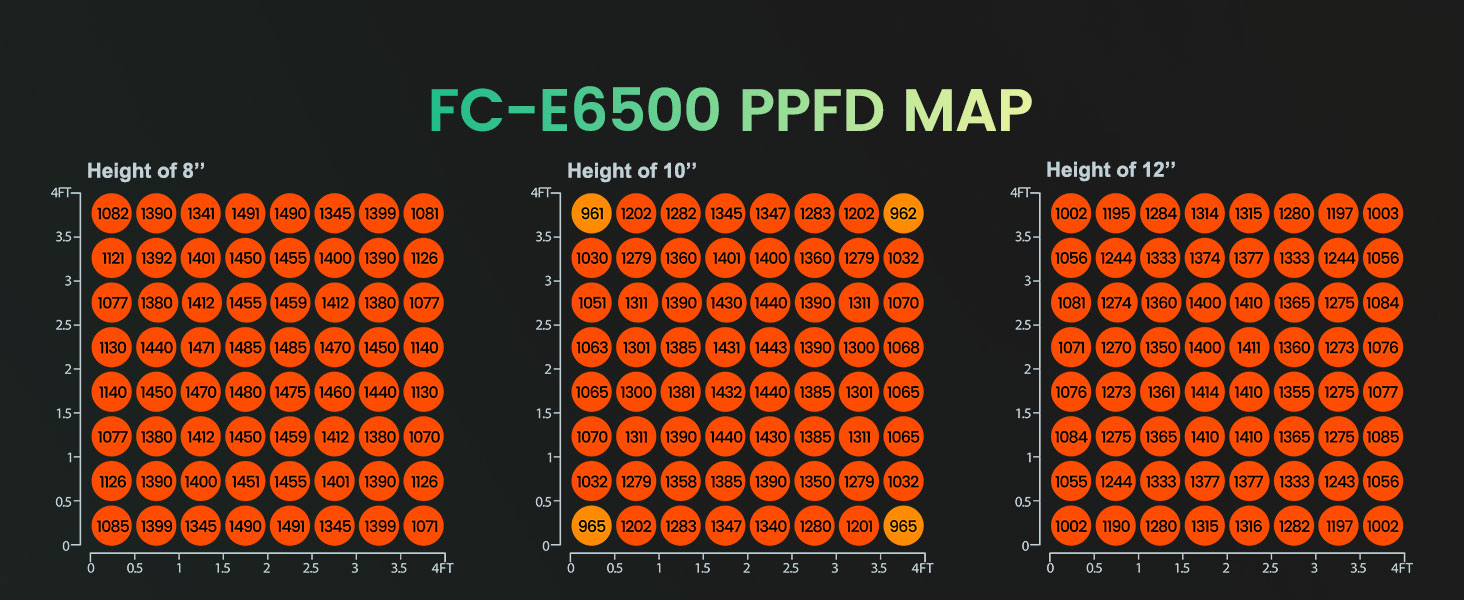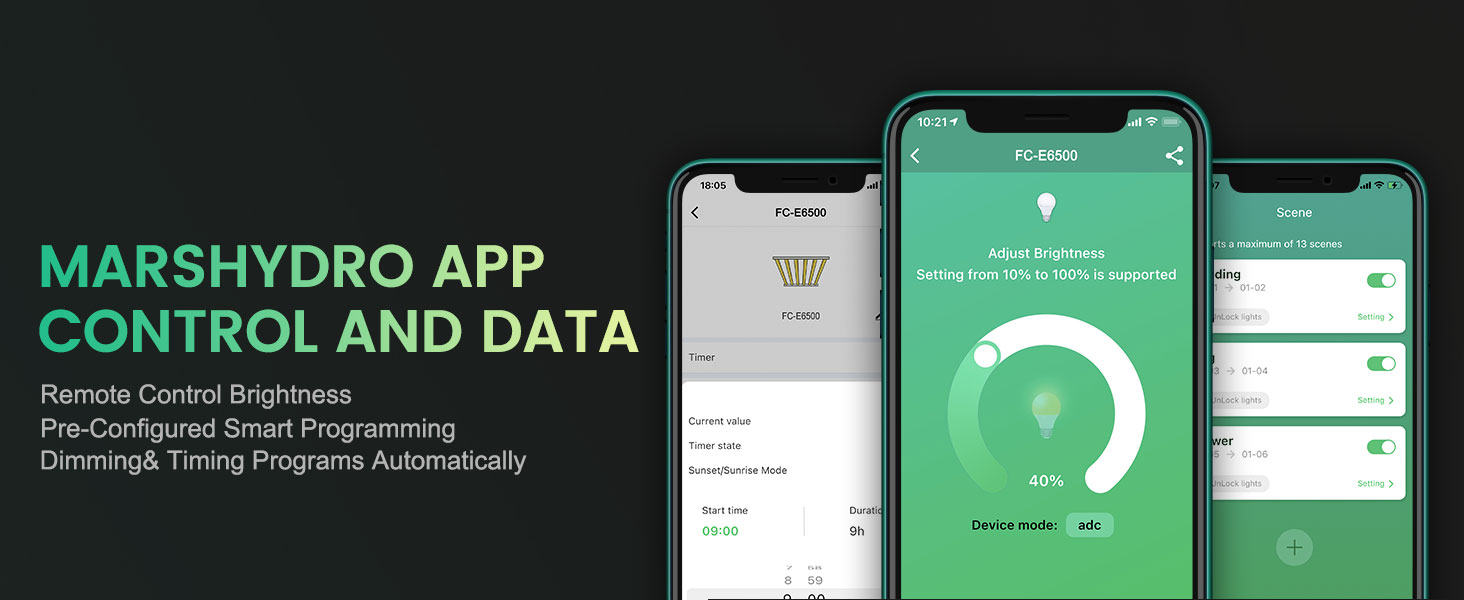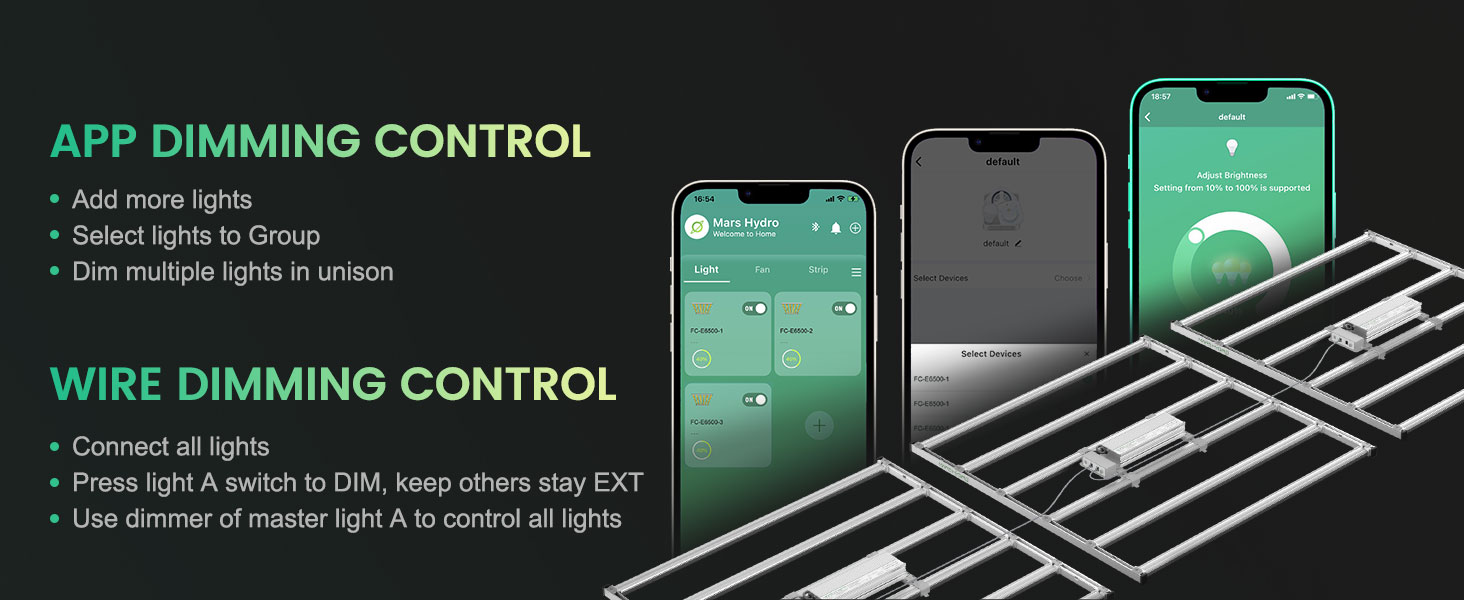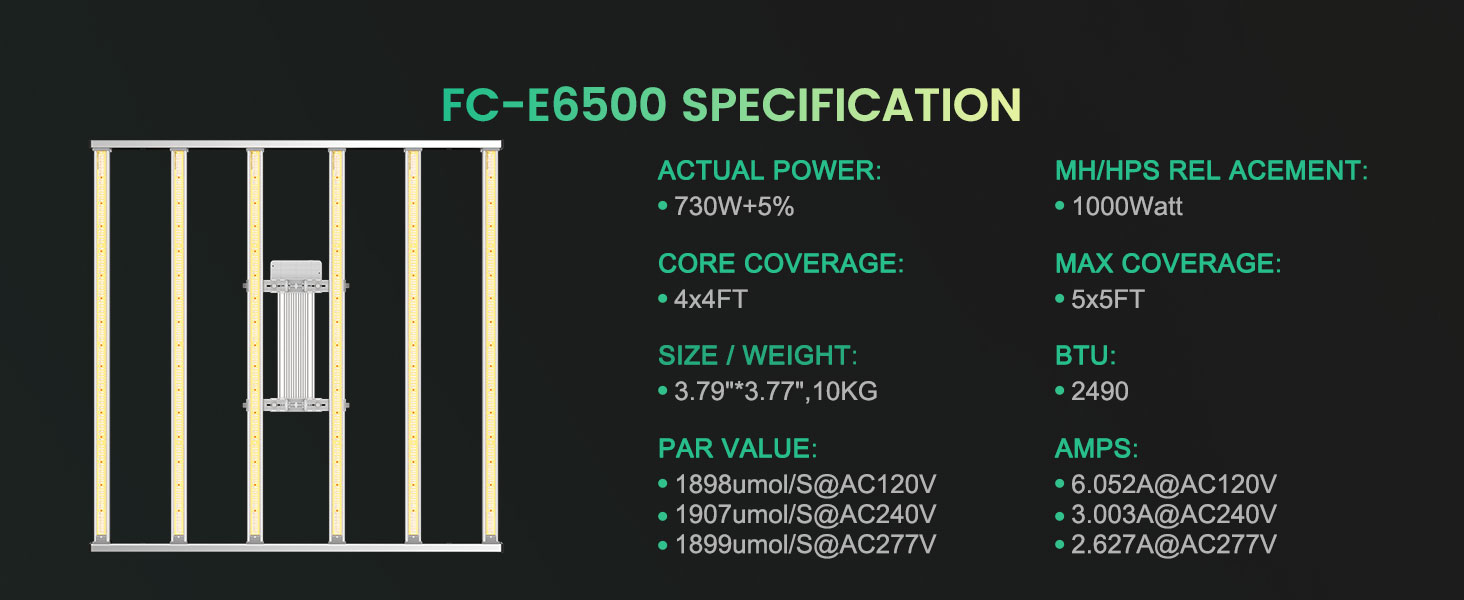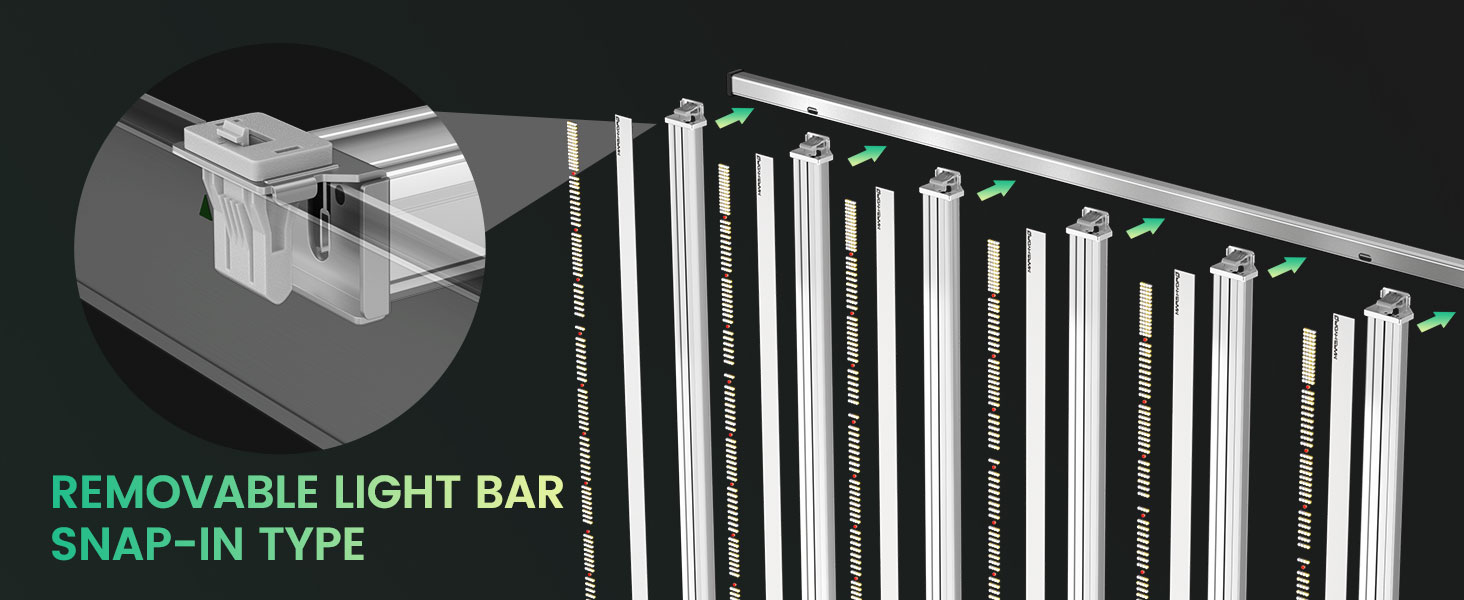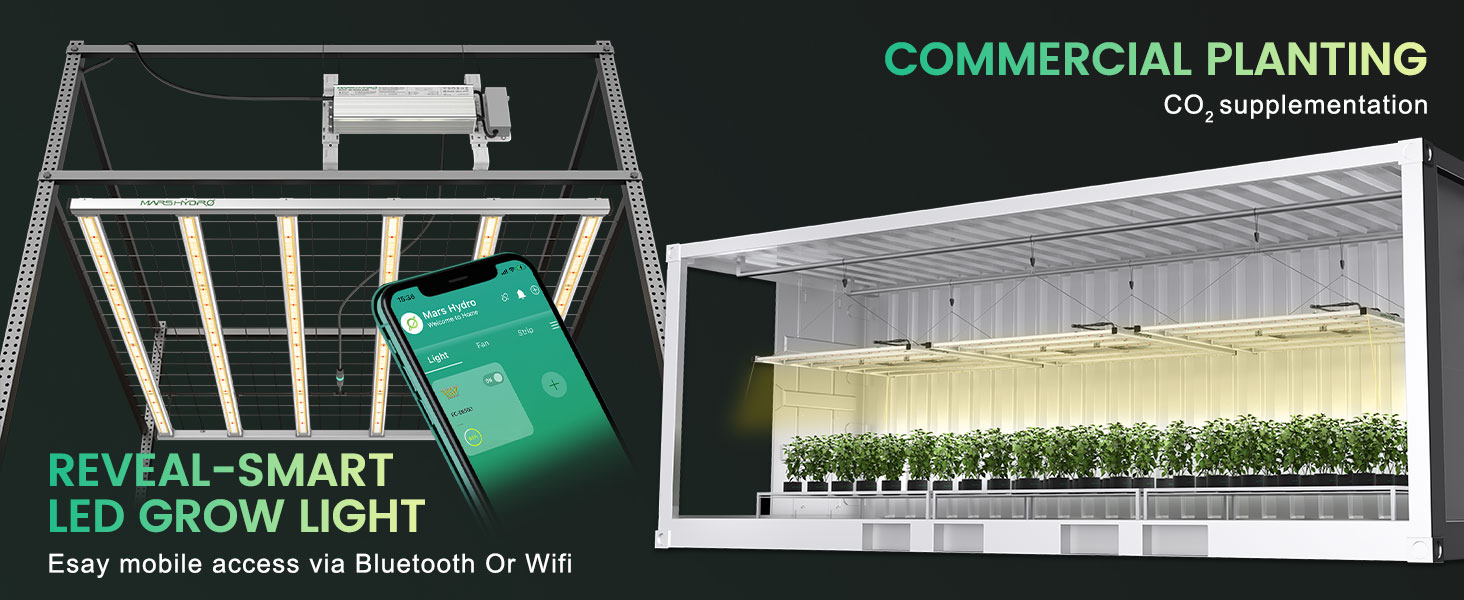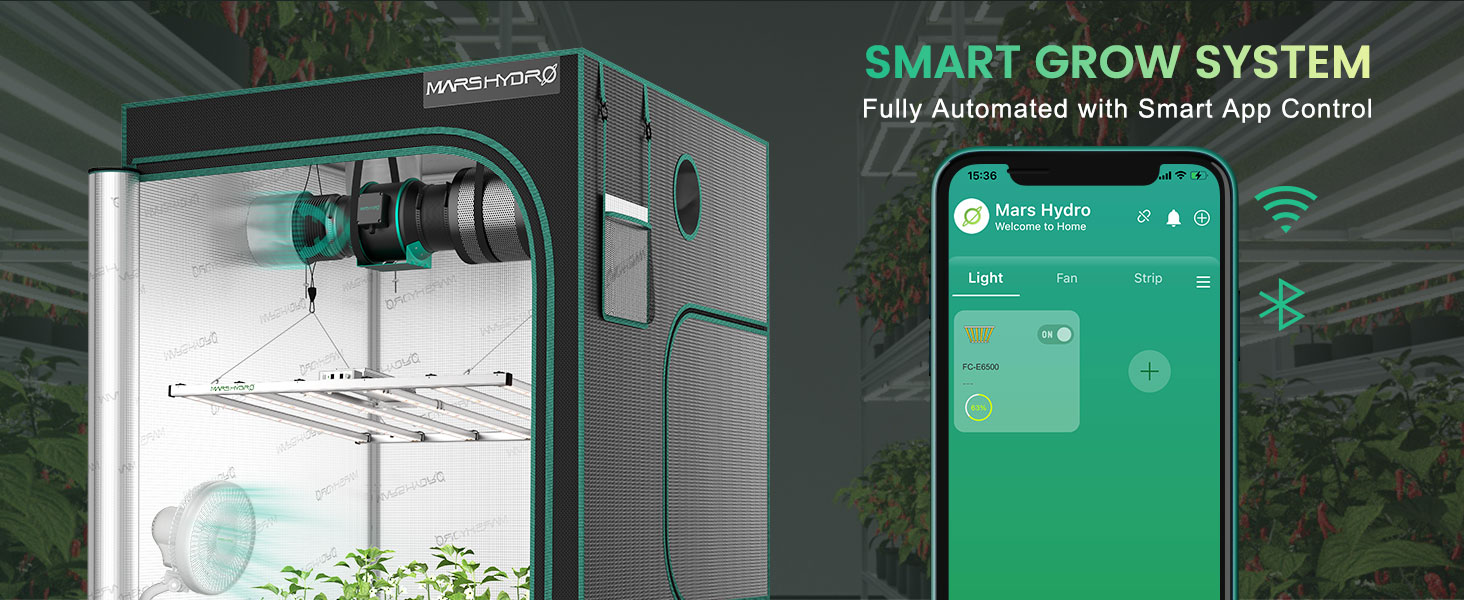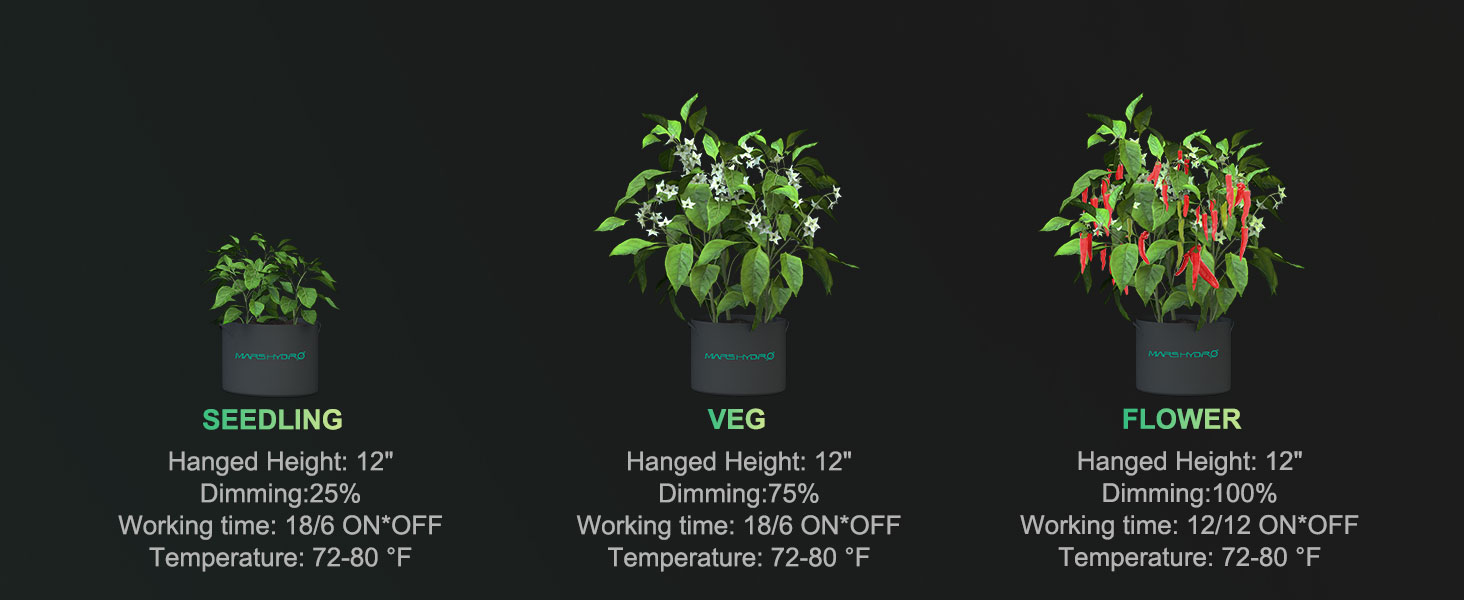 More Information

| | |
| --- | --- |
| WATTAGE | 730W±5%@100-277V |
| Core Coverage | 4'x4' |
| Max Coverage | 5'x5' |
| PPE | 2.8μmol/j |
| PPF | 2026μmol/S |
| Chip Brand | BridgeLux |
| Spectrum | 660-665nm 2800-3000K 4800-5000K |
| Max Yield | 2.5g/W |
| Voltage | AC100-277V |
| Amps | 6.052A@AC120V 3.003A@AC240V 2.627A@AC277V |
| BTU | 2489.3 |
| Certificate | ETL,CE,UKCA,RoHS,IP65 |
| Lifespan | 50000H |
| WARRANTY | 5 years |
| Dimension | 1162*1151*79MM |
Ask a Question
Verify that the Time Zone is set correctly. For more information, refer to the "Time Zone Problem" section. Once the device is connected to the app, it is recommended to avoid manual operations, as manual operations (adc mode) will override the app commands (cmd mode). If the setting command fails to be delivered successfully, it is advised to reconfigure and deliver the command (configured settings) once again.
There are two types of upgrades on the Mars Hydro App: 1. Proactive Upgrade: Ensure that the device is connected to WiFi. Access "Me→Equipment Settings→Equipment Update". Refer to this video tutorial for detailed instructions: [https://youtu.be/EQHmQvPeBIA]. 2.Mandatory Upgrade: During the initial connection of the device to your WiFi, the app will automatically initiate a mandatory upgrade for your device. After entering your WiFi account and password, the app will switch back to the device scanning interface and begin the OTA mandatory upgrade process. The upgrade typically takes 2-3 minutes. After completion, please reconnect your device to...
Read more
Follow these steps to check and refine the WiFi connection: 1. Ensure that the WiFi account and password are entered correctly. 2. Remove any special characters, spaces, or symbols (e.g. #, $, %, &, *) from the WiFi name or password. 3. Note that the device does not support 5G WiFi. If you are using a 5G network, switch to a 2.4G WiFi network. 4. If the previous attempts fail, you can try resetting the device. Refer to this guide for instructions: [https://www.youtube.com/watch?v=nLCp___nduY]. After resetting, reconnect the device to your WiFi. 5. If all the previous attempts fail, try connecting using a mobile hotspot. Please note that the device does not support 5G hotspots. If you can successfully connect using a mobile hotspot, it indicates that the brand/model of your router (WiFi) may not be compatible with this device. Note: During the initial WiFi connection, the app will automatically initiate a mandatory upgrade for your device, which typically takes 2-3 minutes. Once the upgrade is complete, you can connect your device to the WiFi...
Read more
Features
Mars Hydro Smart Grow System

Smart LED grow lights that support mobile control and programming via Mars Hydro APP. More integrated smart products are to be involved soon.
Professional LED Grow Light Performance

Mars Hydro smart FC-E6500 is a 730-watt led grow light that provides 2.8 μmol/j efficacy and 2026 μmol/s photon flux. It features white full-spectrum light that is universally best for plants from seedling to harvest. The light bars are detachable and the power supply is removable. The smart FC-E 6500 is designed for commercial cultivation and for big tent growers.
Remote Control and OTA Data Transfer

Mobile access to the LED grow light on Mars Hydro APP via WIFI. All data and settings are stored and transferred by OTA technology. Easily control the grow lights and schedule your grow plans with your fingertips on your cellphone screen whenever and wherever you are.
Precise Configuration And Auto-Dimming

The light intensity can be accurate to year/month/day/hour/minute for dynamic light levels that match your grow schedules. Dimming programs run automatically after configuration to serve full growth from seed to harvest. [Three default grow plans have been prepared in advance for your reference.] Provides Sunrise & Sunset Simulation option to mimic the natural photoperiod of plants, dividing the scheduled time equally into 12-time segments, where light levels will rise from 0 to 100% for the first 6 time segments and fall from 100% to 0 for the last 6 time segments.
Independent Control Of Multiple Lights simultaneously

Switching and dimming of multiple (up to 100) FC-E 6500 plant lights without additional cables. Even in separate rooms or tents, the APP can divide the LED grow lights into different lighting groups to enable independent management and make it convenient to monitor and program various ongoing cultivations without interfering with each other's plans.
Which light is right for you?