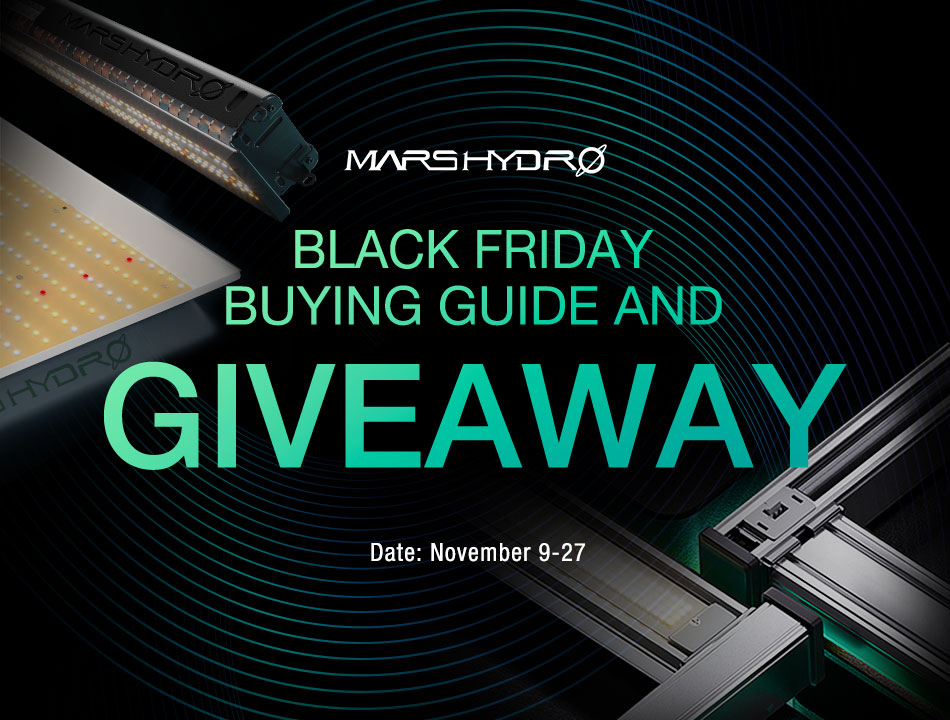 The most awaited sale of the year is here, and it's shining brighter than ever! As Black Friday approaches, we bring you exceptional deals on their premium range of LED grow lights. Whether you're a novice gardener or a seasoned grower, there's never been a better time to elevate your indoor garden.
Dive into the world of superior plant growth, energy efficiency, and unbeatable value with Mars Hydro's Black Friday extravaganza. Let's help your plants thrive while you save! Don't keep your garden waiting; it's time to light up!
Your Ultimate Guide to Choosing Mars Hydro LED Lights
With a plethora of options available, selecting the ideal LED grow light can feel overwhelming. But worry not! We've distilled professional knowledge into this guide to assist you in making an informed decision.
Best Budget Lights For Beginners: The TS Series

The TS Series features quantum board LED grow lights with a patented reflective hood, which minimizes light escape and intensifies light delivery to plants. This makes it ideal for indoor growing, budget-friendly gardening, or cultivating medical plants at home.
The light intensity of the TS Series is aptly balanced, not overly intense, making it suitable for a myriad of indoor plants, including ornamental plants, green foliage, and medical crops. This balance ensures that beginners won't overwhelm their plants, yet still provide enough light for healthy growth, particularly in confined spaces like grow tents.
The TS Series is priced affordably, with models ranging from $79.99 to $339.99. During the Black Friday sale, you can snag up to a 30% discount, potentially bringing the cost down to under $60 for a professional spectrum grow light, a crucial tool for successful indoor cultivation.
For a more technical insight, the TS Series exemplifies efficiency and efficacy with notable specifications:
Wattage: 100W±5% - 450W±5%
Chip Brand: BridgeLux
PPF: 190μmol/S - 1210umol/S
PPE: 2.0μmol/j - 2.7μmol/j
Max Yield: 1.8g/W - 2.4g/W
These specifications, coupled with the full-spectrum light and adjustable dimming feature, allow beginners to modulate light intensity per the plants' growth stage, and make indoor gardening a breeze.
Best Greenhouse Grow Lights: The SP Series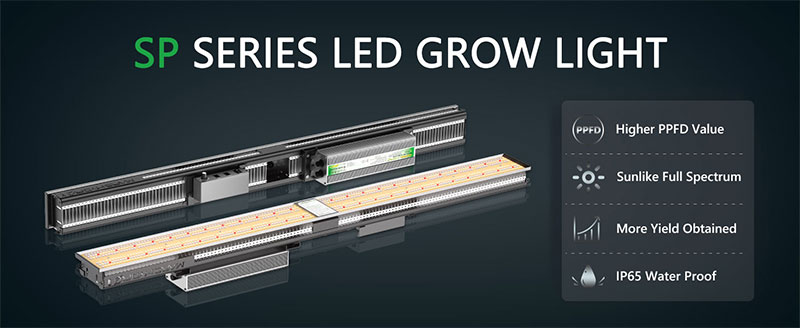 The design and technical attributes of the SP Series reflect a precise response to these unique cultivation needs, making it a noteworthy choice for specific indoor growing setups.
It's characterized by a single-bar design, where numerous chips are organized linearly on one LED bar. This design is augmented with thick aluminum heat-dissipating fins, ensuring that the light remains cool as ambient even during prolonged operation.
The intensity and spectrum of light in the SP Series are meticulously engineered to cater to the needs of tall and giant plants, making it an excellent choice for growers focusing on the flowering stage or operating in greenhouses and elongated growing areas.
Diving deeper into technical specifications, the SP Series stands out with:
Wattage: 140W±5% - 650W±5%
Chip Brand: BridgeLux (SP150) /Samsung LM301B + OSRAM660
PPF: 279μmol/S - 1819μmol/S
PPE: 2.0μmol/j - 2.8μmol/j
Max Yield: 1.8g/W - 2.5g/W
These specifications, along with the enhanced proportion of red and far-red light in the full spectrum and the potent light penetration capability, underline the SP Series' suitability for specific growing scenarios. The SP Series not only addresses the unique needs of growers with elongated growing spaces but also ensures that the quest for optimal flowering and fruiting is realized with a balance of efficiency and effectiveness.
Master's Gems: The FC Series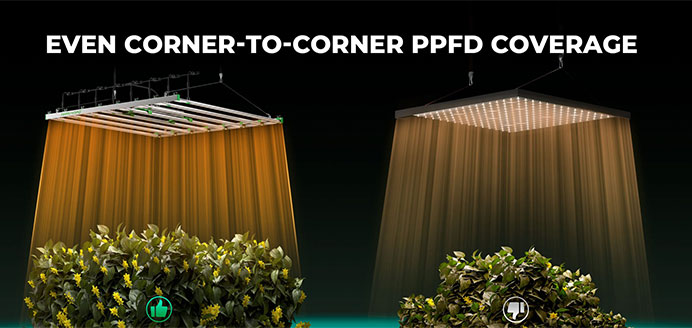 The FC Series is a hallmark of excellence in the realm of indoor cultivation lighting solutions, embodying a blend of meticulous design and superior performance that is aptly tailored for master growers seeking to elevate their indoor cultivation endeavors.
Here are the technical specifics for the FC series:
Wattage: 300w±5% - 1000w±5%
Chip Brand: Samsung LM301B
PPF: 854μmol/S - 2885μmol/S
PPE: 2.85μmol/j - 2.9μmol/j
Max Yield: 3.0g/W
The broad spectrum of light provided by these fixtures, courtesy of the Samsung LM301B diodes, delivers full-spectrum light essential for all plant growth stages while maintaining over 90% accuracy and efficiency even after 36,000 hours of use.
The FC Series excels in providing a uniform and high PPFD across the canopy, essential for achieving consistent plant quality, especially in grow rooms and vertical farms. This, along with the impressive max yield of 3.0g/W, underscores the FC Series' promise of exceptional performance and return on investment for those committed to achieving the best in indoor cultivation.
The blend of horticulture-optimized technology, robust build, energy-efficient performance, and the ability to harmonize with various cultivation setups underscores its position as a go-to commercial grow lighting solution.
Alternative to The FC Series: The FC-E Series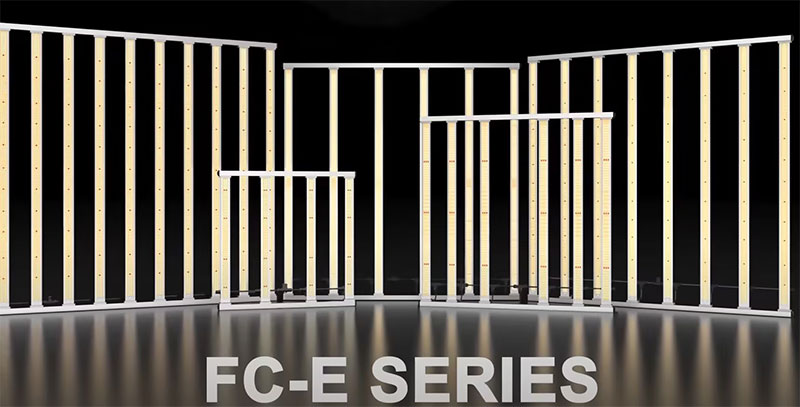 The FC-E Series emerges as a value-for-money alternative, retaining the uniform lighting benefits of the FC Series but at a more budget-friendly price point. It is an excellent option for cultivators looking for lower upfront costs without compromising on quality.
The series employs BridgeLux diodes as a cost-effective substitute to the high-end Samsung diodes used in the FC Series. Despite this economical substitution, the FC-E Series still delivers on the promise of exceptional yields through uniform light distribution. The specifications include:
Wattage: 300w±5% - 1000w±5%
Chip Brand: BridgeLux
PPF: 832μmol/S - 2766μmol/S
PPE: 2.8μmol/j
Max Yield: 2.5g/W - 3.0g/W
Transitioning to a more granular examination of the cost structure within the FC-E Series, the following table provides a breakdown of the LED cost, wattage, and price per watt for various products within the series:
| | | | |
| --- | --- | --- | --- |
| Product | Black Friday Price | Wattage | Price per Watt |
| FCE 3000 | $209.99 | 300W | $0.69/watt |
| FCE 4800 | $369.99 | 480W | $0.77/watt |
| FCE 6500 | $489.99 | 730w | $0.67/watt |
| FCE 8000 | $559.99 | 800W | $0.69/watt |
| FCE 1000W | $699.99 | 1000W | $0.69/watt |
The provided data accentuates the financial merits of the FC-E Series. It highlights the cost per watt for this series, which falls between $0.67 and $0.77, reflecting a competitive pricing structure for the wattage offered. This data straightforwardly shows the cost-effectiveness of the FC-E Series, as cultivators can access the desired wattage through products like the FCE 3000 to FCE 1000W at a lower cost.
Additionally, the max yield specified for the FC-E Series is between 2.5g/W to 3.0g/W. This suggests that despite its lower cost, the series is adept at delivering substantial yields, which in turn, directly boosts the return on investment (ROI).
In a nutshell, the FC-E Series showcases a high cost-performance ratio and a promising return on investment, making it a particularly attractive choice for cultivators keen on reducing upfront costs without compromising on the quality of growth and yields they can achieve.
Ultimate Choice: The FC-EVO Series

The FC-EVO Series stands out as a premium choice for cultivators aiming for top-tier quality in their indoor growing endeavors. This series takes a leap from the FC Series by incorporating the highly efficient Samsung LM301H EVO chips, known for their superior efficacy of 3.14 μmol/j per diode. This elevated efficiency translates into a full spectrum of lighting conducive for all plant growth stages, thus enhancing flowering and ultimately leading to higher quality crops and greater yields. Here are the specifications spotlighting its premium stance:
Wattage: 300w±5% - 1000w±5%
Chip Brand: Samsung LM301H EVO
PPF: 896umol/S - 3029μmol/S
PPE: 2.85μmol/j - 2.9μmol/j
Max Yield: 3.5g/W
The FC-EVO Series, with its superior chip technology and high-performance specifications, presents a more premium, quality-oriented option compared to the FC Series. Its design aligns with the ambitions of growers who are invested in achieving high-quality cultivation, making it a compelling choice for those willing to invest in top-notch lighting solutions for their indoor gardens.
Mars Hydro 6500 and 8000: Which One to Choose?

The Mars Hydro LED grow lights have been tailored to meet the diverse needs of different growers. In particular, the distinctions between the FC6500 and FC8000, as well as between FC-E6500and FC-E8000, underscore our commitment to providing lighting solutions across the spectrum of indoor cultivation scenarios. Here's a breakdown of these models based on their specifications and suitability for different types of growers.
| | | | | | | | |
| --- | --- | --- | --- | --- | --- | --- | --- |
| Product | Wattage | BTU | Chip Brand | PPF | PPE | Max Yield | Price |
| FC 6500 | 730w | 2489.3 | Samsung LM301B | 2079μmol/S | 2.85μmol/j | 3.0g/W | $739.99 |
| FC 8000 | 800W | 2728 | Samsung LM301B | 2309μmol/S | 2.9μmol/j | 3.0g/W | $799.99 |
| FCE 6500 | 730w | 2489.3 | BridgeLux | 2026μmol/S | 2.8μmol/j | 2.5g/watt | $569.99 |
| FCE 8000 | 800W | 2728 | BridgeLux | 2231μmol/S | 2.8μmol/j | 2.5g/watt | $629.99 |
The 8000 models (FC8000 and FC-E8000) provide higher output, more diodes, and higher PPFD levels compared to the 6500 models (FC6500 and FC-E6500). While these characteristics make the Model 8000 more intense in terms of light, they also pose greater challenges in control. The FC6500 and FC-E6500, with a wattage of 730W, are tailored for general cultivation, particularly suitable for personal-scale growers or those with smaller grow rooms not planning on CO2 supplementation exceeding 1,200 ppm.
On the other hand, the FC8000 and FC-E8000, with a wattage of 800W, are designed for "CO2 cultivation," making them more suitable for growers well-versed in CO2 application or those in commercial settings looking to maximize yield with high CO2 levels. The higher wattage in the 8000 models also translates to higher PAR readings, more diodes, and more cost. If you're interested in delving into more details regarding Model 6500 and 8000, we have a dedicated blog post titled "6500 vs. 8000" that you can refer to.
Illuminate your gardening journey with Mars Hydro, and ensure you invest in lighting that matches your gardening aspirations!
Black Friday Giveaway:
Join the pre-Black Friday celebration by participating in our comment section and stand a chance to win the exciting prize!
Prize: Mars Hydro FC-E3000LED grow light
Participation Way: Share in the comments section which Mars Hydro LED grow light you wish to own, or share your experience if you've used one.
Winner Selection: Randomly pick up a winner from the comments.
End Date: 27th November
Notice: Please confirm that your email address is ACTIVE so that we can announce you in time if you are the winner.
Winner Announcement:
As of November 27th, there are 175 participants in the giveaway. Thank you very much for your enthusiastic participation, now the winner details are announced as follows:
Congratulations to Stephen Paxton for being our giveaway winner.
Please send your shipping information to [email protected] when you see this message.
Subscribe to the website to get the latest giveaway and promotion information.
Thank you again for your love and support!