You don't have to wait till spring to start your grow thanks to the fast-developing technology. But Spring is arguably the friendliest season for novice growers as it's not as hot as summer, not as cold as winter, and not as dry as fall. Starting your first grow in spring can free you from several weather issues such as rot, wilt leaves, weak growth…
With careful planning and necessary grow equipment, sow your first seed in spring, and you will receive bountiful harvests in summer.
---
Grow Equipment For Novice Growers
As a novice grower, it's best to start small. By making small investments and starting with a few plants, novice growers can gain the experience and confidence needed to take on more ambitious gardening projects in the future without risking a significant amount of money.
Besides the cost, another reason for novice growers to invest in small grow tents and grow lights is that they won't retire even if you get better at growing and want to upgrade to a larger unit. Small tents and lights can be used to grow seedlings, and flowering plants can be placed in your large unit so you can have perpetual growth and keep harvesting with none-stop. Or they can be used with a drying rack to build a drying room for your drying and curing your buds. Make the growing cycle and shorten the harvesting cycle.
2'x2' grow tent and 2.3'x2.3' grow tent are two sizes of grow tents that are small but enough to grow at least one big plant. They are also flexible to be placed anywhere including cabinets and cupboards.

Indoor plants need sufficient light to grow, so investing in good quality grow lights is essential. To fit with the recommended grow tents, TS1000 led grow light is the best choice for novice growers as it can not only provide sufficient high-quality light to a 2.3'x2.3' grow space but also provides a dimming feature, which is very convenient for the novice to adjust the lighting levels in terms of plant growth rather than adjusting the light hanging heights.
However, only a grow tent with a grow light is not enough to support a grow. We recommend grow tent kits for novice growers because the tent kits include all the equipment that's necessary and of great help to indoor gardening. A Mars Hydro grow tent kit includes an LED grow light, a grow tent, an inline exhaust fan, a carbon filter, ducting tube system, a timer, a hygrometer, and several plant containers; which are an enclosed grow environment, a lighting source, a ventilation system, and a monitor system. You can grow anything as soon as you have the grow tent kit and buy the seeds and fertilizer. For novice growers, TS600 grow tent kit and TS1000 grow tent kit is the smallest and the most suitable option to go for.

Don't hesitate to become a novice grower, it's a rite of passage for every master.
Grow Equipment For Experienced Growers
If you have already managed some growing skills and expect to grow bigger and yield more, you'll probably upgrade your grow tents to a 4'x4' or 5'x5, or even 8'x8' and 5'x10'. Full-spectrum LED grow lights with high intensity and dimmable capabilities are one of the preferred primary grow lighting sought by experienced growers. Mars Hydro FC6500, FC-E6500, FC8000, and FC-E8000 are perfect fits. They provide 1000 ~ 1500 μmol/m²/s PPFD uniformly on every single point of their coverage (a 4'x4' area) or 600 ~ 1100 μmol/m²/s to a 5'x5' growing area so the powerful and uniform lighting can help the plants grow stronger and in a consistent form.

Experienced growers may already know the benefits of Ultraviolet (UV) and Infrared (IR) light in weed growing. The Mars Hydro UR45 is made for those who want to leverage the benefits of UV and IR light in their cultivation to increase trichomes and grow more robust buds.
On top of that, for growers of "bushes" or "tall plants", supplemental lighting on the sides is essential in order to provide adequate light to the side buds and deep branches. The Mars Hydro VG80 can be a great assistant thanks to its plug-and-play functionality and sensible body design. It can be affixed to the side of the grow tent to provide additional full-spectrum light for deeper foliage and buds and maximize yields. Moreover, VG80 is made for seedlings. When growers want to start perpetual harvesting, VG80 can be the main lighting for your seedling tent.

Every master should not miss the spring sowing and start growing new and bigger!
Mars Hydro Spring Giveaway
Cheers to the Spring! Mars Hydro will start the spring sale to help growers spend less money and start easy! Up to 15% OFF!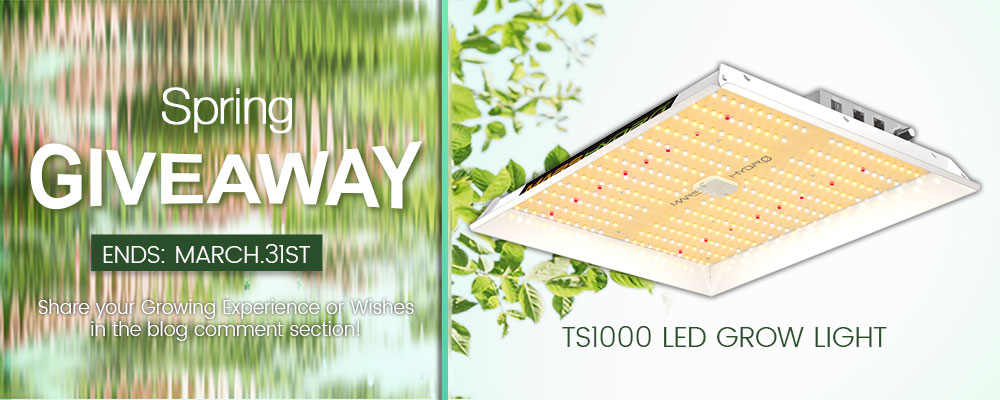 Mars Hydro will hereby give away a TS1000 to boost spring grow!
Prize: One TS1000 LED Grow Light

Ends: March.31st

Participation Rules: Share your Growing Experience or Wishes in the blog comment section!

Winner Selection: The winner will be chosen randomly from the comments. Each participant has a chance to win the announced prize.